Cherishing Our Legacy

St. Luke's Hospital University Hospital – Bethlehem Campus is a legacy of caring. Its founders and their deeds are memorialized in The Fowler Family Museum – not to be forgotten in the dust of unused archives, but to stand always as models of inspiration for future generations of like spirit and commitment.
In the late 1800's, the bucolic Moravian farms of the Lehigh River area gave way to the zinc oxide and iron ore mines of adventurous industrialists. Railroads rumbled through the Valley as its mills, furnaces and factories laid the foundation on which the American Industrial Revolution was built.
But building a nation proved hard and dangerous work, and progress came with a price. Serious injuries skyrocketed, forcing workers to endure painful and long rides to hospitals in Philadelphia or go without adequate care. It is from this need that St. Luke's Hospital took its mission, and it is for those in need that St. Luke's still provides care. Were it not for the foresight and dedication of men like Tinsley Jeter, Asa Packer, Cortlandt Whitehead, John Smylie and Robert Sayre, the residents of the Lehigh Valley might not today enjoy such world-class health care so close to home.
The Fowler Family Museum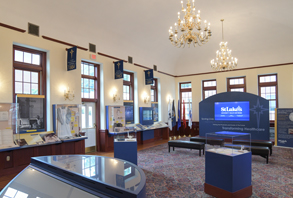 The Fowler Family Museum is located in the Coxe Pavilion adjacent to the entrance of the Priscilla Payne Hurd Pavilion.
Endowed in 1914, the Coxe Ward for Obstetrical Cases was one of the original one-story pavilions built at St. Luke's Hospital. It was funded by the widow and son of coal magnate Eckley B. Coxe. Today, the Coxe Pavilion – as it is now known – is the only original St. Luke's Hospital building that still stands.
The Coxe Pavilion was built as a "Nightingale Ward," a European design endorsed by Florence Nightingale. It was her belief that patients would recover faster with direct exposure to sunlight and fresh air. The glass cupola at the top of the building was created as a means of ventilation to reduce the transfer of disease. The St. Luke's pavilions were modeled after the original Johns Hopkins pavilions and were featured at the Universal Exposition of 1889 in Paris. The renovation of the building to its original look began in 1998 and was completed in 1999.