Veterans Employment at St. Luke's

Your Service and Dedication were at the heart of your military career. St. Luke's values your loyalty to our country and we are looking to transfer the skills and values you developed in the military to a rewarding career at St. Luke's University Health Network. Join the St. Luke's family where we proudly employ over 350 former military and veteran employees throughout our Network. We are actively seeking military and veterans to our growing workforce to learn from their experiences, discipline and help them transition into a meaningful civilian career with a stable employer and coworkers who are focused on a shared mission and work together as a team.
At St. Luke's, we give special consideration to veterans' job applications. Each application is flagged for review by a human resources representative with special training in evaluating military experience. A team of current employees who served in the military will assist in this process.
---
Employee Testimonials
Jennifer Peters, Network Director, Real Estate Management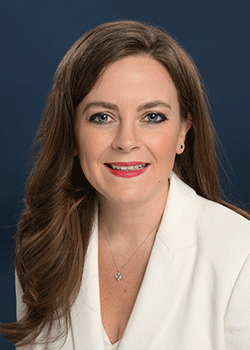 I grew up in the suburbs of Philadelphia and now live in the Lehigh Valley with my husband and am a St Luke's Network Director of Real Estate. After completing ROTC at Holy Cross College (BA English Literature), I served in the Navy as a Surface Warfare Officer on a guided missile destroyer with two overseas deployments to the Persian Gulf, Indian Ocean, and Eastern Mediterranean. I qualified and stood watch as Officer of the Deck and Engineering Officer of the Watch. When I left active duty in 2010 as lieutenant, I hoped to find an organization that I felt reflected my values and military service. After obtaining a Master's in Public Administration from the University of Pennsylvania, I set out into the civilian job market. I vividly remember coming out of interviews in Philadelphia feeling like military service was simply not understood or appreciated. From my first interview at St. Luke's, I knew that the same attributes the military prizes (discipline, duty, honor, accountability, leadership and teamwork) were truly valued. St. Luke's doesn't just 'talk the talk'. Everyone at St. Luke's serves our patients in that spirit every day. I could not be more proud to be part of the St. Luke's family.
Close
David Finkelstein, Information Technology Security Director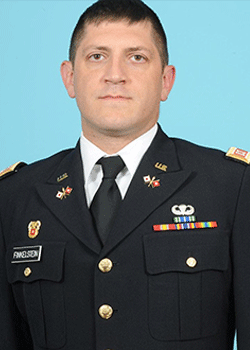 On September 11, 2009 after 3 months of basic training and 3 months of Officer Candidate School, I was commissioned as a United States Army Officer. I have spent the last 14 years assigned to multiple units across the Army as a Network Communications/Information Security Officer. The first 5 years of my career were on active duty. Active duty for any military person is easy in regards to employment. Here are your orders, report here, go to work, paycheck will be in two weeks. Wait 3 years, rinse and repeat. After making a very tough decision to leave active duty service to have a better work life balance my mental stability suffered as a result. Getting a job off of active duty is the hardest thing any military member has to do. You know you are qualified, but you can't prove it on a piece of paper. What you need to write NO ONE will understand, so you write it in a way that non-military people can relate to that skill or expertise. It rarely works. I sent over 4000 resumes in under 8 months of leaving active duty. All of which I spent on unemployment. Thankfully, a local school gave me a job, but I could not afford to live. Then another job came along, things got better. Then I got one of the best opportunities of my life when I was offered the Information Security Manager job at St. Luke's University Health Network. Luckily the woman that hired me, was in the Navy herself, and knew right away what I could do. Chris Brutschea's previous Information Security Manager at a different hospital was in the military and she knew what I could do. Chad Brisendine knew with all his experience and knowledge knew what I could do and they all took a chance on me. The interview and hiring process took about 2 months, and when I finally got the job it has been the best experience of my career. I will tell you though, I got lucky, because those that were hiring knew what a military guy could do in the expertise they were looking for me to fill. This is rare in the civilian job market, and I will forever be thankful to the 3 of them for taking that chance on me.
Close
---
Featured Career Opportunities
Information Technology
Biomedical Engineering
Supply Chain
Security
Laboratory
Nursing
Facilities/Maintenance
Leadership