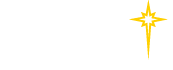 Find a Practice/Location
View All

What to Expect at Your Appointment

What to Expect
The 11-14 week ultrasound is an early evaluation of your baby's anatomy and development. About half of major birth defects can be diagnosed in the first trimester.
This ultrasound gives you the chance for early reassurance about your pregnancy. It can also help identify concerns leading to early diagnosis, assessment, and treatment in the case of an unexpected finding.
During the ultrasound, assessment of the fluid-filled space in the baby's neck (nuchal translucency), and nasal bone also help provide information on the risk of a genetic fetal condition.
You may also choose to have additional screening or testing for common genetic conditions. This can be done through:
Maternal blood work (screening only)
Chorionic villus sampling (CVS) or amniocentesis (diagnostic testing).
Deciding Between Genetic Tests
You have options when deciding between genetic screening tests.
Your medical and family history, as well as current gestational age will help determine which tests you chose.
Only one screening test per patient is recommended.
The table below shows your screening test options and their detection of various genetic syndromes.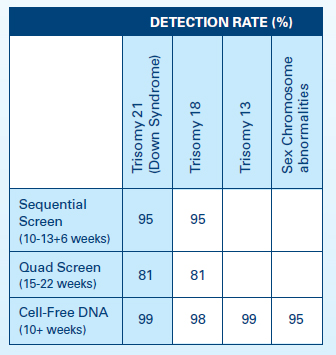 How to Make the Most of Your Visit
Insurance coverage for these genetic tests varies and may influence your decisions regarding tests. Check with your insurance provider before your appointment regarding coverage for services we are able to provide.
The following are CPT Codes that you can give to the insurance company to check your coverage: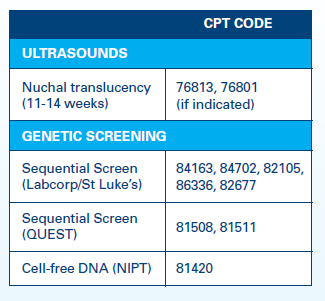 Ask family members (blood relatives) for specific details on family history related to pregnancy (genetic conditions or syndromes, intellectual disabilities, birth defects, blood clotting disorders, etc.).
Complete your new patient questionnaire before your first visit.
Cost estimator tools