Norma Breininger

St. Luke's Hospice: A Gift for Norma
Last year, in the midst of a devastating stretch, Susan Breininger and her family received an amazing gift from St. Luke's Hospice House: They got Norma back.
Norma, mother of Susan and her four siblings and proud grandmother of nine, was suffering from multiple myeloma. Over the six months since her diagnosis in May 2016, the pain associated with the disease and the exhausting cycles of treatment and testing had changed her from a loving, caring person into someone she had never been before.
"Up until then, my Mom, had been this incredibly giving, compassionate, strong person her whole life," Susan recalls. "She had changed and became someone who picked on little things and didn't let a little grudge go. She would be the first to tell a doctor that she wasn't happy with something. We would sit there and listen to her, and feel bad for the person she was talking to. That wasn't her; it was her pain."
A Tough, Compassionate Woman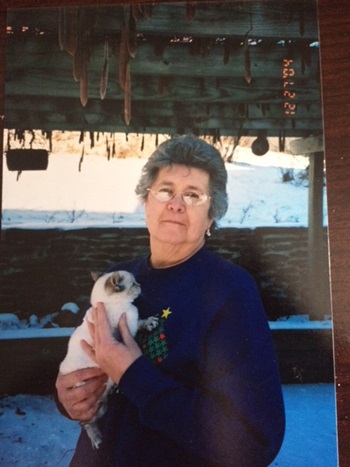 Norma Breininger was a resident of New Tripoli and the wife of Donald Breininger. In addition to her roles of wife and mother, she had many other interests and responsibilities.
"She was so many things to so many different people, yet it was all based on the same thing: She was just an incredible giver," Susan says. "Her life was about giving."
She recalls friends coming over as children and, later, others who came to visit from college. They all became part of Norma's family. Norma was an outstanding and prolific baker—known especially for her raised potato cakes, chocolate cakes and shoofly pies—who would donate her goods to local organizations like the Weisenberg Lutheran Church and the Weisenberg/Lowhill Township Historical Society to fuel bake sales.
Norma received her RN degree from Allentown Hospital School of Nursing. Her nursing career began at Allentown General Hospital and continued at Allentown Osteopathic Medical Center (which became St. Luke's Hospital, Allentown Campus). Norma retired as a Nursing Supervisor at St. Luke's Allentown after 36 years of service.
"I worked in the Intensive Care Unit at Osteopathic and she was my supervisor," Susan notes. "The whole time I was there, others picked up on me calling her Mom. People started calling her 'Mom' as well, and she fell into the role of being everybody's mother and taking care of everyone."
In retirement, Norma had an active social life and enjoyed the Breininger's family vacations in the Outer Banks of North Carolina. But, in her late 70s, Norma started to suffer what she thought were the standard aches and pain associated with advancing age.
However, the symptoms persisted. Norma became very weak and constantly tired, admitting to discomfort she had never complained about before. This was very unusual as Norma was a woman who had paid very little attention to pain throughout her life. Following open-heart surgery, she was back on her feet in just two days. She also had both knees replaced on the same day "to get it over with at one time" and breezed through her rehabilitation regimen. Through it all, Norma was a model patient, doing what her doctors said to recover quickly and get back to doing the things she loved.
"In hindsight, she probably had it for a long time, but Mom never complained about anything…ever," Susan says. "Any symptoms she might have had, she just attributed to her getting older and kept on going. My Mom was one tough woman. She took care of anyone who needed help, and never let anything keep her down."
But this was different and it was serious. Norma was admitted to the hospital when her kidney function tests came back showing she was in acute kidney failure. It took several days until the doctors were able to narrow down the possible cause to multiple myeloma, a cancer of the plasma cells in the bone marrow. "Her cancer diagnosis was a shock," Susan says. "We all thought, 'Not our Mom. She just doesn't get sick.' But when we really thought back to things she'd been saying for months, we could see more signs that pointed to her diagnosis and subsequent deterioration."
On Norma's Terms
Norma was in and out of the hospital for pain control. During that six-month stretch, her ramped-up care that included dialysis, chemotherapy and blood transfusions, and her declining health took its toll on Norma and her family. She was in pain and was miserable, and her quality of life had worsened along with her health.
"I had made arrangements to talk with my siblings about having a conversation with Mom about what she really wanted the rest of her life to look like," Susan recalls. "The day before that meeting was supposed to take place, she called and was crying and said she doesn't want to do this anymore."
Susan made the hours-long drive from her home in Maryland to speak with Norma face-to-face.
"She had made up her mind to go to hospice," Susan recalls. "She said she knew where she was going and knew who her maker was. She was at peace with her decision, but she was worried about disappointing us and us thinking she was giving up. However, it was a relief for us and is another example of my Mom doing something so that we wouldn't have to."
Norma was only at St. Luke's Hospice House for one week before she died at age 77 one day before Thanksgiving in 2016. But, according to Susan, it was a glorious final week. Once the approach to Norma's disease shifted from halting its advance and treating her symptoms in a medical setting to making her comfortable at St. Luke's Hospice House, Norma became Norma again.
"All of a sudden, we got her back," Susan says. "You could see the transition of her spirit. She was smiling and laughing, and people would come in to visit and she was telling them how happy she was. That whole last week in hospice was just such an incredible experience. It was what we all needed."
The staff at Hospice House made the process easy.
"The hospice and palliative care teams at St Luke's were fantastic," Susan says. "They didn't hesitate to help. They treated us as though my Mom was their favorite patient. We felt we were part of their family, and we tested them."
Family members stayed around the clock with Norma, and during the week that Norma was at Hospice House, 126 people visited her.
"The best thing that the staff of Hospice House did for us was that they let us be a family," Susan says. "We were completely committed to the little life that she had left. If there were 27 people there at one time, which there were, they accommodated us and, for example, encouraged us to use the kitchen area."
Norma's family made the most of her precious time remaining. As Norma was a dedicated Penn State football fan, her family threw a well-attended party complete with tailgate favorites like soup, hot dogs and chili at Hospice House to watch a Nittany Lion game with Norma.
"It was like we were at home because that's what we would have done had Mom been healthy," Susan points out.
Every day, Norma's grandchildren lined up in her room and sang "Jesus Loves Me" and "You Are My Sunshine" as she beamed. So proud was Norma that she would put on her call bell to have the Hospice House staff join the audience.
On the last night that Norma was relatively conscious, the entire family—27 strong—sat in her room talking, telling stories, singing, laughing and playing jokes on each other. Susan and her family did not know what to expect from St. Luke's Hospice. The experience was, she found out, a celebration of Norma and an amazing way to honor the life and family of an amazing woman.
"There is no doubt in my mind that we would make the exact same decision, knowing what we do now," Susan said. "I would want it for myself so my family wouldn't have to worry about the details and could just be with me. My Mom hadn't been that happy in six months. The fact that St. Luke's Hospice gave us the opportunity to treat my Mom as though every minute of her life mattered wasn't just a gift to my Mom, it was a gift to all of us."
St. Luke's Hospice has been providing compassionate end-of-life care, bereavement care and counseling for patients and their families since 1986.