Dr. Ric Baxter's Don't Wait Tour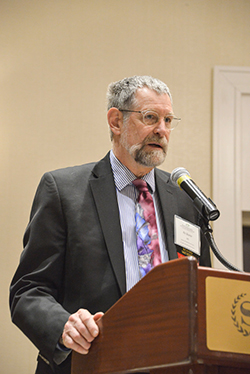 This September 2019 Dr. Ric Baxter, a national leader in Hospice and Palliative Care, is embarking on a bicycle tour the length of Pennsylvania to raise awareness of end-of-life care.
In 2017, Dr. Baxter received a lifetime achievement award from the Pennsylvania Hospice and Palliative Care Network (PHPCN). He has been a presenter at the National Hospice and Palliative Care Organization Clinical Conference and webinars, for the American Academy of Hospice and Palliative Medicine, and for the National Association for Homecare and Hospice Annual Assembly.
Dr. Baxter will start his journey in the Lehigh Valley, where he works for St. Luke's University Health Network. After leaving the St. Luke's Brian D. Perin Hospice House in Bethlehem, Pa., he will journey west, visiting more than a dozen locations. Along the way, he will visit other hospice houses, hospitals and medical schools, where he will share words of inspiration and insights from his decades of experience providing end-of-life treatment.
---
Just Keep Moving… A note from Dr. Ric Baxter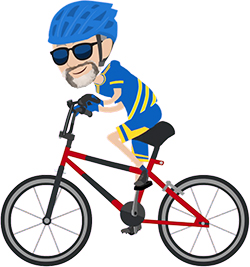 Anyone who knows me knows that I do not sit well! Even with my Buddhist interest and leanings, the idea of sitting for an hour and meditating is unlikely to happen. Movement is my therapy and my vehicle for mindfulness. Currently that movement is best done on my bicycle. My hope is to use the "vehicle" of this ride to facilitate raising awareness and conversation about Hospice and Palliative Care in Pennsylvania.
To Follow Dr. Baxter use #BaxtersBuddies
Why Wait?
Frank Ostaseski a Buddhist teacher and founder of the Zen Hospice Project in San Francisco. Some of these teachings he has advanced in his book "The Five Invitations". These teachings come from a Zen perspective and "Invite" thought and consideration:
Welcome everything, push away nothing
Bring your whole self to the experience
Find a moment of rest in the middle of things
Cultivate don't know mind
Don't Wait
In his book, the first invitation is Don't Wait. So Dr. Baxter "invites" you to join him to support, and celebrate Hospice and Palliative Care.
People come to the end of their lives in ways that reflect who they are and how they have lived – following the story of themselves. Death is frequently sad, occasionally angry, sometimes chaotic, sometimes joyful but always personal and unique. In many ways, Palliative Care and Hospice are the most intimate of the caring professions. We are invited to be with people at their most vulnerable moments – to bear witness to unique individuals and their life stories and to walk a journey between life and death. We are called to bring our whole selves into another's suffering and not turn away. While death may be scary, and certainly the grief over loss and the concern over suffering are very real and often overwhelming, Hospice should not be scary. Almost everyone who has utilized Hospice services has not only benefited, but had very positive experiences – it is just getting there that is hard. Don't Wait! "I'll think about it when I really need it, when I'm dying"…Don't Wait. Hospice can help you to focus on living as well as possible, until you die and help "families" celebrate a life. In celebrating that life, we all have the opportunity to find joy and celebrate our own lives. Don't Wait.
Don't Wait Tour
Bethlehem
Monroe
Miners
Lansford
Danville
Williamsport
Wellsboro
Coudersport/Ellisberg
Warren
Erie
Meadville
Clarion
Butler
Pittsburg
Altoona
Hershey
Altoona
Chambersburg/Lewistown
Harrisburg
Lancaster
Valley Forge
Philadelphia
Quakertown