News
Warren Campus Begins Emergency Angioplasty for Heart Attack Patients
June 23, 2023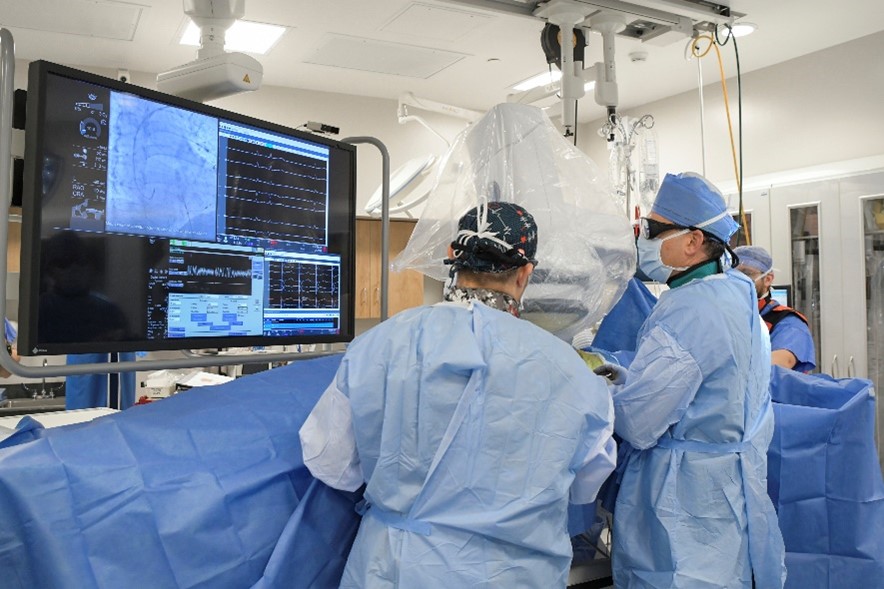 St. Luke's Warren Campus recently received approval from the New Jersey Department of Health to provide emergency angioplasties to heart attack patients. As of June 19, interventional cardiologists in the hospital's cardiac catheterization laboratory began providing this emergent service to open narrowed and blocked coronary arteries using thin wires, tiny balloons and wire mesh stents for patients experiencing a heart attack.
According to Narpinder Singh, MD, medical director of the St. Luke's Warren cardiac catheterization laboratory, this certification enhances the hospital's ability to deliver lifesaving care to heart attack patients using advanced imaging technology and non-surgical techniques.
"Providing emergency angioplasties at the hospital meets a growing need in this community so patients can be treated faster and recover closer to home," said Dr. Singh. St. Luke's Warren will have 24-hour on-call capability to provide coronary angioplasty.
Heart disease is the leading cause of death in the United States and in New Jersey, where nearly 19, 000 residents died from it in 2017. More than 800,000 Americans will suffer a heart attack each year caused by the buildup of fatty plaque in a heart artery. Emergency coronary angioplasty is the proven gold standard for restoring blood flow to the heart muscle during a heart attack, also known as myocardial infarction, which often saves a patient's life and heart muscle function.
The hospital's special team of board-certified interventional cardiologists and nurses use state-of-the-art technology to locate and open blocked vessels and restore blood flow to the heart. Non-urgent diagnostic catheterizations that assess the health of blood vessels of the heart have been provided at the hospital since the early 2000's. Other similar procedures, including treatment of peripheral vascular disease with angiography, are routinely performed at the Warren Campus.
To qualify for licensure from the DOH to provide emergency angioplasties, the hospital had to meet a number of quality standards and hire additional interventional cardiologists and other certified staff to ensure the 24/7 availability of heart-attack treatment teams. The hospital acquired special GE Health imaging equipment four years ago for seeing inside the heart and heart arteries.
The St. Luke's Network currently operates four cardiac catheterization laboratories in addition to the facility at Warren Campus: St. Luke's Bethlehem, Anderson, Allentown and Monroe.