News
Ukraine-born Mother and Daughter Both Graduate from School of Nursing
August 15, 2023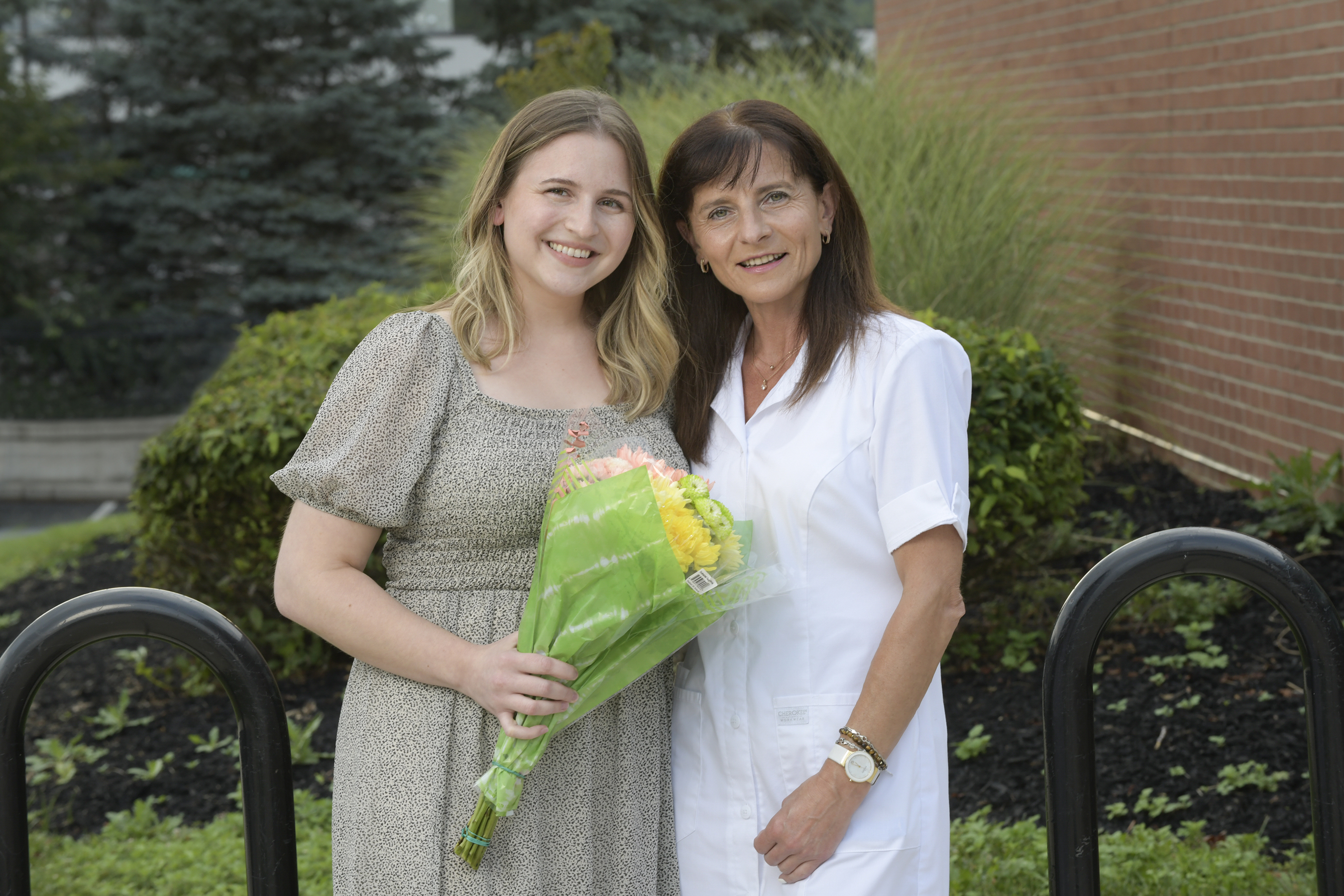 At age 48, Tetyana Uyechko (you-wetch-ko), of Breinigsville, achieved a dream she's had for years while working as a medical assistant at St. Luke's University Health Network: to graduate from St. Luke's School of Nursing, the oldest continuously operating school of nursing in the United States.
In a graduation ceremony on August 10, Tetyana joined her 26-year-old daughter, Anna Uyechko, as the second member in their family to become a nurse at the Network in 2023, where each has been employed for several years.
"I'm really excited for her," Anna says of her mother's accomplishment. Tetyana entered the medical field before Anna, but Anna chose to pursue nursing and her mother followed her.

"We're always pushing each other to better ourselves," adds Anna.

Anna, of Coopersburg, completed the School of Nursing program in April and is a Labor and Delivery nurse at St. Luke's Allentown Campus. Her mother will start a job in September at the same hospital, employed on its Medical-Surgical unit.

Born in Ukraine, both women came to the US in 1998 with Tetyanna's husband, and Anna's father, Orest, when Anna was just 18-months old. A 19-year-old daughter, Kristy, was born in the US. She may become the third Uyechko to study at the School of Nursing, says her mother.

Health care is Tetyana's second profession. She earned a degree in criminal justice and worked as a paralegal for several years when the family lived in New York after moving there from the Ukraine. She's worried about her friends and family back in the Ukraine, especially her 74-year-old mother, her sister, also a nurse, and a cousin who is serving in the Ukrainian military.

Tetyana eschewed her sister's advice to go into nursing before they left for the United States. "I didn't like blood," she recalls, but became accustomed to it as a medical assistant at St. Luke's after the family relocated to the Lehigh Valley.

Conversely, Anna says, "I always knew I wanted to go into health care." She's currently in a six-month fellowship at the hospital to learn the intricacies of treating problems that can arise with pregnancies, deliveries and postpartum issues.

Looking ahead, the younger nurse says she wants to further her education and career at St. Luke's. "For as long as I can remember, I've always wanted to take care of babies," she says.

Next up, Tetyana, one of nearly 80 graduates in her School of Nursing class, will take her boards to become a registered nurse.

From there she will put her education into action at St. Luke's Allentown, not far from where her daughter works, in a profession that is widely considered the most trusted in the world.