News
School of Medicine Students to Receive Iconic White Coats
August 04, 2023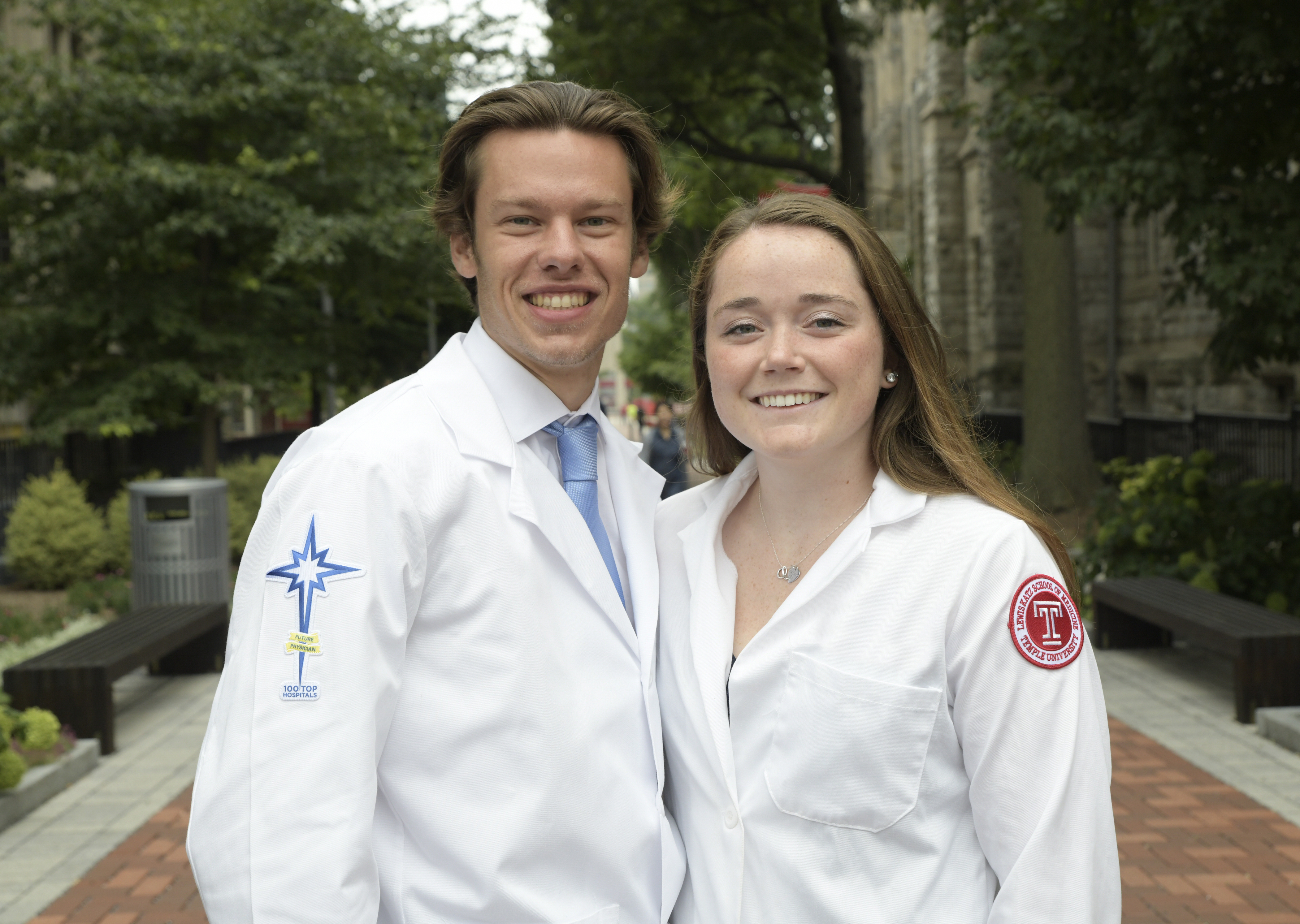 Keith Grega and Abigail Sheridan after receiving their white coats.
The Temple/St. Luke's School of Medicine Class of 2027 students were honored Friday, August 4, in the 2023 White Coat Ceremony at the Lewis Katz School of Medicine at Temple University, Philadelphia.
Forty-one first-year medical students, who will learn for all four years at Bethlehem-based Temple/St. Luke's, donned their "doctor" coats for the first time. This rite-of-passage for all medical students signifies their transition from the study of preclinical to clinical health sciences.

"Congratulations to our Temple/St. Luke's medical students on reaching this milestone on their journeys to becoming doctors," said Shaden Eldakar-Hein, MD, senior associate dean of the medical school. "We look forward to watching and helping them grow into their roles as compassionate healers in our community over the next four years."

Neither Abigail Sheridan nor Keith Grega, who received their white coats Friday, took the direct route from college to Temple/St. Luke's School of Medicine, which they both entered this month.

The Temple/St. Luke's School of Medicine at St. Luke's University Hospital in Fountain Hill is the Lehigh Valley's first and only four-year medical school, where the region's brightest young minds go to become doctors. By cultivating home-grown medical talent, such as Grega and Sheridan, who have deep roots in the Greater Lehigh Valley, St. Luke's is helping the region to secure its health and well-being amid a worsening doctor shortage nationally.

Sheridan, 23, from Orefield, says she knew she wanted to become a doctor since she was a junior at Parkland High School and was able to shadow St. Luke's physicians.

But she waited a year after graduating Magna Cum Laude in biology from Siena College before applying to Temple/St. Luke's School of Medicine. In college, she had balanced the demands of being a Division I student swimmer with academics and extracurricular activities, leaving scant time to study for the MCAT, the traditional entrance exam for medical school.

During her junior and senior years in college, Sheridan gained valuable hands-on experiences in health care while serving as an EMT in her community.

"And, as part of St. Luke's Medical Assistant Training program, during my 'gap year,' I spent time training in many different specialties, from pediatric endocrinology to dermatology to family practice," she says. "I was able to shadow physicians here, too, which helped me learn more about St. Luke's and the practice of medicine."

Meanwhile, she studied in preparation for applying to Temple/St. Luke's. Away from medicine, she coached swimming at Parkland High School, which she plans to continue during medical school. Now, she's thrilled to begin at Temple/St. Luke's to pursue her ultimate dream of becoming a physician.

"Taking a year off after college, dedicated to working and applying for medical school, was the best way for me to have more informative experiences and balance my time," explains Sheridan, who hopes to join St. Luke's after graduating.

According to Mededits.com, in 2020, 44.1% of matriculants started medical school one to two years after college. And 22.2% of students took three or more years off before beginning the training.

Easton native Keith Grega spent two years after graduating Summa Cum Laude from Bucknell University, in 2021, with a degree in biomedical engineering, exploring a new health specialty that runs in his family to ensure this was the path he wanted to embrace.

In addition to serving as an administrative assistant and scribe in a New Jersey-based primary care practice, helping treat patients with chronic illnesses, he worked for a non-profit in the Lehigh Valley distributing local produce to areas of food insecurity in Easton, Bethlehem, and Allentown.

"I also did a winter internship in 2018-2019 with St. Luke's Community Health Department," Grega explains, "where I experienced various aspects of community health through shadowing physicians during physicals at elementary schools, on rounds at the St. Luke's Bethlehem Campus hospital and in the clinic, and assisting St. Luke's Parish Nursing in Allentown, where I helped homeless individuals obtain their medications and bus tickets for job interviews."

This month, he, too, begins as a first-year medical student at Temple/St. Luke's medical school, hoping to eventually train in primary care and lifestyle medicine, which focuses on maintaining or regaining health through nutrition, exercise and other life-enhancing behaviors.

At age 23, he's following in the footsteps of his mother, Meagan Grega, MD, St. Luke's Lifestyle Medicine Course Director for Family Medicine and Internal Medicine Residencies at the Anderson Campus, which her son hopes to train in after completing medical school.

"My gap years have definitely prepared me for medical school by giving me a good foundation for chronic disease management and prevention," Grega adds.