News
New Soccer Partnership with Keystone Athletic
March 13, 2023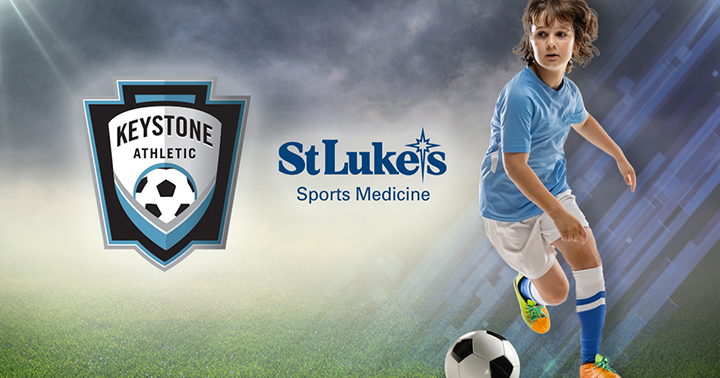 St. Luke's University Health Network and Keystone Athletic are proud to announce a formal relationship between the area's premier sports medicine provider and the largest soccer club in the Lehigh Valley-Pocono region.
"We are thrilled to be working with St. Luke's," said Keystone Athletic President Hisham Sobhy. "We always strive to provide the best possible sports services and sports medicine for our players and their families, and St. Luke's is a great institution to be working with."
St. Luke's Sports Medicine is the leading provider for athletics throughout the Lehigh Valley Region with more than 60 high schools as well as numerous relationships within the local soccer community, including the Lehigh Valley Youth Soccer League.
"This is truly a partnership between two organizations that have very similar visions for how to grow the game of soccer and provide as many opportunities for kids to play as we possibly can," said John Hauth, Senior Director Sports Medicine Relationships for St. Luke's.
St. Luke's and Keystone have agreed to an initial 5-year partnership deal that will focus on providing athletic training services, sports medicine care and financial sponsorship to aid in keeping costs at a minimum for players and families to commit to the game of soccer.
"Keeping the costs to play low is important because it allows the kids to play for their home clubs and home leagues," Hauth said. "That's important for the communities we serve because it helps grow the next generation of soccer players, and a vibrant organization helps keep the local communities engaged in the mission of keeping people healthy and active."
Keystone has been working with other soccer clubs in the region to provide more playing opportunities. That collaborative approach has helped young players stay in their local areas without having to commit to lengthy travel and costly fees.
"Anything that benefits the kids in our sport in this area is what we wish to accomplish," said Tom Mustac, the Director of Coaching for Keystone Athletic. "This is a great partnership with St. Luke's, which has the best sports performance programs in the region. Their training programs are teaching our players injury prevention and getting our athletes prepared for the season.
"Our goal is to provide the community a place to play at all levels, from beginner to advanced. I think we have done a great job doing so with the relationships created in Northeastern PA. Our growth and level of play speaks for itself."
Keystone has been utilizing a variety of the St. Luke's affiliated indoor facilities throughout the winter to run training sessions as well as free soccer clinics.
The soccer clinics are an integral piece and part of the overall mission of the partnership, according to Hauth.
"The contract officially began in the fall, but we had been partnering on a number of things together for a while," he said.
Keeping training and playing local will continue to help the players develop to the best of their abilities
"Why should players have to leave this area to get higher level training and playing experiences," Mustac asked rhetorically. "We love staying local and benefitting the kids in the area, and thanks to St. Luke's, we can make it possible for our best players to stay local while growing the game from the grassroots level with expert, affordable training and dedicated sports performance and sports medicine services."