News
Med Student from Nazareth Becomes Doc at Hospital Where She Was Born
May 03, 2023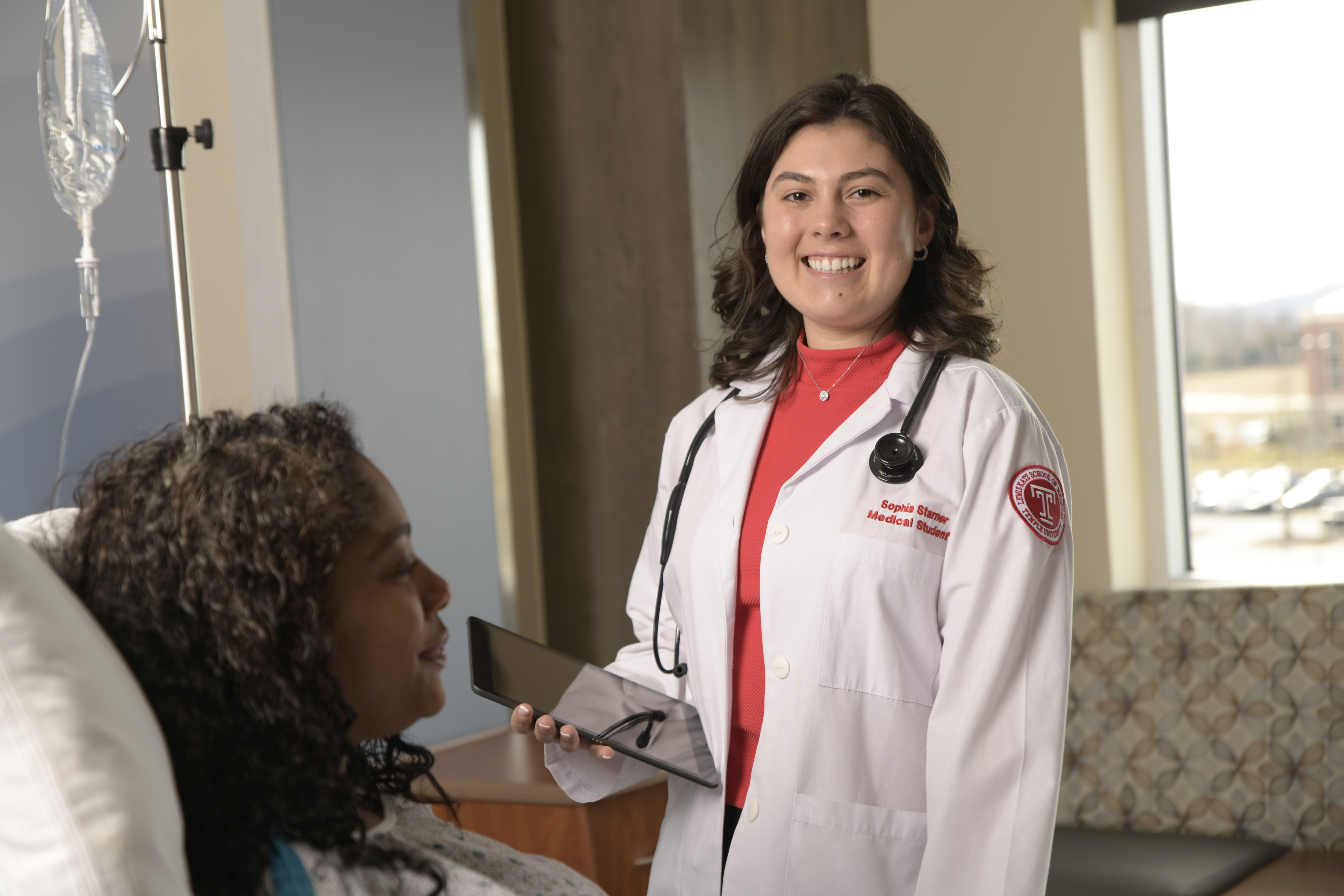 Sophia Starner, born at St. Luke's University Hospital in Fountain Hill 24 years ago, found early evidence of her professional calling at age 7 with the premature birth of her younger sister, also at St. Luke's.
"My mother was pregnant with Madalyn when she slipped and fell on the ice while walking our dog," recalls Starner who lives at home in Nazareth. The accident caused her mother to suffer a placental abruption, a serious complication that required her to deliver Madalyn three months early.
"I was amazed at the 'magic' of the doctors and nurses and NICU team," says Starner a third-year student at Temple/St. Luke's School of Medicine.
The Temple/St. Luke's School of Medicine at St. Luke's University Hospital in Fountain Hill is the Lehigh Valley's first and only four-year medical school, where the region's brightest young minds go to become doctors. By cultivating home-grown medical talent, such as Starner, who has deep roots in the Lehigh Valley, St. Luke's is helping the region to secure its health and well-being amid a worsening doctor shortage nationally.
Madalyn spent three months in the neonatal intensive care unit at St. Luke's, and the special care she needed as a preemie continued when she was discharged home.
"We had oxygen and monitors and visiting NICU nurses, other medical things, that came home with Madalyn and helped her survive and grow," Starner says. Today her sister is a healthy teenager who is planning to enter the medical field after graduating from high school.
Fast forward to the present, and the elder sister admits the incident didn't inspire her to want to become an OBGYN, despite her admiration for the medical heroics performed by the team that took care of her little sister.
Rather, she feels drawn to specialize in dermatology, hoping to eventually join St. Luke's Dermatology for her professional career.
"I like wounds, scars and making people feel healthy and confident in their own skin," explains Starner, who is proud to be a member of the med school's Class of 2025. "It's the continuity of care and face-to-face contact with the patients that I look forward to."
"I'm a people-person who gets energized from the presence of others."
She gets loads of that from her classmates, teachers and mentors now, in addition to absorbing tons of new information and facing the travails and challenges that come with her chosen field.
"Everybody here plays a part in my med school education."
As the first doctor-to-be doctor in her family, Starner says she fields frequent calls from her grandparents asking her what she's learning. She welcomes these questions, which affirm her desire to help college and high school students who are interested in the health field.
"I'd like to be a mentor for med students here eventually after I'm in practice," she adds. She has already helped teach STEM activities to elementary school girls at Bethlehem Area School District as part of its "Tech Girls" program. She's already giving back like a veteran at her young age.
What lies ahead for Starner are five more years of intense study and clinical training with the end goal of serving a community, where she has spent her entire life at a hospital where she and her sister entered the world under different circumstances.
"I love St. Luke's," she said. "I could see myself working there for the rest of my life, bringing the magic of medicine here as a healer in my community."