News
A Valentine's Day Story: Love is Good Medicine for These Two Former Medical Residents
February 09, 2023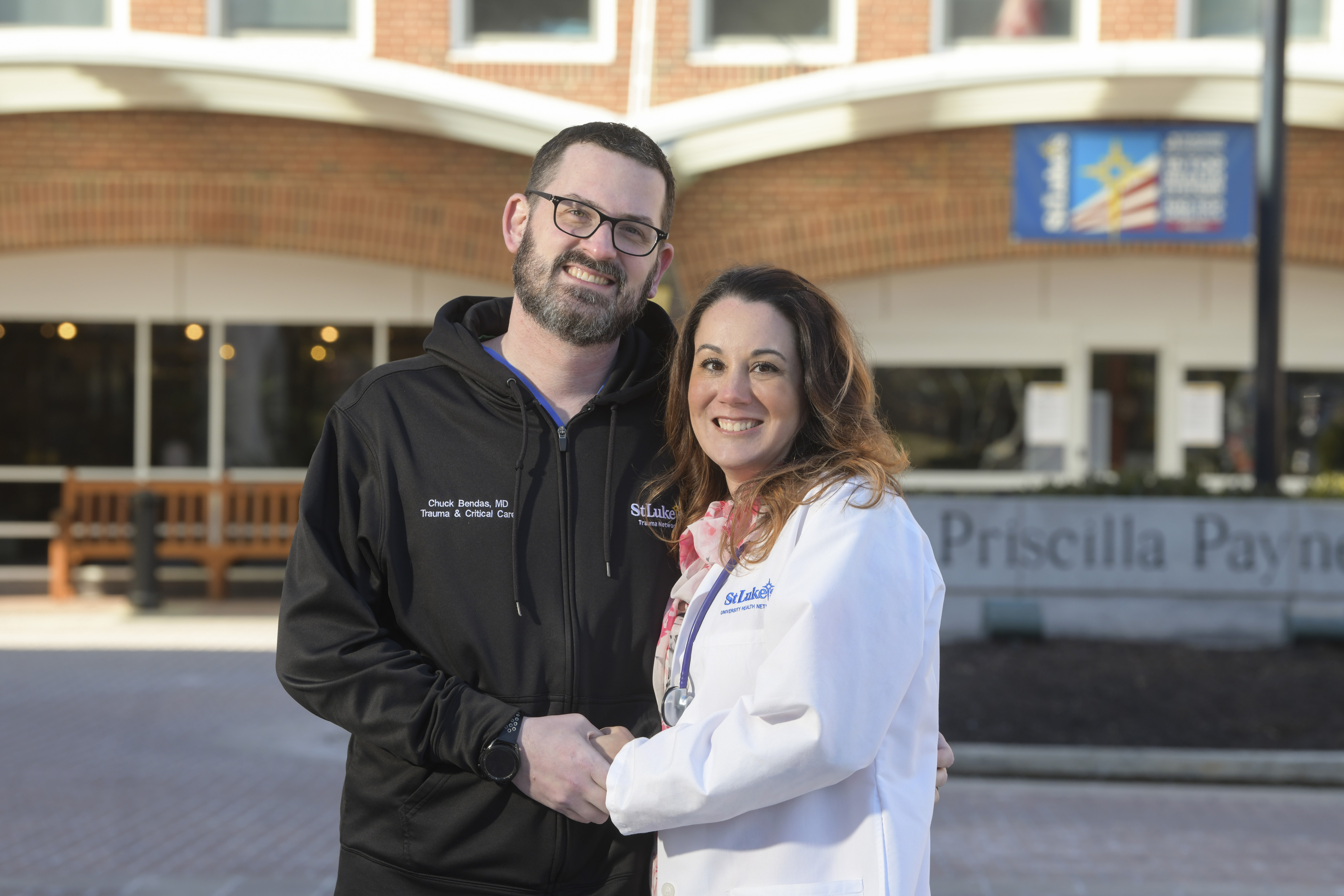 As incongruous as it might seem, Cupid was working magic in the St. Luke's Bethlehem hospital's ICU one Thanksgiving Day a decade ago as two medical residents-in-training helped to save a patient's life during a code. A code is a life-threatening emergency to which a specially trained in-hospital team is alerted to perform a resuscitation or other major life-saving intervention.
Erin Smith, DO, and Chuck Bendas, MD, were the targets of the mythical god of love that day in 2010. Now they're married and living in Center Valley and about to celebrate their 10th year of marriage and 13th years with St. Luke's: Erin Bendas, DO, is chief of Palliative & Supportive Medicine; Chuck Bendas, MD, is a trauma/surgical critical care physician.
St. Luke's University Health Network attracts some of the best and brightest minds to train and work at its 14 campuses, helping the Lehigh Valley avert the worst impacts of an ongoing national doctor shortage. Many physicians start as students in the Temple/St. Luke's School of Medicine, the first and only four-year medical school in the Lehigh Valley. Some of these then go on to a post-graduate residency at St. Luke's, which operates the region's largest graduate medical educational program, comprising 45 fully accredited GME programs with more than 400 residents and fellows.
A first-year resident, Erin was daunted by the gruesome code crimson that day. The patient was hemorrhaging and required a massive transfusion STAT. Chuck, a second-year emergency medicine resident, arrived and took charge of the situation, which might have fanned the flames of Erin's interest in him.
"I was in awe of him," she admits. "It was gory."
Erin, originally from Nebraska, earned a position in the internal medicine residency after graduating from medical school in Kansas City, MO. Chuck, from Doylestown, earned his medical degree from Drexel University School of Medicine before "matching" as a resident at St. Luke's.
Love bloomed for them soon after the code, though each admits to having felt a nascent, side-eye attraction to the other before the critical incident. They met for a drink the next day, Black Friday, briefly discussing the code and went to see the Harry Potter and the Deathly Hallows movie, itself full of magical moments like their growing mutual attraction.
The coupling and uncoupling of medical professionals are commonplace in hospitals, where people work closely with one another in a sometimes intense, demanding setting.
The Bendases have followed different paths in their profession: her internal medicine, him trauma. But surprisingly their daily interactions are common. Chuck often rescues and repairs accident and fall victims with surgery, then Erin helps the patients and families discuss subsequent symptom management and goals of treatment.
Their personalities differ, too. Erin is more pensive, analytical and orderly. Chuck admits to having an intuitive and spontaneous "action-oriented" personality, which fits his specialty's need for "thinking on my feet." It works for them, they agree.
How do they keep their love alive?
"We enjoy spending lots of time together," says Erin. "He makes me laugh all the time."
They place limits on bringing work home so they can relish the quiet-down time that helps them refill their tanks with energy and empathy that fuels the high-intensity medical profession.
When they're both off from work, they share hobbies, from travel, sports and board games, to dinners at local restaurants, watching movies and spending times outdoors.
"We don't watch doctor shows," Erin quips.
They take one major vacation trip each year, often going overseas. Having just returned from Norway, they're now considering a trip to Japan, an African safari or a return to Bora Bora, where they spent their honeymoon in 2013, or maybe two trips.
"This is a big year for us," says Chuck. He will turn 40 in June, in addition to their 10th wedding anniversary in September.
Their plans for Valentine's Day this year might include a quiet meal at Kome', Zest or Three Oak Steakhouse, in Easton, Chuck's favorite.
Giving gifts isn't always part of this holiday of the heart, though she might score tickets for him to the Phillies as in the past or plan a ski trip out West.
He's either secretly planning a surprise for Erin or will spoil her with flowers, which she always appreciates.
"He sends me very nice flowers," she beams.
But they agree they don't really need a special day or reason to celebrate their love and commitment to each other, to which Chuck offers, with a twinkling smile, "Every day with you is Valentine's Day, honey."