News
Injured Lacrosse Player Turns the "Paige" to St. Luke's to Return to Play
March 02, 2023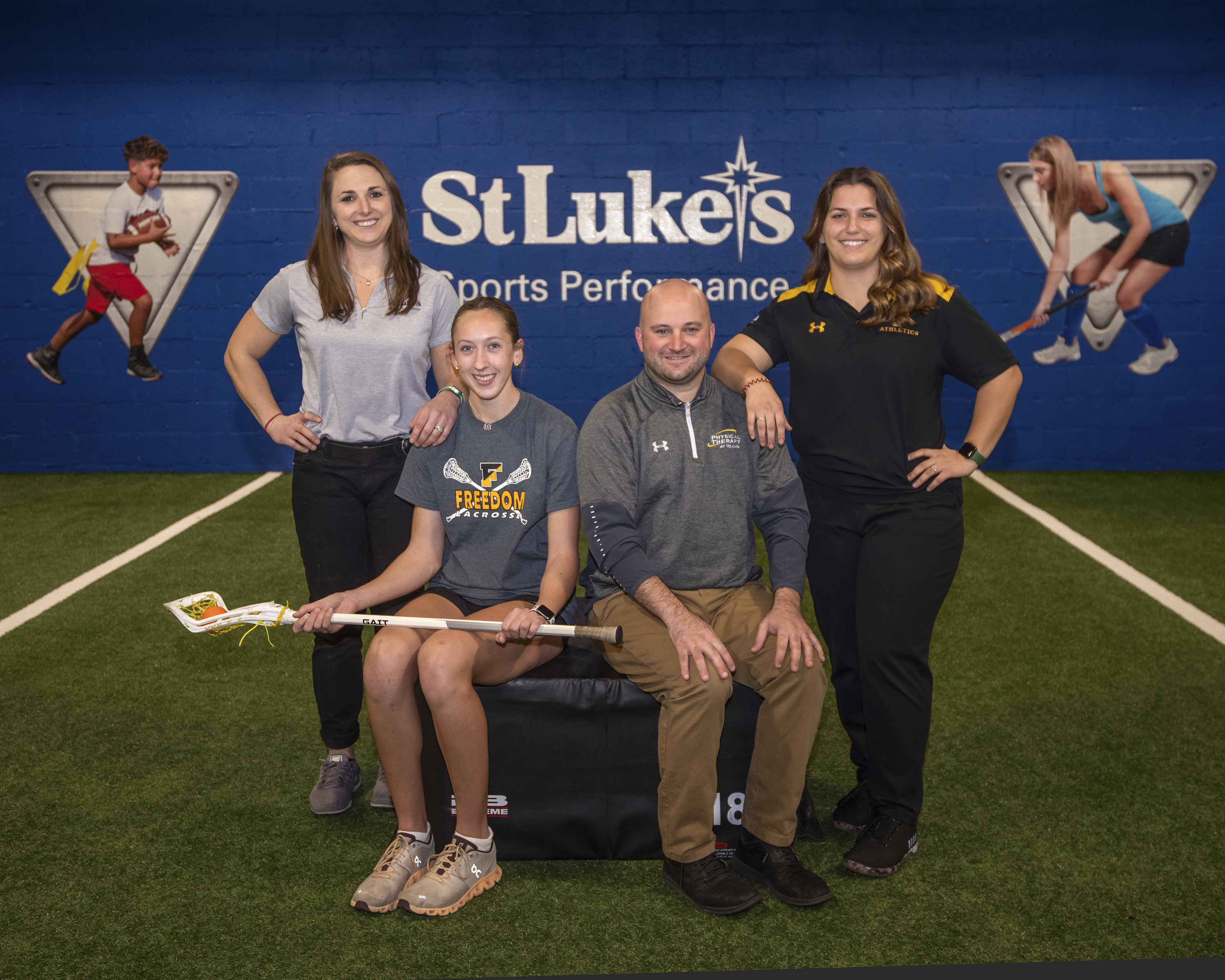 From left: Jillian Hall (Sports Medicine Coordinator and Director of St. Luke's Return to Play Program), Paige Telatovich (lacrosse athlete from Freedom High School), Gregory Colvin (St. Luke's Physical Therapist), Brianna Frable (Athletic Trainer for Freedom High School).
Freedom senior Paige Telatovich, a Pitt recruit, uses St. Luke's Return to Play Program to get back on the field.
When Paige Telatovich tore the ACL in her right knee as a junior during a lacrosse game last April for her Freedom High School team, the results could have been devastating for the University of Pittsburgh recruit.
But Paige found inspiration, hard work and mental fortitude both before and after reconstructive surgery, utilizing the expert professional care of St. Luke's Physical Therapy, the St. Luke's certified athletic trainers at Freedom, and St Luke's Return to Play Program. Paige's buy-in to the St. Luke's' interdisciplinary approach has her eagerly awaiting final clearance to go back on the field in a competitive mode.

"Even before the surgery, my athletic trainers at Freedom had me doing 'prehab' to get my quads as strong as possible before the reconstruction," Paige said of St. Luke's athletic trainers Brianna Frable and Connor Shelton.

A week after surgery last April, she began extensive physical therapy with Greg Colvin, PT, DPT, CMP, ATC. She did so well that she earned an October referral to the Return to Play Program, working with Jillian Hall, DAT, LAT, ATC, CSCS, USAW-L1, who is the Return to Play Program Coordinator for St. Luke's Sports Medicine.

"I feel like when I started training with Jillian, the athlete in me started coming back," Paige said. "Working with her has enabled me to rebuild my confidence mentally and in my knee. She has been super beneficial. I love that Jillian specifies my training for lacrosse. We're doing such realistic drills, the things that are preparing me to get back on the field and succeed."

Colvin referred Paige to the Return to Play Program, a sports performance program held at the St. Luke's Sports Performance Union Boulevard facility. The Return to Play Program bridges the gap between traditional physical therapy in a clinic or athletic training room to more wide open spaces to ensure an athlete is both physically and mentally ready to return to play.

Paige had just been cleared to jog when she was referred to Jillian, who likened her to a baby giraffe learning to walk.

"We focused on getting her more comfortable in a slow-manner running pattern where she could focus on technique," Jillian said. "Then we added speed, strengthening in different planes of motion, and making sure she was getting strong so when she began to cut again, she would feel comfortable doing that. We worked on multi-directional strength and deceleration strength, and then more acceleration and deceleration work from sprinting."

Jillian reports that Paige has improved by leaps and bounds and is more confident again in her athletic ability, even improving her deadlift to 360 pounds. She never lost focus of her lacrosse stick skills, either, continuing to hone them even while limited – by sitting in a chair — with older sister Emma, who plays lacrosse at Embry-Riddle Aeronautical University in Daytona Beach, Fla.

"My family has been super supportive and incredible through this whole process," Paige said. "They literally just want the best for me and to help me reach my goals.

"I can't thank everyone at St. Luke's enough. This injury is physical, but it's also a mental challenge, and Jillian truly helped me find that mental fortitude to keep going and chase these dreams. It brought a new light to how hard you have to work to achieve those goals you set for yourself. Jillian made me do uncomfortable drills that really challenged me to get past the mental blocks, to challenge my knee and push me past those mental barriers. I know when I get back on the field for real, nothing will be holding me back."