News
Helping High School Students Discover Health Careers
June 16, 2023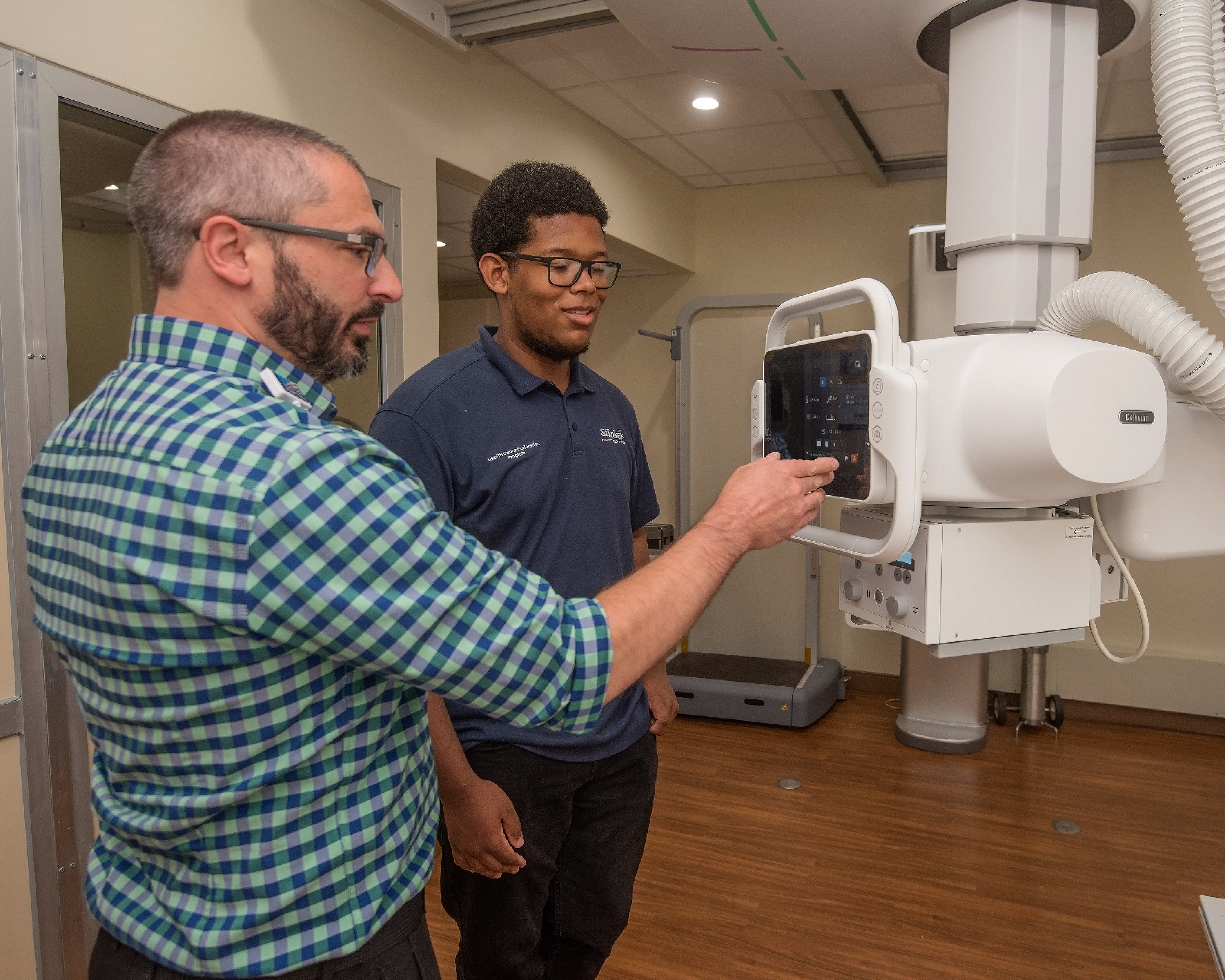 Kyle Fatzinger, radiology manager at St. Luke's Allentown Campus, explains the functions of the control panel of an x-ray unit to Samuel Uben, a participant in the Health Career Exploration Program.
Samuel Uben, from William Allen High School, and Jayla Marrero, from Freedom High School, are completing the Health Career Exploration Program at St. Luke's University Health Network, which is funded by the Workforce Board Lehigh Valley.
.
One of two dozen Health Career "explorers," 18-year-old Uben, of Allentown, says he's grateful for the work experience, mentoring and employment preparation program that "confirmed that I want to work in the healthcare field."

He hopes to become certified as an x-ray technician after completing his bachelor's degrees in biochemistry and computer science at Kutztown University where he was accepted on a "full ride" scholarship.
The Health Career Exploration Program, which has been running for 15 years, gives interested, motivated, and often low-income high school juniors and seniors an opportunity to receive on-the-job training working alongside St. Luke's employees. They work in clinical and non-clinical settings, providing support to the staff and patients in the afternoons after they have completed their academic days. Most participants come from diverse populations, with the majority of students identifying as Hispanic and nearly one quarter Black/African American.
According to Victoria Montero, St. Luke's Network Director of Community Workforce Development, "Through the Health Career Exploration Program, St. Luke's exposes students from diverse backgrounds to careers in the healthcare industry, helps them gain insight into clinical and non-clinical roles, teaches them job-keeping and job-seeking skills, helps them understand future employment opportunities, and builds confidence in their abilities."
"I always wanted to work in healthcare, and this program gave me my first opportunity to see the inside workings of a hospital," says Marrero, an 18-year-old Bethlehem resident.
She spent six months of the program working after school helping nurses and trauma patients at St. Luke's Bethlehem campus. She is enrolled in Northampton Community College to study nursing, then will head off to Winston-Salem State University in North Carolina where she hopes to specialize in OB/GYN or pediatrics.
Students must apply and interview for a position in the Health Career Exploration Program through St. Luke's and meet the eligibility requirements of the Workforce Board Lehigh Valley. Participants are paid for employment that prepares them for jobs in the health field.
Nancy Dischinat, Executive Director of Workforce Board Lehigh Valley, says, "Healthcare is the number-one employer in the Lehigh Valley, and it is imperative that we provide work-based opportunities to youth, our potential workforce, to ensure they have an opportunity to preview health care occupations and learn about the enormous opportunities for employment and continuing growth in the health care industry.
"I love the St. Luke's Health Career Exploration Program providing job readiness skills training and work experiences in a healthcare setting. Thank you, St. Luke's, for being such an important partner in workforce development."
Uben was assigned to the radiology department at St. Luke's Allentown Campus, where he transported patients and was able to communicate with them in their primary language as he is bilingual in Spanish and English, helping "make it less stressful for them."
"This was a really good experience for me," says Uben, who added he learned radiologic terminology and even received tips on how to read an x-ray. He had volunteered at St. Luke's for several years previously because, "I really like helping people."
The program, run by St. Luke's Department of Community Health, provides experiences in healthcare careers to student, ensures they graduate from high school, and promotes post-secondary employment or education with hopes to diversify the future healthcare workforce. Adolescent Career Mentoring Program Coordinators, Naomi Felix and Ruasl Attaa Aldhaheri, coach the students and provide life-skills lectures during the program.
The current group, from the Allentown and Bethlehem school districts, were assigned to the Health Network's Allentown, Anderson, Sacred Heart and Bethlehem campuses. They worked in departments including medical-surgical care, emergency room, pharmacy, laboratory, radiology and others. They started last December and are finishing next week.
Marrero is in the process of being hired as a patient care assistant on the unit where she trained, taking the first step to eventually earning her bachelor's in nursing. She had experience as a caregiver last year, helping to take care of a family member who was being treated for cancer.
"This is a dream come true," she says.
The students spend about 15 hours each week working in their assigned department and receiving group instruction in key life skills including financial literacy, leadership, resume development and interviewing skills. Montero adds that the benefits of this training are impressive and far-reaching: "Over the life of the program, 98% of students who participated in the Health Career Exploration Program have graduated from high school.
'This is a lifechanging opportunity for them," says Montero. "We love to help them and witness their growth and development."