News
Easton Campus Showcases Murals
April 27, 2023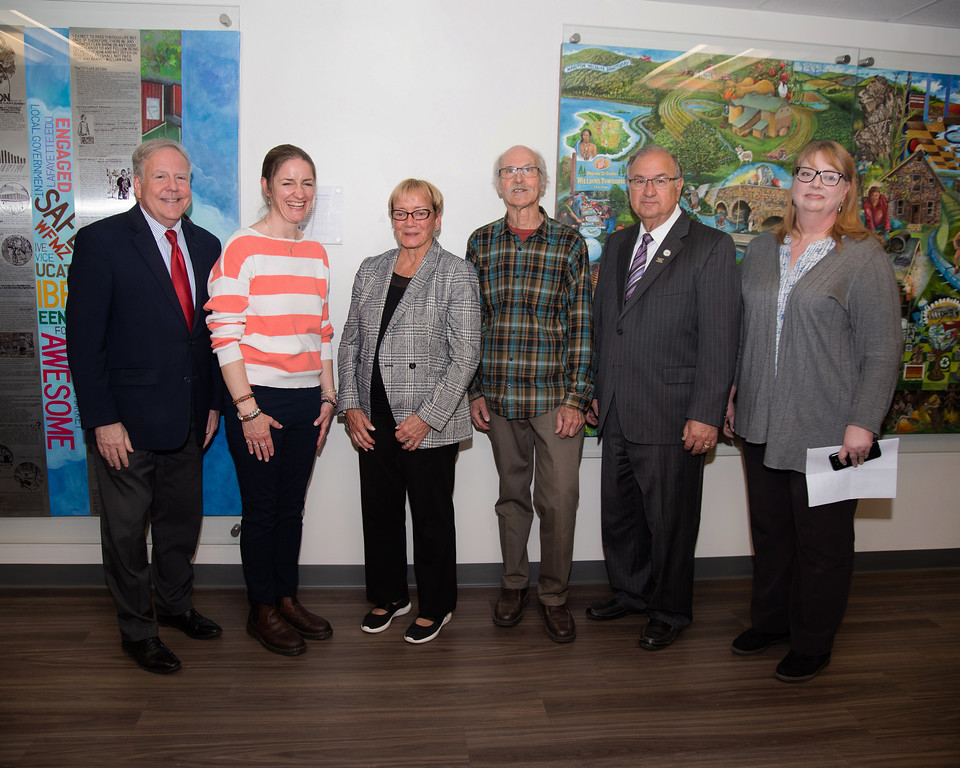 State Representative Robert Freeman, Rachel Hogan of Nurture Nature, Easton Campus President Linda Grass, Artist Don Wilson, Easton Mayor Sal Panto and Keri Maxfield of Nurture Nature.
St. Luke's Easton Campus is the new home of two large-scale murals that honor the area's rich history, vibrant community and resilient vision of the future.
Created by artists Jackie Lima and Don Wilson, and commissioned by the Nurture Nature Center (NNC), the murals are a product of NNC's four-year, community-wide project funded by the National Oceanic and Atmospheric Administration.

A dedication ceremony introducing the murals was held on Thursday, April 20, with introductions by Linda Grass, President at St. Luke's Easton Campus, and Rachel Hogan Carr, NNC Executive Director.

"St. Luke's Easton Campus was formerly Easton Hospital, which has been the community hospital of Easton and Wilson for over 130 years," Grass says. "These murals represent the communities that have supported this hospital all of these years. St. Luke's Easton Campus is part of the Wilson mural and is a great example of resilience in how it endured years of challenges and now being part of St. Luke's, there is new life and a platform for the future."

The Easton mural is four 36" x 72" panels and is 6' x 12' when assembled; the Wilson mural is three panels each 48" x 60" inches, or 5' x 12' when assembled.

"The murals provide an authentic insight into the communities that St. Luke's serves, showing visitors that St. Luke's is not just a part of the community, but dedicated to championing the connections to the past, present and resilient future of the communities they serve," says Kate Semmens, NNC Science Director.

"Health is not just a doctor's visit; it is embodied in a community's culture, operations and connection to its local environment and each other."

Lima, artist of the Easton mural, is a painter of large-scale works and professor of art at Fairleigh Dickinson University. Wilson is a muralist, educator and Master Watershed Steward.

Noting that the artists were asked to produce community-specific murals, Keri Maxfield, NNC Art Director, describes that Lima weaves imagery with text in Easton's vision of resilience.

"Jackie does so in a fascinating way that narrates history and environment, while visualizing a sense of community that is uniquely Easton," Maxfield says.

"The artist highlights the story of the people of the City of Easton, centering on the innovation, diversity and strengths of a community ready for a resilient future."

Meanwhile, Maxfield says in the Wilson "Vision of Resilience," artist Wilson creates "a rich and varied landscape that is chock full of on-the-ground examples of sustainability and local people caring for the land and community."

The murals present a lasting reminder of the past, present and future characteristics and hopes of each community, Semmens says.

"Those familiar with each community can recognize places, histories and culture," she points out.

"There is familiarity, yet newness, through imagined futures that bring resiliency to light and inspire sustainable solutions that support community and environmental health. The environment and public health are intricately entwined, and you cannot have one without the other."

The murals were previously displayed at several locations throughout the area. The Easton mural was at the Easton Public Market and included in an exhibit at NNC. The Wilson mural was exhibited at the front entrance at Wilson High School and at the Williams Township Municipal Building's public meeting room.

"They are a symbol of resilience and hope, which is very important in a hospital setting and applies to hospital staff and patients," Grass explains.

Semmens agrees: "Art speaks to people in ways that numbers, data and information cannot. It evokes visceral responses and leaves deep impressions that last long after a brief interaction. In a hospital setting, art can soften an institutional feel, making patients feel at ease, welcomed and more positive. Art can bring hope and uplift visitors who may come with concerns or worry. This type of expression brings innumerable benefits, especially in a hospital setting."