News
A Head for Business and a Heart for Giving
September 28, 2023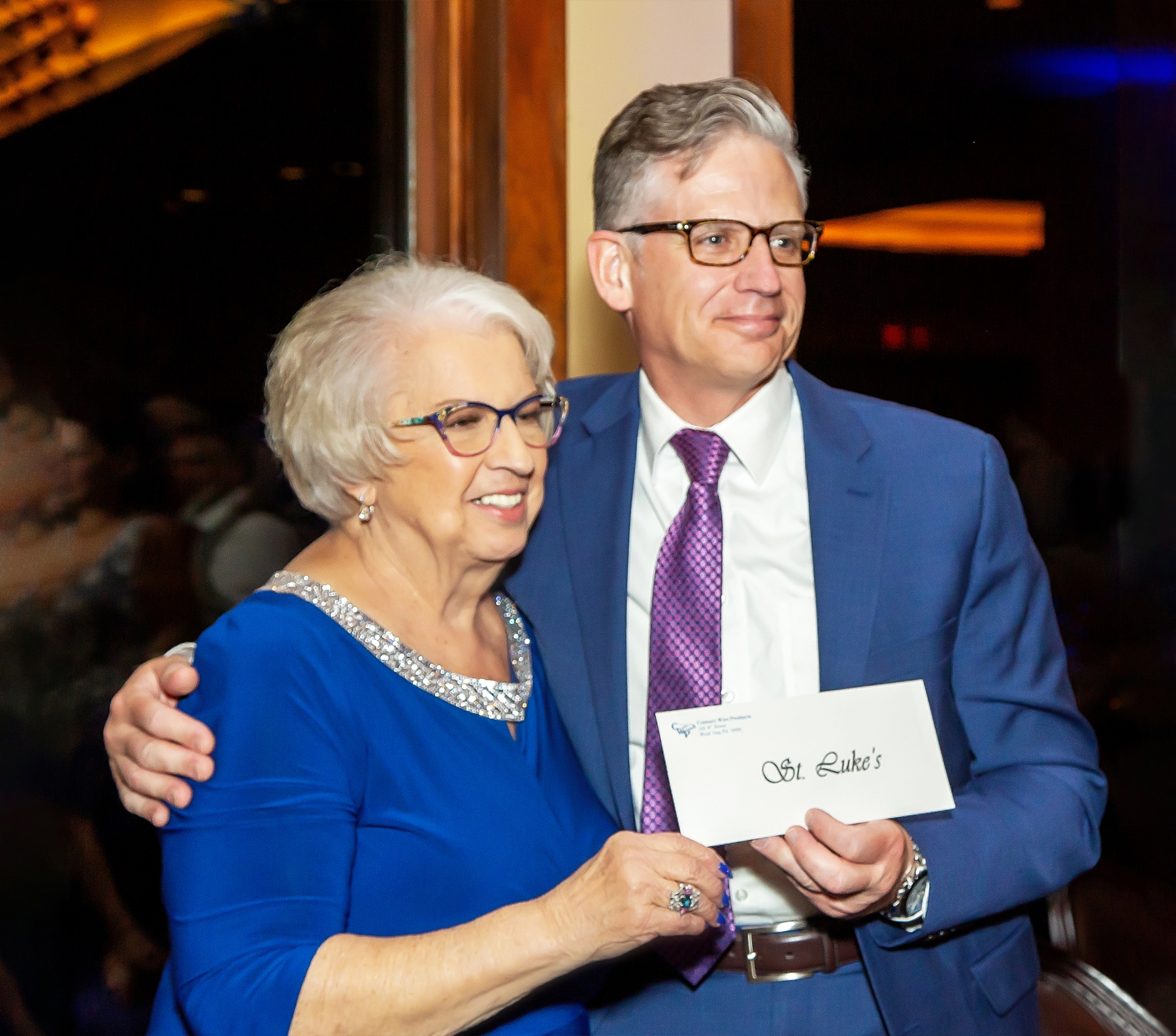 Danielle Dupuis gives a donation to St. Luke's Monroe Campus President Don Seiple.
Danielle Dupuis always had a head for business. "Even as a child," she said, "I was wheeling and dealing – always busy. And when I grew up, I was very enterprising."
She made and sold quilts and wedding dresses and opened spas. She taught dance and even joined a community theatre to fulfill a lifelong love of dancing. "I started out as a helper and ended up running the whole show and being chairman of the board. I guess you could say I had a pretty diverse career," she said while sitting in her own wood-paneled board room at her company's Wind Gap headquarters.
But she found her greatest success founding and running Century Wire Products Corp., a 100 percent woman-owned global supplier of lashing wire and messenger strand. Established in 1998 by Dupuis and her late husband, Roland, Century Wire Products Corp. serves the telecom and CATV sectors and other industrial markets from its Wind Gap headquarters. It's a field that has traditionally attracted few women, and even fewer when Dupuis entered it decades ago to work for the CEO of Metex Corp.
"It was an administrative role at first, and one thing led to another," she said. "I ended up having different roles with the company – purchasing, collections, then head of operations – it was really an education for me."
It was also the setting for her budding romance with her future husband, one of the company's suppliers. "You had to be very careful back then," she said. "You weren't supposed to date any of the vendors. But love won out, and I had a wonderful husband for 34 years before he passed away in 2021."
In the wire business they founded together in the late 1990s, Roland's technical and mechanical skills were put to good use in designing and crafting the equipment they needed, while Dupuis' business skills built it into one of the most successful in the industry and the only one headed by a woman. "We were a great team," she said. "We were perfect together because we really complemented one another."
She did encounter plenty of skepticism on the part of the men she dealt with in the industry, she said. "My sales rep, Brenda – who has been with me for the last 24 years – and I walked into one company, and there were all these guys seated around a big table in a conference room," she recalled. "There must have been ten of them. And one of them said, 'Well, this is no place for a woman.' And I turned around and said, 'I'll see you in five years and then we'll see what you have to say.'"
Within a year, Dupuis signed AT&T as a client, followed by industry giants Time-Warner and Graybar. From there, their client list expanded, and the couple outgrew their small starter space in Washington, N.J. "Then we heard about this place," she said, referring to a former blouse mill in Wind Gap. "And the price was right. We would have paid three times more for this same space in New Jersey." They pulled up stakes and settled into their refurbished industrial space and a ranch home on two acres in Bartonsville, where they lived with "our two babies" – a Morkie named Lil Abner and a Chichuahua/Terrier mix named Daisy Mae.
It was during this time that the couple became acquainted with St. Luke's University Health Network, which was set to expand into Monroe County with the construction of a hospital in Bartonsville. "We were very excited about having such a great hospital just a few minutes away, particularly at this point in our lives, when we started having health issues," she said.
In addition to Roland's treatment for prostate cancer and side effects that developed as a result, Dupuis suffered a stroke (from which she fully recovered) about a decade ago and a pulmonary embolism five years later.
"I had a really, really wonderful doctor who took such good care of me, and I'm so grateful for that," she said. "The people at St. Luke's also took care of some of our employees and they were tremendous with my husband, and he went through a lot. I can't thank them enough for all that they did and the wonderful care they gave him, and me."
Dupuis has shown her appreciation through a number of gifts to the health network, starting with generous donations to support the cardiac program (in appreciation for the cardiac care offered by Dr. Jose Amortegui to a key employee of hers), the construction of the Monroe Campus, and several school-based intervention projects. She also provided the funding for the purchase of the Senographe Pristina mammography system and the Savi Scout surgical guidance system for the Monroe Breast Center. More recently, Dupuis made a donation in her husband's memory to help fund the expansion of the Monroe Campus, which will double the size of the existing hospital when it opens in early 2024. In total, she has donated more than $195,000 to the Monroe Campus in appreciation, she says, for saving her life and caring for her husband's.
"The queen of second chances"
During a recent event at Stroudsmoor Country Inn to celebrate Century Wire Products Corp.'s 25th anniversary, Dupuis's vice president and general manager Neil Dougherty credited her with being "the queen of second chances" for all the times she has given people an opportunity to turn their lives around. Dougherty shared his own personal struggles, and how her unwavering support enabled him to overcome them, repair his relationships and remain a key member of her management team for more than 18 years now.
"She's helped so many people over the years – I can't even count how many," Dougherty said. "She just has a heart for people who are willing to work and willing to do the right thing, even if they had a past. I know she's done for that for me, and I'll never forget it. She's been like a second mom to me, absolutely."
Many of her employees share similar stories of Dupuis's warm heart: driving them to the hospital to make sure they get their required treatments, hiring children of employees for part-time jobs, advancing salaries to help employees get through a rough patch and even helping grandchildren of employees secure student housing in safer university neighborhoods.
"They call me 'the bank,'" Dupuis notes wryly. "But I always say to them, 'If I didn't have it, I couldn't give it. And I'm happy to do it. We're like family here."
From the outset, Dupuis was adamant about employing the disabled, often hiring through Abilities of New Jersey and taking the time to train them properly and allowing them to grow in the company as their skills progressed. "And I never had a better crew," Dougherty said. "Somehow, she just knows when she hires someone – she just has a heart for people."
Century Wire Office Manager Gladys Rivera agrees. Now in her seventh year with Dupuis, Rivera says that she "gave me an opportunity that changed my life." Over the time she's worked at the company, Rivera became a mother and a homeowner while growing as a professional. "She supported me every step of the way, all of the changes, everything. She is always there to support all of us," she said. "And she leads by example, by showing you can be strong leader and still have heart."
For her part, Dupuis sees it more simply: "I believe in paying it forward. I've been fortunate. I've worked hard, but I've been lucky, too. And I'm happy to help whenever I can."