News
A Family Affair at Sacred Heart Campus for Recently-Arrived Guatemalans
March 20, 2023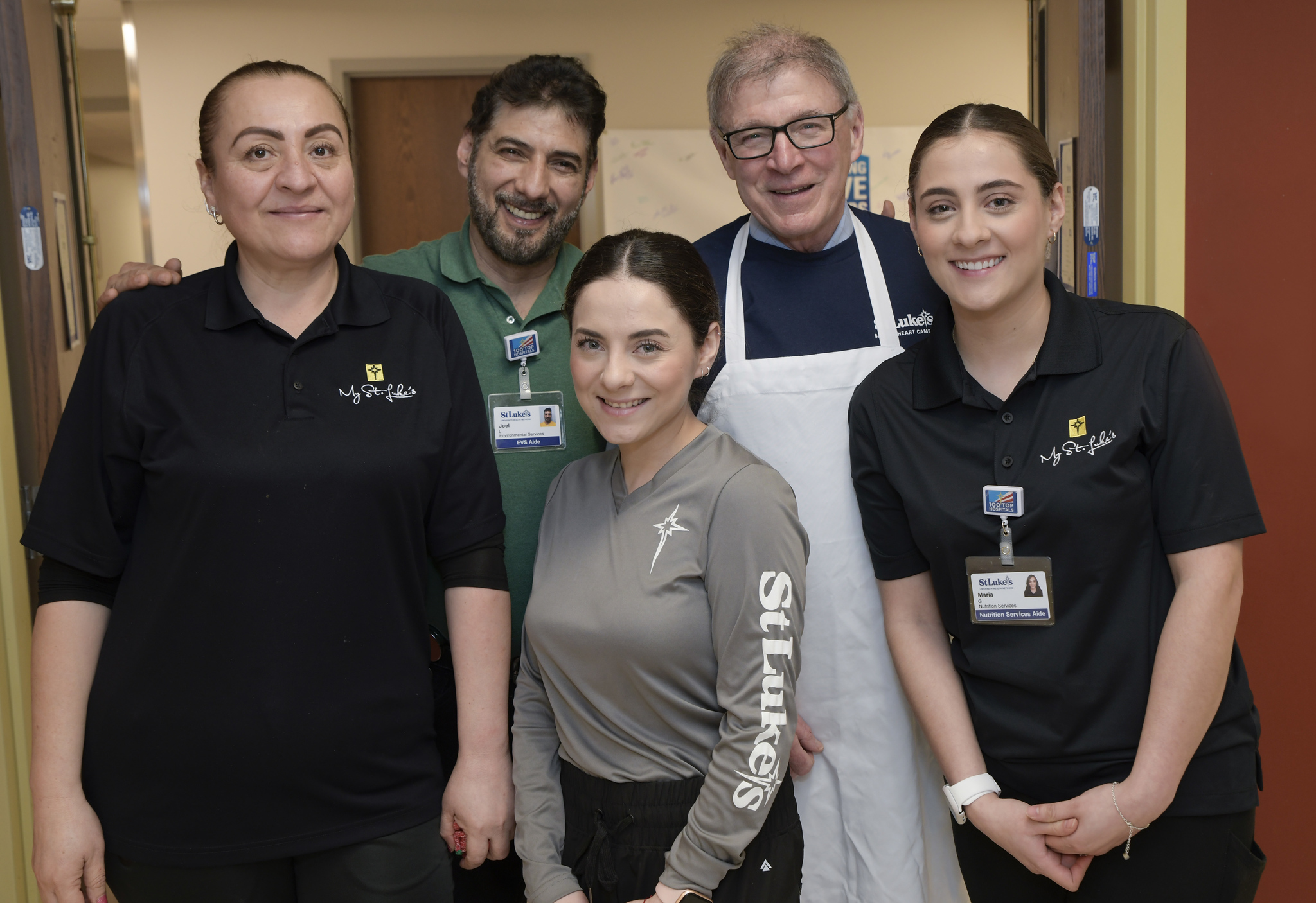 Sacred Heart Campus President Frank Ford (in apron) with the family from Guatemala.
A family from Chimaltenango, a city of roughly 100,000 people in the heart of Guatemala, has found much more than employment at St. Luke's Sacred Heart: The four family members have found a supportive sanctuary that is allowing them to build a new life in this country and embrace its abundant opportunities.
Dad Joel Guerra works in Environmental Services, and twin daughters Alejandra Guerra and Maria Ceselia join their mother, Ingrid Roca, in working in the Nutrition Services department of our St. Luke's Sacred Heart Campus in Allentown.
"The people here have been very kind and are very good people," said Alejandra about her Sacred Heart experience, which has allowed the family to stay bonded as a family. "All we have is each other."
Her sister, Maria, echoed similar sentiments, citing her co-workers at Sacred Heart as one of the most appreciated aspects of her job.
Both of the girls were studying law in Guatemala before the decision was made for the family to make their way to America. Like many immigrants from their country, personal safety was a primary motivator for the family to pull up roots, leave behind everything familiar and start over again in a strange country.
Working through the Allentown-based Bethany Christian Services organization, the family was able to connect with housing, English language courses and employment at the Sacred Heart campus. Family members were told "St. Luke's can help you. They are a great organization," according to the twins.
As the parents always emphasized their schooling while they were in Guatemala, the twins are continuing to focus on education. Both are working on improving their command of the English language and ultimately want to earn their nursing degree so that they can graduate to patient care and continue their work at Sacred Heart.
The family – who are in the Lehigh Valley on a temporary visa and will be eligible to apply for full residency after five years – have expressed a desire to stay in Allentown, where they feel much safer than in their home country.
"I feel like I have so much support," Maria said about her experience within St. Luke's.
Adds Alejandra: "We are so thankful for the opportunities and the doors that have been opened, thanks to St. Luke's."