News
Thriving Senior Center at Reinvigorated Hispanic Center
July 26, 2022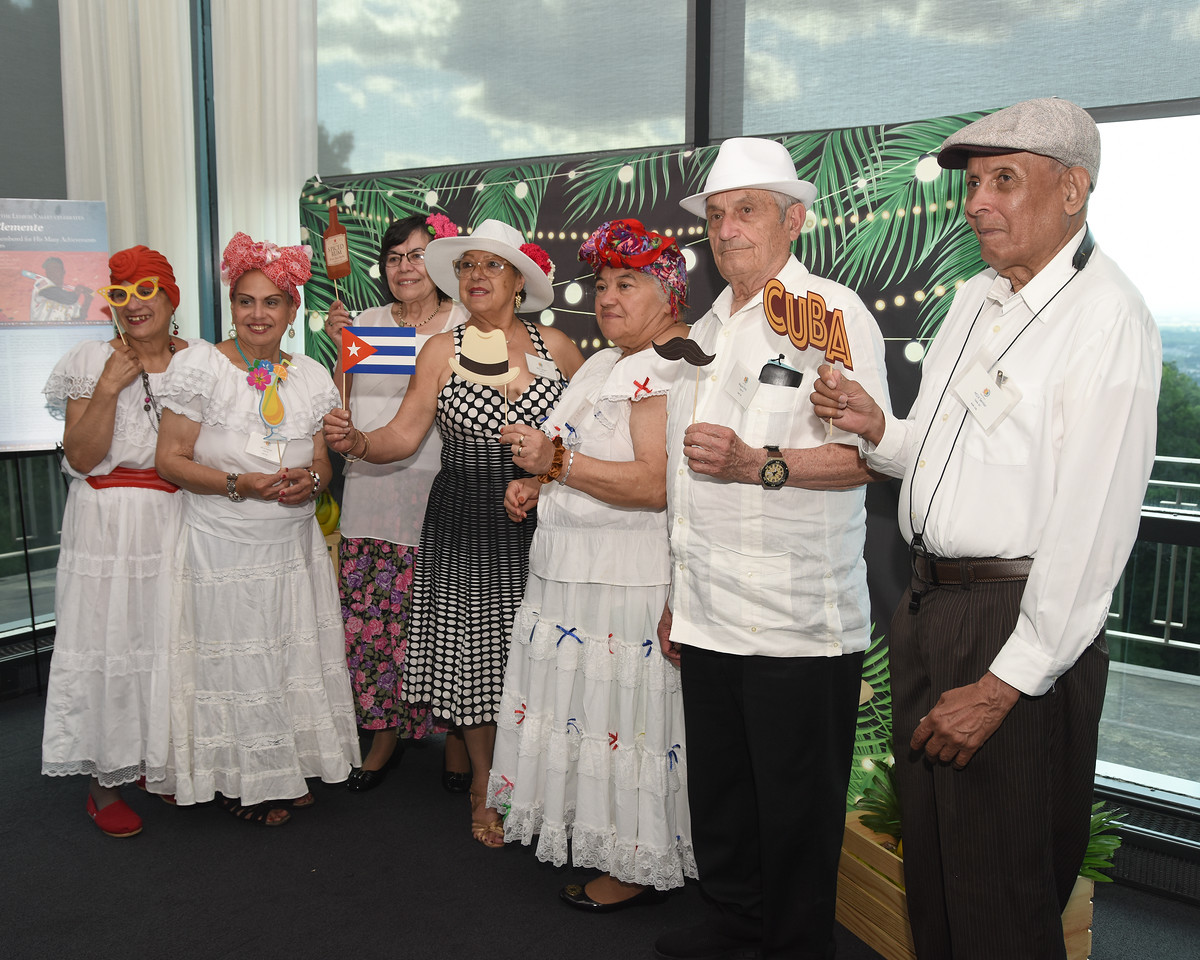 When you walk into the Hispanic Center Lehigh Valley's (HCLV) Basilio Huertas Senior Center, you may be greeted by the smell of homemade food and the sound of bingo chips or dominoes. You may hear music, banter and laughter. The center feels alive and vibrant, filled with seniors living in the moment and enjoying life.
The center is thriving today thanks in part to the ongoing financial and programmatic support, from diabetes education to COVID-19 vaccination clinics, of St Luke's University Health Network.
Leonides Solivan comes back for the camaraderie and loves to laugh and joke with the people who have lived through similar circumstances in their lives. She speaks of the older women who treat the younger senior women in the program like daughters. They talk about their hardships, family issues, and being supportive in times of crisis. They have survived a lot over the years and share their stories in a nurturing environment.
A strong network of friends is a hallmark of health and longevity, and the Basilio Huertas Senior Center provides a safe and supportive place to socialize and build relationships. Carmen Diaz speaks strongly about this aspect and what it means to her. She stated that HCLV gives her a reason to get up in the morning and get dressed. At 78 years old, she looks like a young 50 and exudes an infectious vibrance and joy.
During COVID, in-person services shut down. This had a devastating impact on many of the seniors. For example, Carmen said, "I didn't get dressed on most days and spent so much time in front of the TV. I wasn't myself. I didn't even comb my hair." Of course, many of us can relate to that, but for these seniors, the Center was their connection to life. Carmen said that during the pandemic a volunteer came by twice a month to drop a meal off at the house. This was a service that wasn't publicized, but a gift to let their seniors know they were still cared about.
HCLV did not shut its doors when COVID began circulating but pivoted instead to better serve its population and focused heavily on virtual case management needs and services, such as COVID education, vaccination coordination, and connection to other community resources. When the vaccinations became available, HCLV vaccinated around 250 people a day, totaling over 3,000 people. Last spring when the COVID mandate was lifted, HCLV was able to open its doors and serve seniors to its full capacity, alleviating a waiting list of over 30 people who were unable to participate due to COVID restrictions.
COVID is still a priority for HCLV. Many seniors who were isolated for so long are benefitting from their recovery-related programming that addresses deferred health care needs, provides accurate and up-to-date COVID vaccination information, and encourages socialization.
Seniors can attend programming from 8 am to 12 pm and receive breakfast, while seniors attending from 12:30 pm to 3:30 pm receive lunch. These meals are culturally appropriate, nutritious, and familiar with "home cooking" for the fifty-plus seniors that can participate in each session. Each group can benefit from wrap-around case management as well as social and educational activities based on the interest of the group. Through a partnership with LANTA, Senior Center participants receive transportation to medical appointments and the center.
St. Luke's has been a continuous champion of HCLV and provides necessary services such as the diabetes management program, health screenings, and "Walk with a Doc," programming on the South Bethlehem Greenway. This encourages healthy habits while providing other necessary support in order to meet individuals where they are and address their needs to stay healthy and active.
Jorge Romero moved to Bethlehem with his wife several years ago from New Jersey. They didn't know a soul until he happened upon the Basilio Huertas Senior Center. He said it was a game changer for them. "They help you with things like navigating the legal system and insurance, and now we have a network of friends that gather to play cards and dominoes, take trips to museums and plays, and walk the trails." He also likes to go fishing with a friend he met at the center.
Carmen likes to help keep the newer residents active. "I help them to get up and dance!" Maybe we all need a little more dance in our lives right now.