News
St. Luke's - The OB/GYN Care You Trust
September 21, 2022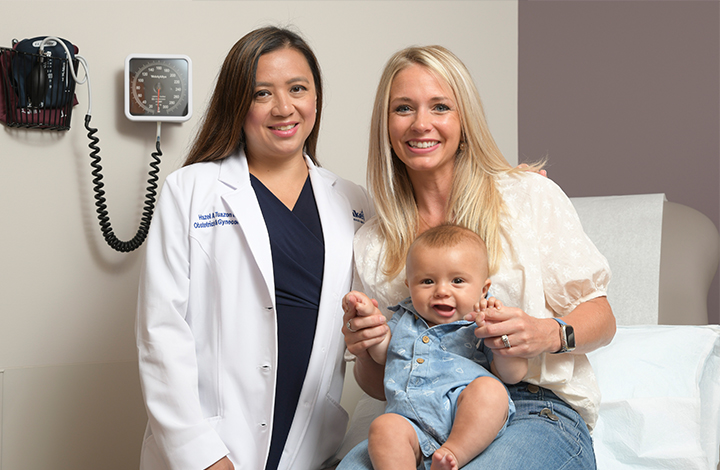 Hazel Tuazon, MD, Kylie and Baby Nico
Needing a gynecologist after moving to the Lehigh Valley in 2010, a friend referred Kylie to Hazel Tuazon, MD at St. Luke's OB/GYN - Complete Women's Care. Twelve years and two babies later, they're still together.
"We hit it off from the beginning," says Kylie. "I felt comfortable with Dr. Tuazon right away."
A Macungie resident, Kylie typically sees Dr. Tuazon in her Fogelsville office. As a teacher, she appreciates the extended practice hours, allowing for appointments before and after school. In addition, Maternal Fetal Medicine is conveniently located right across the hall.
In December of 2018 Kylie welcomed her first child, Manuel III. Dr. Tuazon managed the entire delivery, was taking pictures with "Manny" the next morning and has been in charge of Kylie's follow-up ever since. "It was a great experience," says Kylie.
When Kylie became pregnant with her second child, she took comfort in having Dr. Tuazon by her side. Through their shared experience of Kylie's first pregnancy, they communicated openly about the second delivery and some of the challenges she may face. "Dr. Tuazon supported me on my birth plan 100%," says Kylie, who welcomed her second son, Nico, in April.
Like most women, Kylie was nervous the night before Nico's delivery, but after talking with Dr. Tuazon – and submitting a playlist to stream in the OR – Kylie became relaxed and excited. But the following morning Kylie unexpectedly began having contractions. Concerned about how to move forward, she immediately consulted Dr. Tuazon. "My husband was super supportive but having Dr. Tuazon as a strong sounding board during such an emotional time was incredibly helpful."
Sticking with her original plan, Kylie's C-section – accompanied by a familiar care team and songs from her playlist -- was a great experience. According to Dr. Tuazon, "It was really more like a birthday party than a surgery."
Never feeling rushed, Kylie enjoys their "mom-to-mom" conversations and Dr. Tuazon's willingness to share her personal experiences. Says Kylie, "She's a working mom like me and she shares her parenting experiences with me … I feel like more than just a patient and that's important to me."