News
St. Luke's Surgical Oncologist's Journey to Treat Breast Cancer Begins on Sri Lankan Mountaintop
March 10, 2022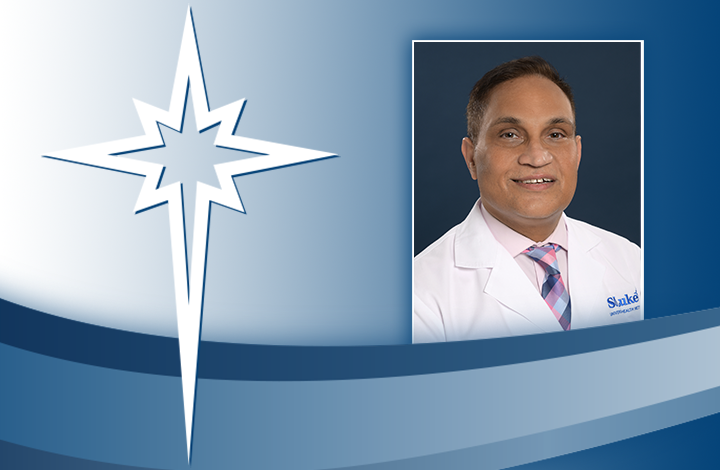 Mohamed Lareef, MD, Serves on Multidisciplinary Breast Cancer Team at St. Luke's Monroe Campus
Surgical oncologist Mohamed Lareef, MD was a young doctor in Sri Lanka when he found his vocational passion ­– treating and preventing breast cancer. His fervor for this cause motivated him to receive medical training – in three different continents – before finally arriving at St. Luke's Monroe Campus. He works with radiation oncologist Grace Fan, MD, to provide comprehensive diagnostic and treatment services to patients with breast cancer.
An experience in his native country of Sri Lanka, a mountainous, tropical island nation near India, sparked his interest in breast cancer. He recalls, "A friend of mine came to me and said, 'My mother has something in her breast that she doesn't want any doctor to see.' I agreed to go to their house. I climbed up a mountain to a house with no electricity. There, my friend's mother who was only in her early 40s had a large, ulcerated, cancerous mass. I convinced her to come to the hospital. I operated and saved her life."
Wanting to learn more about breast cancer prevention, Dr. Lareef accepted a job at Fox Chase Cancer Center in Philadelphia as a researcher in breast cancer gene transfer. After a few years, he wanted to care for patients again. But to practice medicine in the United States, foreign physicians must first complete a residency in this country. He enrolled in a surgical residency program at the Drexel University of Medicine and completed oncological fellowships at Fox Chase and the Society of Surgical Oncology.
Dr. Lareef moved to the Poconos when another regional health system recruited him to start a surgical oncology program. He worked there for six years but wanted to join St. Luke's University Health Network because of his relationships with St. Luke's physicians and his patients' preference for St. Luke's.
"Patients came to me saying, we like you, but can you operate on me at St. Luke's," he said. As soon as he was able, he returned to work at St. Luke's Monroe Campus.
While Dr. Lareef treats all types of cancers, he is particularly excited about the Multidisciplinary Breast Cancer Program at St. Luke's Monroe Campus. Breast cancer patients often receive multiple types of treatment. The size, location and stage of the cancer tumor, and whether cancer has spread, determine the type and order of treatment. Traditionally, surgery occurs first and is often followed by radiation therapy, chemotherapy or both. However, to shrink the tumor before surgery, or prevent its spread, patients may receive chemotherapy or radiation therapy first, Dr. Lareef said.
The multi-disciplinary team at St. Luke's Monroe Campus – Drs. Lareef and Dr. Fan – meet jointly with the patient to discuss treatment options. Not only is the multidisciplinary approach more convenient for the patient, but also enables the team to share their perspectives regarding treatment options and answer the patient's questions. Then, they develop a treatment plan that best meets the patient's needs, preferences and lifestyle. Other treatments considered may include clinical trials and targeted biologic therapies that block cancer spread and growth.
Patients also have the option of breast reconstruction surgery. The oncology team works with several plastic surgeons, including those trained in microvascular surgery. Advanced reconstruction options are available immediately following the removal of the tumor or sometime later.
"When someone is diagnosed with any cancer, they're afraid and their way of looking at life completely changes," Dr. Lareef said. "All they care about is getting rid of cancer and keeping it from coming back. When they come to me, I tell them, 'No, you are not going to die from cancer; I can take care of you.' That's the most satisfying part of my work."
Conversely, the most difficult part is when a patient comes to him after receiving inferior treatment elsewhere. He knows that had they first come to him and the team at St. Luke's; he could have provided them better care, improving their chance of survival and quality of life.
"It truly matters where you start your treatment," he adds. "You have to do your research and find the best treatment in the region. We provide outstanding care at St. Luke's Monroe Campus."