News
St. Luke's Helps Runner With Shin Splints Cross the Finish Line
July 27, 2022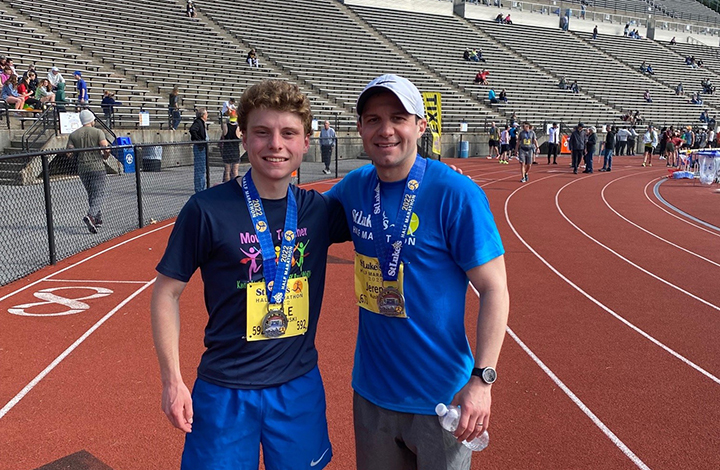 Shin splints are the bane of every runner, causing a pain down the front or inside of the lower leg that doesn't just limit running, but sometimes shuts down the ability to run completely.
Kyle Kasprenski found that out the hard way last year. The then-rising junior at North Warren High School had pain so severe that he had was forced to stop running for several months before working his way back thanks to the care he received at The Running Institute, a specialized program offered through Physical Therapy at St. Luke's.
The referral was made by St. Luke's sports medicine physician Dr. Hamad Saleemi, who provided the initial diagnosis of shin splints to both of Kyle's lower legs.
Jeremy Kushner, DPT, a physical therapist and Facility Director of Physical Therapy at St. Luke's – Nazareth, worked with Kyle and helped the 17-year-old back on the road to recovery.
The therapies used to treat Kyle first got him back to compete with his high school cross country season last fall, where he ran a personal-best 18:05 in the 5-kilometer race.
Kyle responded to physical therapy so well that competed in the 2022 St. Luke's Half Marathon finishing 17th overall and first in his age group with a time of one hour, 25 minutes and 27 seconds, just one place and 27 seconds behind Kushner.
The Running Institute's physical therapy team are runners themselves and specialize in treating running injuries. These physical therapists work closely with sports medicine physicians, podiatrists and dietitians to optimize recovery and even help with injury prevention.
"In the runner's world, they are known as shin splints," Kushner said. "The medical diagnosis is called Medial Tibial Stress Syndrome. It's a repetitive stress injury where the muscle inserts into the tibia. It is prevalent among both male and female runners, and it's mainly caused by overuse and inappropriate training."
"My leg was so painful I hadn't run for a couple of months," Kyle remembered. "I got treated by Jeremy over the course of July (2021), two times a week. He taught me a group of stretches and muscle exercises, and I was able to get back to running in a couple of weeks."
Kushner embarked upon a multi-modal treatment plan with Kyle, using manual therapy, education on training plans and pain, flexibility and joint mobilizations, and strengthening exercises so that he could get back on his feet running.
"It's really a huge feat to get someone from barely being able to run for several minutes without pain to running 13 miles," Kushner said of Kyle's progress. "You don't see many high school athletes running half marathons. They typically compete at 5Ks or 10Ks distances.
"It was remarkable to see Kyle progress from the inability to run, prior to PT, to finishing a half marathon with me, his physical therapist. It was a great sense of accomplishment."
"Running is such a big part of my life," Kyle said. "Being able to learn how to recover and have The Running Institute and Jeremy teach me how to recover was awesome."