News
SLUHN Physician Receives Global Recognition for Contributions to GI Field
December 22, 2022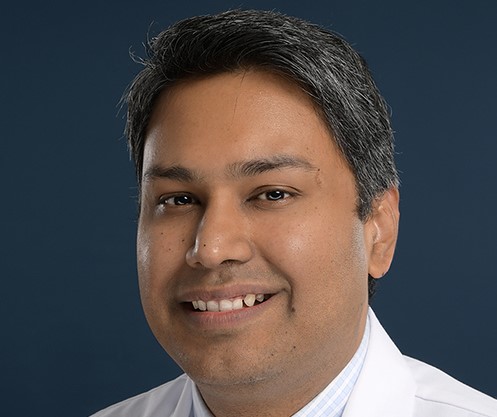 Hammad Bin Liaquat, MD was one of 16 Fellows globally recognized by the American Gastroenterological Association (AGA) for his significant contributions to the GI field. Dr. Liaquat is now a physician with St. Luke's University Health Network (SLUHN).
Dr. Liaquat received this recognition as a Fellow at SLUHN in July 2021 at the Digestive Disease Week (DDW) 2021 Conference. DDW is one of the most prestigious GI award conferences.
His abstract, "Impact of Epic Smartlist and Lumens Software in Improving Op-29 Compliance at a Tertiary Health Care Network," sought to improve compliance with OP-29, which is a Centers for Medicaid and Medicare Services (CMS) measure to ensure that endoscopists recommend appropriate follow-up intervals after normal colonoscopy in average-risk patients. Failure to report OP-29 compliance poses adverse effects to both hospital quality star ratings and reimbursements for health care.
SLUHN's score of 87.47% in the first quarter of 2017 was above not only the Pennsylvania and New Jersey average, but also exceeded the national average.
The aim of the research project was to boost SLUHN's OP-29 compliance to the top decile over the subsequent three years by:
Providing intensive education to endoscopists about the importance of OP-29 compliance;

Developing and sharing an Epic Smartlist that directs St. Luke's endoscopists to list an appropriate reason for colonoscopy intervals; and

Monitoring OP-29 compliance monthly.
Dr. Liaquat and other members of the research team, under the leadership of Dr. Noel Martins (Section Chief of Gastroenterology) included 2,171 patients between 50 and 75 years of age in the sample for the project, with a mean age of 60.5 years, who received average risk screening. Meanwhile, patients with documentation of a follow-up interval of less than 10 years were excluded from the study.
In May 2019, SLUHN became the first network in the United States and the second in the world to implement the new Lumens endoscopy report writing software. The Network also added the OP-29 related Epic Smartlist to the Lumens colonoscopy procedure note template.
Dr. Liaquat and his research partners continued to monitor the progress of SLUHN's OP-29 compliance and provided regular feedback to endoscopists when they were not compliant with OP-29.
Because of the findings, recommendations and actions taken by Dr. Liaquat and his colleagues, steady improvement was seen broadly across SLUHN. In 2018, the Network's score (94.26%) was higher than the Pennsylvania/New Jersey (88%) and national (89%) averages, and they are now in the top decile. Overall, St. Luke's OP-29 score increased from 87.47% in the first quarter of 2017 to 100% in the first quarter of 2020.
Furthermore, St. Luke's compliance with OP-29 is one of many factors that contributed to its attainment of a five-star hospital quality rating.
The team believes SLUHN's improved OP-29 compliance has had several benefits, including reduced colonoscopy overutilization, improved healthcare quality and reduced health care costs for its patients and the Network.
They also believe that this was the first reported project aimed at improving OP-29 compliance using the Epic Lumens software. As a result of the positive findings, the team reports that Epic Lumens plans to offer this Smartlist in the colonoscopy procedure note templates it builds for other organizations to improve health care quality and costs nationally.
This work aligns with Dr. Liaquat's passion for conducting research to improve patient care. His research interests include improving GI health care in the elderly populations, diagnosis and management of liver disease and quality improvement projects.
Dr. Liaquat is an active member of the American College of Gastroenterology and American Society of Gastrointestinal Endoscopy, and is enthusiastic about working with medical students, residents and fellows.
Dr. Liaquat earned his medical degree from Aga Khan University in Pakistan. He moved to the Lehigh Valley and completed fellowship training in gastroenterology at SLUHN and recently joined the Network as a gastroenterologist in Center Valley.