News
Leadership is All About Authenticity
March 16, 2022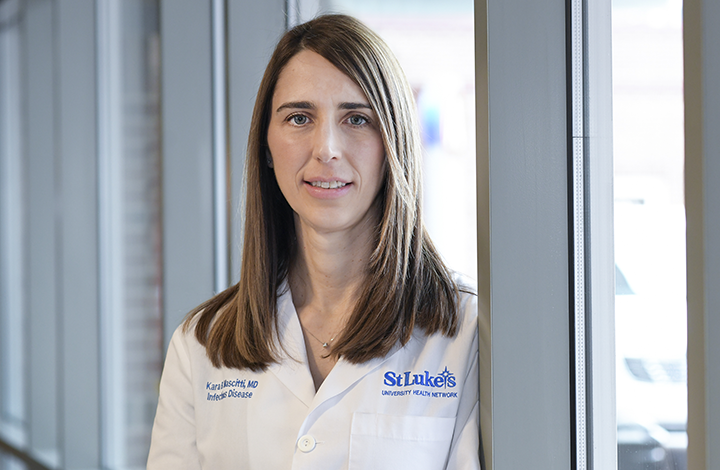 Dr. Kara Mascitti
"Trust and believe in who you are, not who you think you should be," says Dr. Kara Mascitti, an infectious disease specialist who was recently promoted to Chief Wellness Officer for St Luke's. "Be your authentic self to find your true success and joy in what you do."
Weak at the sight of her own blood, Kara Mascitti never really considered medicine as an option until one day her dad injured his arm and she realized that his blood didn't scare her. Maybe she could be a doctor. It was an "aha moment" that defined the direction of her life.
Kara loved science, and while attending Duke University, advances in molecular biology piqued her interest. Viruses and infections were challenging puzzles to be solved. Throughout her life, she was a volunteer for many causes, and she realized that helping people through science would be a marriage between her two great loves. She began practicing in 2009 at St. Luke's Infectious Disease Associates.
She immediately noted the remarkable collegiality. The environment was a collaborative culture, and people from all levels of employment offered guidance and respected each other's opinion. People were always prioritized over the bottom line.
In the throes of COVID, fellow St. Luke's employees turned to her for answers. "We had to design policies and protocols to keep our community safe, and we had to protect our employees as well. It was new and always changing, and we worked together to stay on top of it," she recalls.
Thrust into leadership, Kara reflects on some of the things she did intuitively and considered insignificant at the time, but which rippled out in huge circles. For example, she sent out emails to fellow employees that included practical advice as well as humorous hooks like "best mask selfie." Those emails became a palm tree in the storm for many people in their dark hours.
Leadership is all about authenticity, Kara believes "Trust in yourself," she says and shares that her guiding life principle is to "be kind to yourself and demonstrate compassion to everyone you meet."
As Chief Wellness Officer, Kara will evaluate the organizational culture and promote practitioner wellness. She plans to find ways to allow fellow practitioners to create a better work-life balance. Burnout is a well-known occupational hazard in health care, and Kara is determined to tweak the workflow in ways to find solutions that bring joy. This, in turn, will improve patient care by allowing practitioners to listen more and to be more focused, less tired and more connected to their patients. A full circle win for everyone, she says.