News
Judgement-Free Hope for Those on Substance Use Journey
April 06, 2022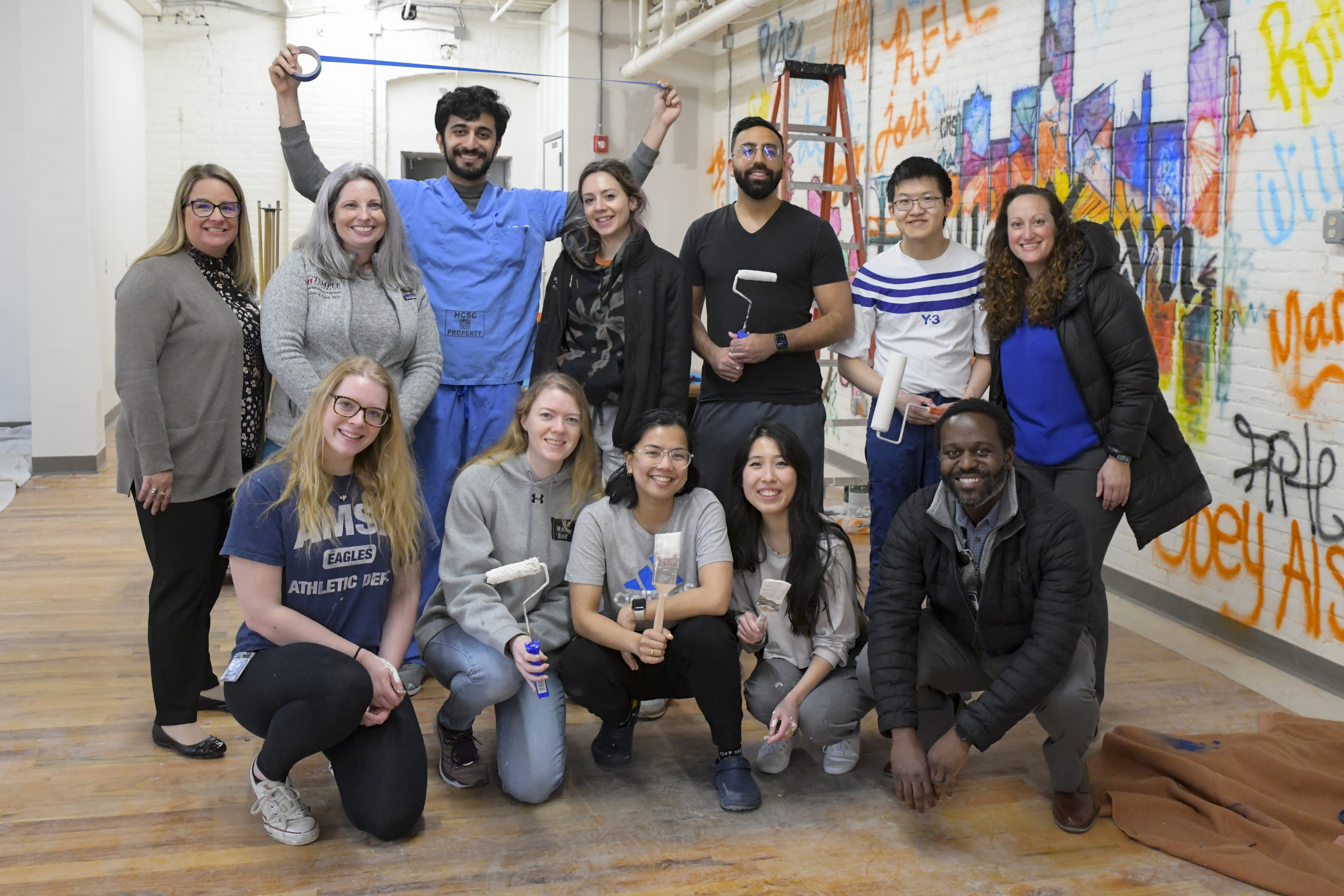 Medical students from the Temple/St. Luke's School of Medicine take a break from painting The Center.
The Welcome mat is out at The Center, Allentown's new Center for Recovery at 315 Linden St., which is funded by Lehigh County Drug and Alcohol. It's inviting persons struggling with, or recovering from, substance use disorders to its social gatherings and meetings, to use its services and make it a part of their personal journey to sobriety.
A grand opening dedication, including tours of the facility, is scheduled at The Center on April 12 at 1 p.m., featuring officials from Lehigh County and Allentown, including the Allentown mayor and police chief, Treatment Trends and St. Luke's Sacred Heart – which have collaborated over the past year to open The Center. A man and woman in recovery also will describe their paths to sobriety. News media is invited to attend the event.
Now open Monday-Friday, 8:30-4:30 p.m., meetings are held there six days a week in the evening. The Center provides twelve-step meetings, safe recreation events, referral to treatment and informal "hanging out," as well as outreach and community service events.
Located just a few blocks from St. Luke's Sacred Heart Campus, and within view of Lehigh County Prison, The Center is strategically located for convenient access for persons just discharged from the hospital or the prison and anyone who is anywhere along the use/addiction/recovery process.
The Center moved from St. John's United Church of Christ on S. Sixth St., Allentown, its temporary home since January 2021. Change on Hamilton, another community recovery center funded by Lehigh County, has been operating for just over a year.
"If someone wants help after being discharged from jail or the hospital because of substance use disorder, they can stop here rather than continuing to an area where there are lots of drugs available," John Dillensnyder, executive director of Treatment Trends, which is operating The Center, with funding largely by Lehigh County Drug and Alcohol and major support from St. Luke's Sacred Heart Campus.
A converted office in a former sewing mill in the Tribeca Building, the nearly 3,000 square-foot, mostly open-concept, single-floor facility gleams with shinning floors and natural light streaming in through its almost ceiling-high windows. A mural depicting Allentown's cityscape, painted by a man in recovery in bold colors on a broad white wall, visually dominates the largest room in The Center.
People can come here who want help stitching together their lives—or to have a short respite from the tough life on the street-- during or after addiction, says Robin Chontos, director of The Center.
"It is a convenient, friendly, comfortable, judgement-free place for the overlooked population that often continues on a dangerous cycle of substance use following a stay in jail or the hospital," explains Chontos. "There are few places like The Center."
This new facility that is closer to both the prison and hospital was the brainchild of Dillensnyder, Chontos, Frank Ford, president of St. Luke's Sacred Heart Campus, and Mary Erdman, a member of the hospital's Substance Use Disorders committee. St. Luke's Sacred Heart opened a medical detox unit last year.
"St. Luke's partnership with Treatment Trends and Lehigh County, and our shared commitment to serving this struggling population, has never been stronger nor more critical," says Ford. "Opening this Center in this location, at this time, will give this community resources to help the scores of individuals aching for these services, which will hopefully help turn lives around."
"Frank and St. Luke's have been a huge supporter in helping us acquire and renovate this place," says Dillensnyder. "We couldn't have done this without them and the hospital's Substance Use Disorders Committee that they created to address the issues of widespread addiction in our city."
Chontos, or another certified recovery specialist, can be found there to give a smile or hug, offer job-seeking help, meal, sympathetic ear or clean clothes, whatever a visitor may seek to stave off the grim realities of their condition and make progress in their sobriety. St. Luke's Parish Nurses and medical students and residents provide free services to visitors and will refer them to more specialized care or resources, if needed.
"We welcome anyone who wants to drop in casually, at any place along their substance use continuum," Chontos says. "They could come after discharge from St. Luke's Sacred Heart Campus after surviving an overdose or after release from the prison, each just a short walk away. We will offer them safety and help of any kind."
She says The Center, and facilities like it, are key to the harm reduction efforts that strive to treat persons struggling with addiction as humans, not criminals, by meeting their basic human needs when and where they occur.
"We're here to earn their trust and keep them alive until they're ready to take the next step," Chontos explains.
Chontos, chair of the Substance Use Disorders Committee at St. Luke's Sacred Heart, says a place like The Center might have softened and shortened her 15-year journey from drug addiction to recovery. Instead of returning to the same familiar locations where she scored drugs immediately after release from jail, she could have benefitted from a facility where she could find help with her addiction, emotional support from professionals and peers, job-search resources and other healthy, life-affirming activities.
The turnout at The Center so far has encouraged Dillensnyder, Chontos, Ford and Erdman that the space will play a critical role in harm reduction and help people begin or continue their path to sobriety. Five to 10 years from now, Chontos would like to see the recovering community deeply involved at the place, as more than meeting attendees or casual drop-ins.
"I'd love to see them help us run The Center," she says. "That's my dream, and I think it can happen."