News
Elevating Medical Education for Area Health Care Providers of All Types
April 27, 2022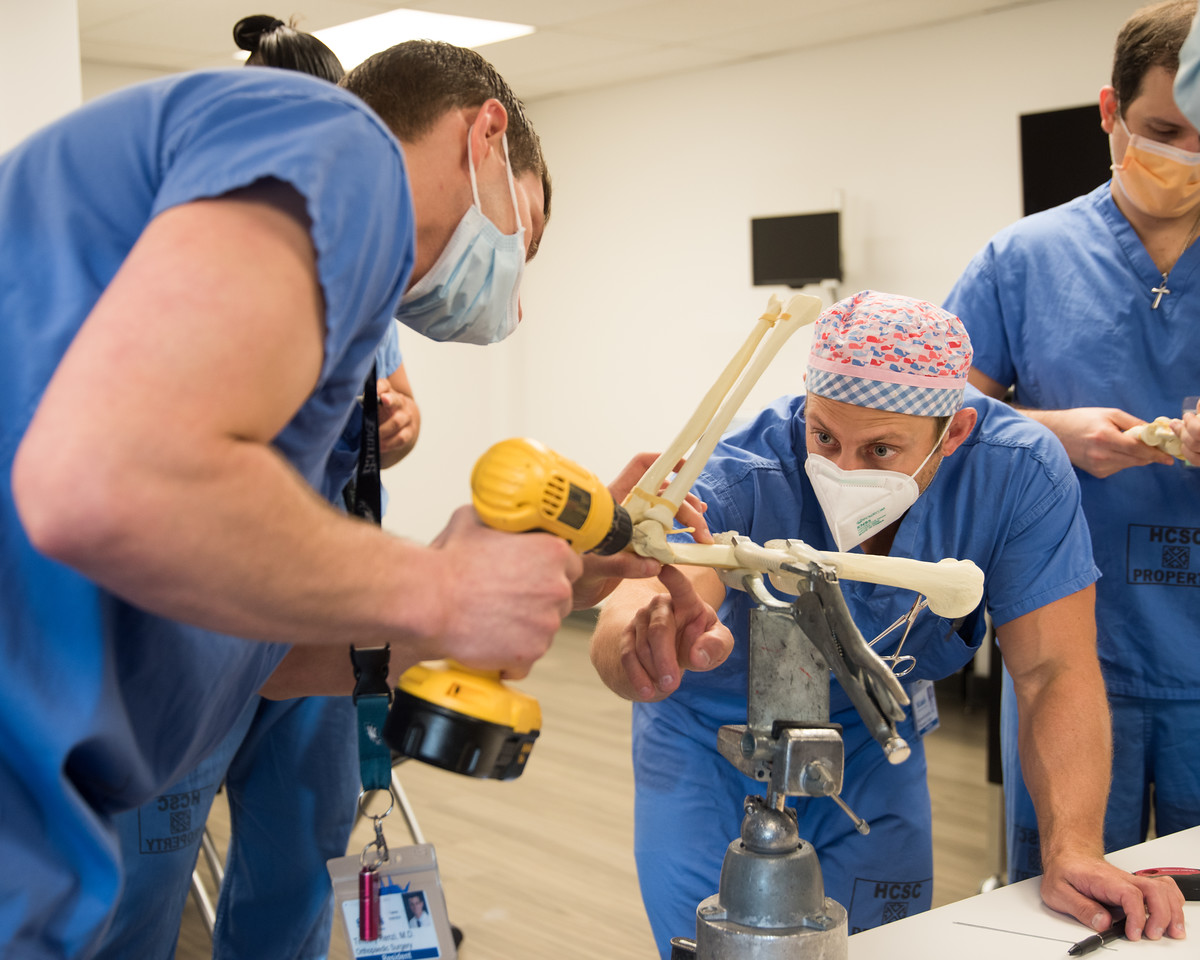 Practicing surgical skills on 3D-printed bones made by St. Luke's Simulation Center.
Recent decades have seen enormous advancements in the use of simulation for teaching and educating health care professionals of all types, from med-school students to first responders. At St. Luke's University Health Network, these efforts are aided by a highly specialized, state-of-the-art Simulation (Sim) Center and a 3D Print & Innovation Lab that are proving to be valuable resources to the entire community.
St. Luke's Sim Center is based at St. Luke's University Hospital in Bethlehem, where it designs and produces a variety of simulation materials and models, called task trainers, and provides training sessions both inside the Network and outside – for a growing list of community partners.
These partners include groups as small as a local Boy Scout troop and as large as divisions of the military and Homeland Security, noted Megan Augustine, MEd, Director of St. Luke's Network Simulation Center and 3D Print & Innovation Lab. "We also work with our Temple/St. Luke's School of Medicine, the Parkland School District, and police departments in Allentown, and several EMS departments, including Lehighton, Emmaus and Bethlehem," she said.
St. Luke's Simulation Center's impact can be partially measured in the numbers of learners reached. In 2014, in its inaugural year, roughly 4,600 learners passed through. By 2021, that number grew to 15,000 learners – growth driven in part by the Sim Center's mobile simulation truck that can extend opportunities to the Network's rural campuses. (In 2019, the center added a 34-foot mobile "Simulation in Motion" Truck that is primarily used for educational purposes, but which can be put into service as a live treatment center during an emergency.)
Laura Kowalski, the instructor for the Parkland School District's Project Lead the Way (PLTW) Bio-Medical Science program for aspiring med students, said her students were "just enthralled" by the Virtually Anatomy Lab and have learned a great deal through the educational experiences conducted through the Sim Center. "We are all beyond appreciative for the resources provided by St. Luke's and the Sim Center," she said. "The students are enamored, engaged and inspired beyond words. Many of them have described these experiences as literally life-changing for them."
The work between the Sim Center and the Allentown Police Department has been a "godsend for us," according to APD Sergeant Chris Hendricks, a trained paramedic who leads the department's ODT-5, or Office Down Training (First Five Minutes). The Sim Center educational sessions and materials have been able "to help us put these officers in scenarios that are as close as they can possibly be to real life, like a situation where an officer has been shot and is bleeding to death right in front of you."
By allowing the officers to experience high-levels of stress through intense simulations, they will be better able to handle any number of crisis situations they will no doubt encounter in their roles, he said. "And Megan (Augustine) has been personally fantastic to work with. The skills the officers learn through these and other training sessions have been applied hundreds of times with real-life police situations. I can say that she is truly making a difference on our streets."
The task trainers utilized in these simulations are produced in the Network's in-house 3D lab, which are much less expensive than those purchased from outside vendors. They can also be customized to meet a specific medical requirement. For instance, Augustine's team can create a 3D model of a cancer patient's tumor to help both physicians – and the patient – visualize the exact location and size.
Custom task trainers allow her staff to conduct basic first aid programs – such as wound care – with student groups. "And we regularly participate in mass casualty drills where we use real people, simulating real injuries and real responses to those injuries," Augustine said. At the conclusion of those sessions, she and her team conduct a feedback session to critically assess the response capacity and identify areas of improvement.
Providing those realistic scenarios is key to preparing for whatever emergencies a health care professional might encounter. "It's one thing to practice and perfect a blood transfusion in a safe, non-threatening environment," she said. "It's quite another to do it on an actual person, who may be apprehensive while concerned family members hover nearby."
To facilitate that level of training and preparedness, Augustine and her staff have created a series of customized 3D negative molds to create, for example, injection pads (used to train students on how to give an injection) or suture pads (to teach suturing techniques) with higher levels of fat and muscle or with different skin tones. They have also created more challenging models, such as a thyroid biopsy trainer, an EVD (external ventricular drain) trainer, or Cric Trainer (cricothyrotomy simulator).