News
Dr. Rebecca Pequeno is Driven to Give Back
March 28, 2022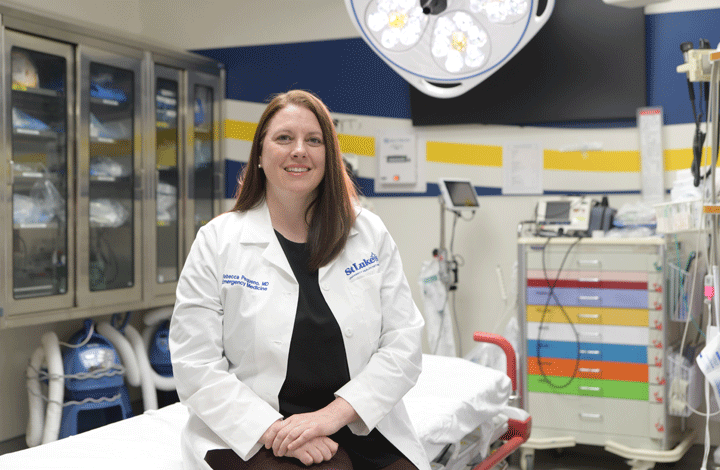 Dr. Rebecca Pequeno, Chairman of Emergency Medicine for St. Luke's University Health Network, was born at St. Luke's University Hospital in Bethlehem. She grew up in Bethlehem, started running with the ambulance at Bethlehem Township Volunteer Fire Company at age 16, and married her high school sweetheart. She completed her emergency medicine residency training at St. Luke's and has remained in the area ever since. She is still a "local girl" committed to her community.
Dr. Pequeno had worked at St. Luke's University Hospital for four years when the Anderson Campus opened about a mile from the fire company where she had spent so much of her youth. She couldn't pass up the opportunity to be involved. And so, she returned to her old stomping grounds to serve the community that she grew up in.
Dr. Pequeno is driven to give back to her hometown. "As a woman who grew up within this community and experienced its support, it is very important that I continue to serve the people who make it such a wonderful place to live."
Dr. Pequeno's youthful involvement with her local ambulance service molded her decision to move forward with a career in emergency medicine. Occasionally, she responded to emergency calls for people she knew, and it hit home that she was caring for someone who helped to get her where she was in life. She felt privileged to be invited into the homes of people who wouldn't dream of allowing a stranger in, yet she gained their trust and helped them through a tough time.
There is never a dull day in emergency medicine, and that's what she enjoys about it. "I get up and do it every day," she says, "because every day I get to meet new people. Every day I get to help people to get through their most challenging moments." Every day is a challenge, and no day is ever the same, but Dr. Pequeno loves thinking on her feet and making sure that people get the additional care they need. Traumatic injuries can be difficult to witness, but it's all about being very present in the moment. She knows what's got to be done immediately and can reflect on it later. And she does.
In the emergency room, it's all about teamwork. "My co-workers are an absolutely amazing team. It's a privilege working with them and helping them to support the community. I couldn't imagine going through this with any other group of people. They are resilient. Passionate. They do what needs to be done and do it well. You are never alone at St Luke's. It's an amazingly supportive culture and it's wonderful to work there. From the top down, the people there get you through the rough times with a whole team approach."
These days, Dr. Pequeno's time is focused on mentoring and education, supporting the EMS council and teaching skills she's honed throughout her career. It's another way of giving back without being in the back of the ambulance, although she says she misses that. To this day, she's close with the crews she rode with. Some of her most influential mentors in her more than 30 years on the front lines still continue to work with EMS and she enjoys seeing them support and train the newest generation of prehospital professionals.
"All of those committed people who are involved in emergency services, whether it's ambulance, fire or police, are truly the unsung heroes. They have a ton of grit. These dedicated and loyal professionals have been there day in and day out while taking care of their community. That's what this is about."