News
Angels Took Care of Him at GSL as He Battled COVID
February 10, 2022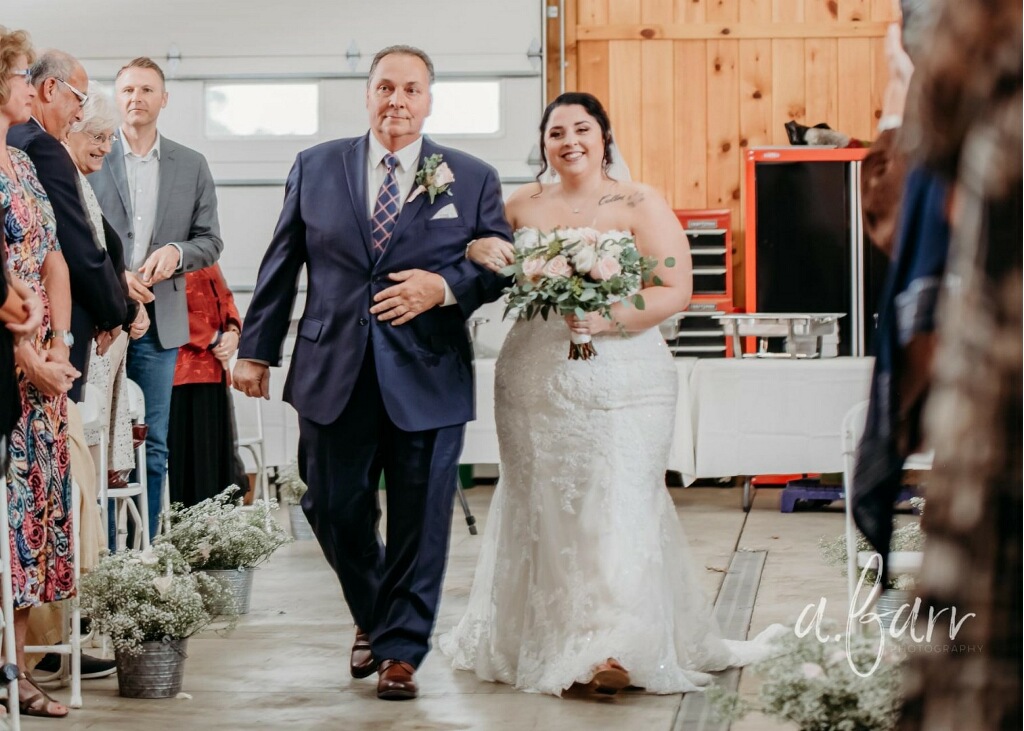 Scott Ludwig kept his promise to his daughter, Samantha, to walk her down the aisle at her wedding after he survived a near-fatal case of COVID at Geisinger St. Luke's Campus last year.
"I almost died from COVID, and that made me a better person," says Scott Ludwig.
The 63-year-old business owner from West Brunswick Township was rushed by ambulance to Geisinger St. Luke's Campus on Jan. 19, 2021.
He could barely breathe. He felt like he had been hit by a truck, the kind he drives and works on at his shop in Auburn.
"I was taken to the right place," he says. "I couldn't have gotten better care anywhere. The nurses, doctors, everyone was wonderful."
He had felt the early symptoms of the virus—aches, fever, fatigue, general malaise and loss of smell and taste—then he and his wife tested positive. Ludwig dismissed the stories he had heard about the severe illness COVID caused. A big mistake.
"I blew it off, saying it won't happen to me."
At the time, he was being treated for aggressive prostate cancer that wasn't going away. He thought the threat of COVID was minor compared to cancer. He wasn't vaccinated, though the shot was available to him.
Then he awoke one morning and couldn't catch his breath. The virus was raging in his lungs. He was frightened.
His wife was admitted for a day with pneumonia but bounced back quickly. Not her husband.
Ludwig spent 20 days in the ICU, receiving steroids, medications and a novel treatment called plasmapheresis, which reduces inflammation. Still the lethal infection persisted, his life hanging in the balance.
"I wasn't improving," he says.
When a doctor asked him about his end-of-life wishes, Ludwig fell apart emotionally.
"I was afraid I'd never see my wife or kids again," he recalls, choking up. He had promised to walk his daughter, Samantha, down the aisle at her wedding in October. What if he wasn't there to do that?
"I was a mess thinking about that," Ludwig says.
His caregivers at GSL and family encouraged him to keep fighting.
But he was losing hope.
A phone call from a total stranger, prompted by his son, Bryan, turned things around for Ludwig. Retired pastor, Randy Ott, said he would deliver something to the hospital for him.
A box was brought to Ludwig containing a Bible with passages highlighted. On a phone call that night, Ott taught him a prayer for healing. He told him to say it as often as he felt the need as he lay in the ICU, hour after hour, ruminating on his mortality.
He prayed long into the night. He says his prayers were answered.
The next morning his breathing was easier and better. It continued to improve, his need for oxygen waning.
His doctors and nurses were as shocked as their patient. No one seemed to know why he was improving.
"My doctor said he couldn't explain it. I held up the bible and said, 'I can.'"
On Feb. 7, Ludwig was discharged from the hospital, breathing well and aided by oxygen, feeling grateful and thanking God for his second chance. He and his wife got their vaccines soon after that.
For two months, Ludwig needed 24/7 oxygen at home and received physical therapy to build up the strength that he had lost in the hospital. "I pushed myself to go above and beyond."
By mid-April he was off oxygen, exercising and back to work. "Miraculous," he calls it.
"I went from death's door and then was able to get up and move around."
His life has improved dramatically since his near-death experience. He lost 75 lbs., works out regularly and was able to give Samantha away at her wedding.
Perhaps best of all, he no longer has any sign of prostate cancer. He wonders if the COVID treatment at GSL could have caused that.
He takes lunch to the patient care units where he was treated to thank the staff for their care.
"They're angels, so caring and skilled. They're really my heroes."
He's amazed that he survived the deadly infection that has claimed the life of more than 900,000 Americans and counting.
And he's thankful for the vaccine that will help other people avoid an infection as bad, or worse, than his.
"Every new day is a blessing for me." Ludwig says, adding that he now feels a closeness to God like never before. "I wake up every morning and say, 'Thank you, God, for getting me through the night.'"
"I've learned to appreciate life a lot more."