News
Virtual Care May Be 'Silver Lining' to COVID's Dark Cloud
February 24, 2021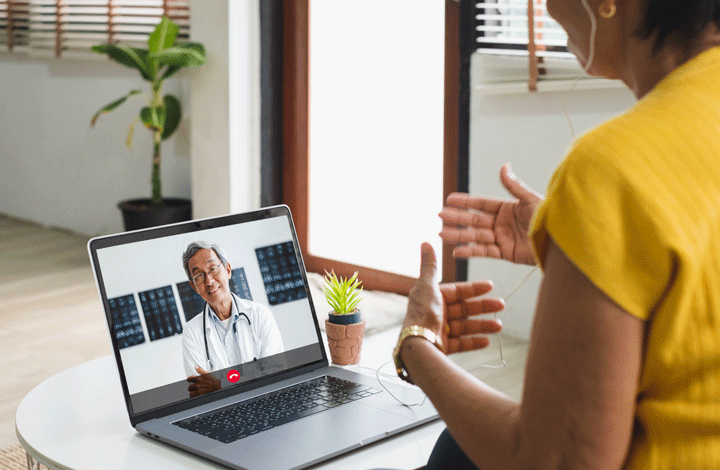 "If there's a 'silver lining' to this pandemic for providers and patients, it's a more expanded use of MS Teams to improve access to care," said James Balshi, MD, chief medical informatics officer for St. Luke's University Health Network, early in the COVID crisis.
Whether network providers are using Microsoft Teams or another telehealth platform for virtual medical visits, the consensus is that this technology is beneficial for both patients and providers. Convenience and fostering personal connections are the key reasons both groups value it.
St. Luke's began offering virtual care services in 2015 but did not see rapid adoption until virtual appointments became necessary as St. Luke's looked for innovative ways to protect patients against the virus. Due to COVID, virtual care has now gained in popularity among both providers and patients, and St. Luke's continues to see increasing demand by patients for virtual services.
St. Luke's is looking to improve the overall surgical experience by standardizing the delivery of some virtual pre- and post-operative care. By offering virtual appointments, patients can prepare and recover in the comfort of their own homes. Neurosurgery has led the way in this initiative.
"Virtual care increases access and convenience without compromising quality for patients who may live a long distance from their doctor, have childcare issues or otherwise need to take time off from work for an appointment," says Doron Rabin, MD, chief of neurosurgery.
He and his colleagues can "meet" remotely with patients before or after surgery via computer or digital device. They review radiologic images together, and the doctor can inspect an incision, perform a simple neuro exam and answer questions about pain, medications and return to normal activities.
"In the safety and privacy of their home, we are achieving the same level of education and information exchange as in 'live' visits, but without the hassles of driving to the office, parking and waiting for a provider," Dr. Rabin adds.
Still, virtual care hasn't nor will it likely totally replace in-person appointments, Dr. Rabin says. "If a patient or doctor feels the need to have an in-person visit, we'll have them come in immediately. It's about always delivering the best health care regardless of the setting." He estimates that, currently, only about 10 percent of all neurosurgery patients have used virtual visits. But that's likely to change with increasing demand.
Rising Press Ganey patient satisfaction scores reflect the popularity of virtual care, reports Christina Musser, senior director, Operations, Clinical Communications & Telehealth. "Patients like telemedicine." And despite the unfortunate reason for the greater use of this technology, she calls it, "one good thing that came out of this unprecedented time."
The proof is in the patient numbers thus far, she says. "Neurosurgery saw an average of an additional 165 virtual visits per month in June, July and August by moving a portion of post-operative care to virtual. This technology just makes sense. It's here to stay."