News
Teamwork and Training Save Life of an Easton Wrestling Legend
June 16, 2021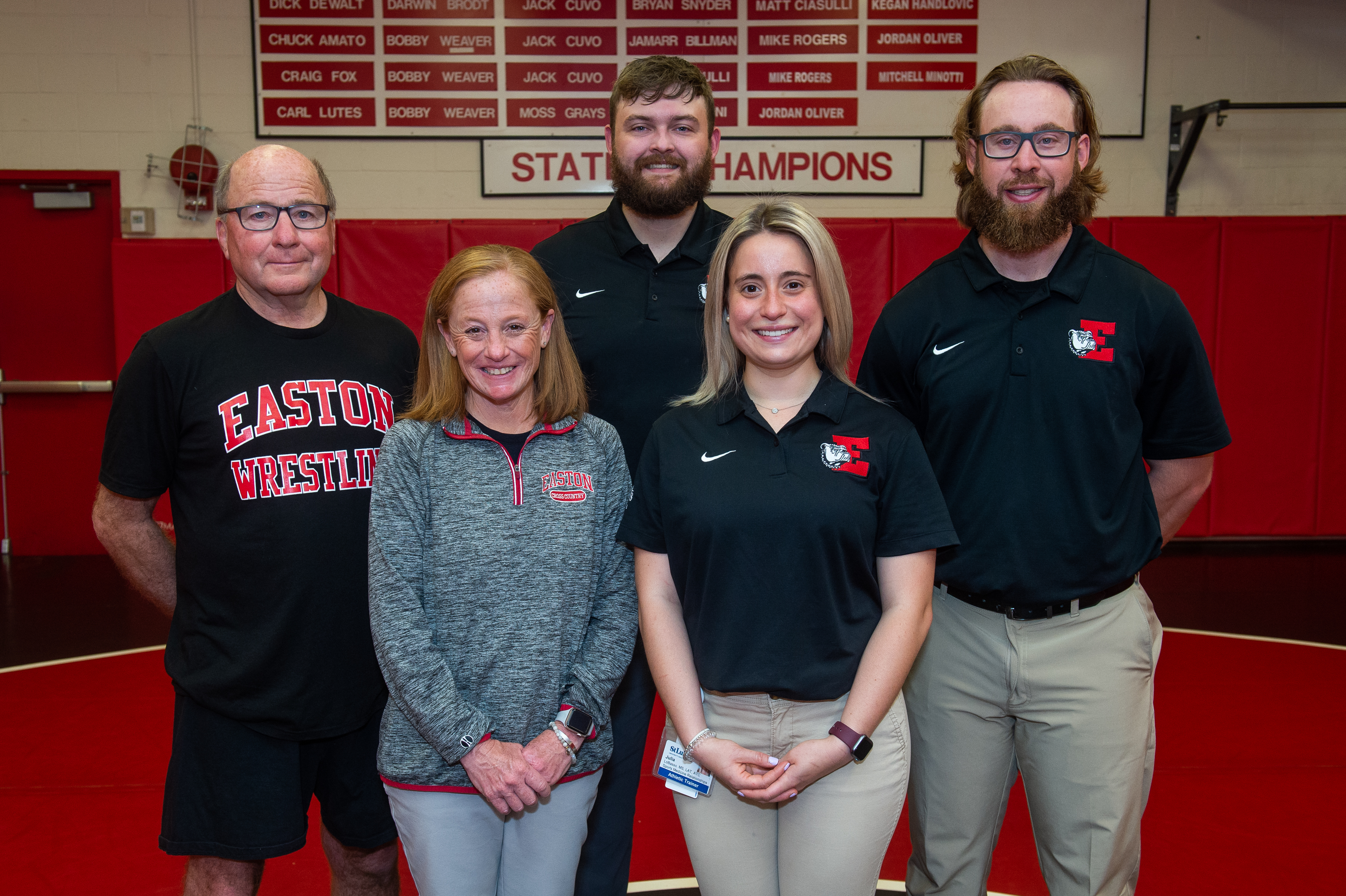 Coach Steve Powell and wife Bobbi Jo Powell share a moment with St. Luke's Athletic Trainers Tyler Countess, Julia LoBasso and Andrew Neeld in the Wrestling room at Easton Area High School on Sunday, May 16.
It takes hours of practice, lightening quick responses and flawless teamwork to make those split-second decisions that lead to winning in sports. And this combination of factors is critical, too, when it comes to responding to an emergency where a life is in peril.
They clicked perfectly on March 10 when St. Luke's athletic trainers teamed up with other professionals to save the life of assistant wrestling Coach Steve Powell at Easton Area High School.
ATs Andrew Neeld, Tyler Countess and Julia LoBasso, who were at Easton that afternoon, sprang into action when they were alerted that Coach Powell had collapsed in the wrestling practice room during practice.
"His face was turning purple," recalls Neeld, who was first on scene. He knew It was a sign that the coach wasn't breathing, and he had no pulse.
The team knew immediately what they needed to do. They responded, "like a well-oiled machine," says John Hauth, Senior Network Administrator, Sports Medicine Relations, because they had practiced often for this kind of event.
Neeld told Rochelle Gilbert, district athletic trainer to call 911, and the ATs started CPR, taking turns doing 30 compressions, then adding two rescue breaths. The process flowed smoothly as they took over the life function for the coach that his own body had suspended due to a heart attack.
Countess ran to get the AED (automated external defibrillator), while Neeld and LoBasso continued CPR.
They had practiced this lifesaving drill countless times on a "smart," electronic resuscitation mannequin, a lifelike practice model of a human, in the Simulation Center at St. Luke's during regular certification training. The smooth "hand-off," when one rescuer takes over for another, was called by Neeld, just as they had rehearsed each summer.
Countess returned and placed the AED pads on Coach Powell's chest and applied the shock in hopes of jumpstarting his heart. No response, so CPR was resumed.
Head Wrestling Coach Jody Karam arrived a few minutes later and took over compressions. Sports coaches, too, are trained and recertified annually in CPR, often rehearsing with the St. Luke's ATs and first responders. Though it's uncommon for a player, spectator, coach or other attendee to suffer some kind of cardiac event during competition, it does happen, and preparation can mean the difference between life and death.
Their efforts paid off. Just minutes into the rescue, a Suburban EMS ambulance arrived on the scene. A portable EKG machine detected a faint pulse in the coach.
The squad rushed Powell to the ER at St. Luke's Anderson Campus where a stent was inserted into the blocked artery that had caused the heart attack.
The life of an Easton wrestling legend was saved because of the coordinated, team response that scored a winning result for the man, his family, the school and community.
"Your ATs were rock stars today," Greg Hess, Easton's associate athletic director, told Hauth a few hours later.
In recognition of this amazing rescue, the Pennsylvania Athletic Trainer's Society presented St. Luke's Athletic Trainers with the Lifesaver Award at Easton Area High School on Sunday, May 16.
"You hope you never need to use this training," says Hauth, "and in this case, each part was executed perfectly to give the patient the best opportunity for a good outcome. This kind of practice in a setting like the Simulation Lab is a key reason that St. Luke's was named the Number One Major Teaching Hospital in the country by IBM Watson.
"Saving Lives is not an individual sport … it requires teamwork and the team executed perfectly on this one!"