News
St. Luke's Embraces Virtual Care as an Enhancement of In-Person Care
September 22, 2021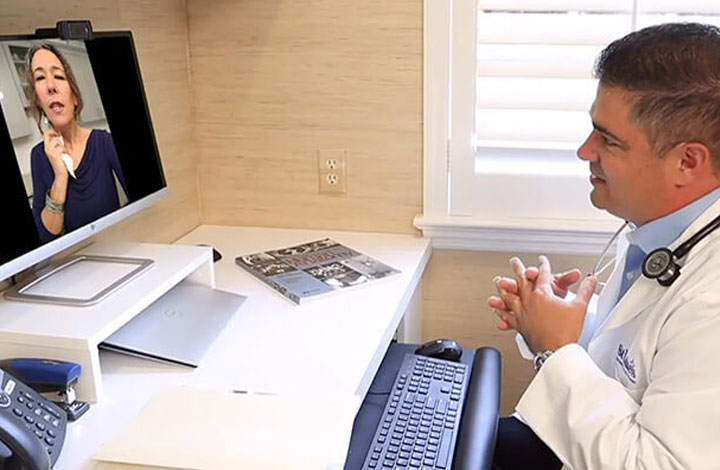 September 19-25 is Telehealth Awareness Week
One positive outcome of the COVID-19 pandemic has been the fast-paced development of virtual care, says Christina Musser, Senior Network Director, Patient Experience/Virtual Care. The pandemic created an urgent need to provide health care while protecting patients – especially those most vulnerable – from a new, unknown, potentially harmful and life-threatening disease.
"It was as though everything had aligned to create the perfect environment to show the effectiveness of virtual care for many situations," she says. "The need for virtual visits forced people to make it a priority and individuals to be more accepting of it. So, it really grew exponentially in this short period of time."
Virtual care is the ability of a health care provider at one location to render care to a patient at another location through the use of telehealth devices. Before the pandemic the virtual care team was developing pilot programs and other ways to demonstrate the effectiveness of virtual health.
"Then, we were suddenly thrown into a situation where we didn't have a choice," she says. "We were kind of hovering in that five to 10 mile an hour range. Overnight we pushed the gas pedal, and we were going 90 miles per hour."
In March 2020, the virtual care team rallied to expand the use of telehealth visits. During the peak of the pandemic, from March to June 2020, 70-80% of St. Luke's patient visit volume was virtual. The St. Luke's Virtual Care Team was able to pivot quickly, train providers and develop processes in place. Within a few weeks, more than 100,000 virtual visits were provided.
"It really took a laser focus and that is what St. Luke's is known for," she says. Also, during this time, St. Luke's in collaboration with Microsoft TEAMS, developed a virtual rounding tool, which is still used. Each nursing unit has a roaming iPad. Through the device a healthcare professional at another location can see and talk with inpatients.
In addition, St. Luke's has developed a Virtual Care Center. Through the center, specially trained healthcare professionals are able to remotely monitor entire units of patients, as needed during peak times of hospital admissions. The Virtual Care Center can also monitor patients in their own homes.
"Virtual care is not a replacement for, but an enhancement of health care," Musser says. "Our whole goal in advocacy is to eliminate geographic barriers." This not only applies to rural areas where patients live a far distance from health care providers, but also for people who live near the bigger hospitals of the cities. Even though it could be only a few miles away, many city residents have no way to get to the hospital or to other health care providers. Perhaps they can't walk far, don't have a car or money for a bus or taxi. Or they may be too frail or ill to drive or take public transportation.
Virtual visits are also helpful for many elderly patients who may need one or more family members or friends to get them to the hospital or doctor's office. Virtual visits can involve the patient, as well as one or more family members living around the country or the world.
To enhance virtual home visits, St. Luke's is building a program called Hospital at Home, Musser says. Here, patients who would have been in the hospital can now be monitored virtually in their own home. Devices that monitor such vital signs as blood pressure or blood oxygen send measurements to the Virtual Care Center. In addition, nurses or other care providers may visit patients at home.
The program is protocol driven, meaning that in the event of certain developments, healthcare professionals followed a prescribed set of next steps. For example, if something is off – whether data wasn't transmitted, the patient didn't respond or some measurement is out of range – ¬ the Virtual Care Center would dispatch a home visit or make sure that the patient has gone to their doctor.
Among the type of patients included in the pilot program are those who have had joint replacement. Through this program, they are discharged to home sooner than usual and monitored remotely. One of the first patients enrolled in the program developed issues after surgery, she says. A virtual care nurse was able to talk with her over the weekend and reached out to her primary care physician. He saw the patient the next morning, avoiding a trip to the hospital or an emergency department admission.
Similar remote home care programs have been developed for patients with chronic illnesses such as congestive heart failure and chronic obstructive pulmonary disease (COPD). Another optimal use of virtual care is nursing home patients.
"Taking patients out of the nursing home and either going to the hospital or to a specialty physician is taxing on the person, it's taxing on the staff, it's taxing to the system," she said. Through virtual visits, you're taking something that's really taxing and you're alleviating it."
In regard to areas of care, virtual care has been especially effective in behavioral health, as evidenced by improved cancellation and no-show rates. Traditionally, behavioral health patients cancel 25-30% of their visits and do not show up for visits 5-6% of the time. The cancellation rate for virtual visits is 11-17% and the no show rate is 3%. "Really there is a stark difference there," Musser said. "We are able to reach people on a more consistent basis."
In fact, Musser has actually heard physicians say that virtual visits provide a different level of intimacy where the focus is on the patient, rather than in a room with other distractions.
"Let's think about how medicine first started; the doctor went to the patient," she said. "The patient stayed at home. We're coming full circle. The doctor's making house calls again. We're just using technology to do it."
St. Luke's Carbon Campus Optimizes Virtual Care
St. Luke's Carbon Campus, which is scheduled to open later this fall, will be equipped to optimize virtual care. Care providers from throughout the network, such as physician specialists, dietitians or social workers, will be able to show up on the television screen in the patient's room and have a conversation with the patient, says Christina Musser, Senior Network Director, Patient Experience/Virtual Care.
The rooms will be equipped with a camera that can be controlled remotely by the health care provider on the screen. This will enable the health care professional to examine the patient.
"A specialist who may not be able to get there to see you that day in person, may be able to come in and see you virtually. It's the concept of bringing the care to the community through technology. Carbon is really on the cutting edge of all this. It's very exciting to open this campus and have that technology available to the patients in that area."
Future plans call for expanding this concept to St. Luke's Miners Campus and Geisinger St. Luke's Campus and then other hospital campuses throughout the network.
"With this technology, our providers can really beam themselves into any patient room at any time and bring in family members."