News
St. Luke's Adapts Time-Tested Kidney Stone Technology to Treat Heart Artery Blockages
April 16, 2021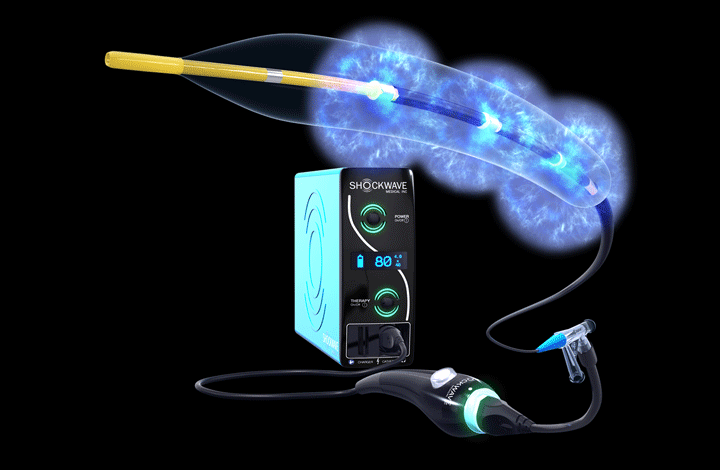 St. Luke's University Health Network's (SLUHN) Heart and Vascular Center has added an innovative weapon to its arsenal to treat heart disease – a technology long used to break up common kidney stones.
Last week, Christopher Sarnoski, DO, Medical Director of the Structural Heart Program at SLUHN, became the first interventional heart specialist in the Northeastern Pennsylvania region to use Shockwave intravascular lithotripsy (IVL) technology to pulverize a solid, heavily calcified heart (coronary) artery blockage. This technique is similar to the method used for breaking up kidney stones. The technology for the heart arteries achieved FDA approval in February.
During an hour-long procedure, Dr. Sarnoski threaded a thin wire into the patient's coronary artery and positioned the special Shockwave IVL balloon at the site of the severely calcified blockage. The narrowed vessel was contributing to the patient's poor heart function and causing his chest pain and shortness of breath.
Dr. Sarnoski activated the ShockWave IVL generator to deliver sound pulses through the balloon, fragmenting the hardened blockage. Since the fragments will remain in the lining of the artery, they posed no threat of entering the blood and forming a blockage downstream.
Prior to approval of this technology, fragmentation of these particles with atherectomy devices, or "roto-rooter drills," posed a slight increased risk of blood vessel rupture and causing the vessel to be plugged with micro-fragments resulting in abnormal blood flow in the blood vessel.
Given the location of this patient's blockage, combined with his poor heart function and other co-existing medical problems, this technology was selected to complete this procedure in the safest manner possible. Dr. Sarnoski then was able to insert a metal stent into the artery, restoring normal blood flow to the heart muscle.
Dr. Sarnoski calls this special coronary lithotripsy a potential game-changing technology, "that is currently ideal for high-risk patients with calcified plaques who cannot undergo heart bypass surgery or treatment with conventional atherectomy devices, which have been around for decades, due to their inherent risks."
Blockages in the coronary arteries can be composed of fatty, cholesterol-filled soft plaques and over time develop hard deposits of calcium. Hardened blockages pose a problem for conventional interventional stent techniques, as stents are not strong enough to expand in the hardened area.
Because this 71-year-old man wasn't a candidate for conventional open heart bypass surgery, and the conventional atherectomy devices were felt to be high-risk for this procedure, he became the first patient in the area to benefit from the balloon lithotripsy device.
The Shockwave IVL balloons have been used to treat peripheral (non-heart) arteries since 2016.