News
SLUHN Athletic Trainer to Support Wrestlers at Olympics
June 04, 2021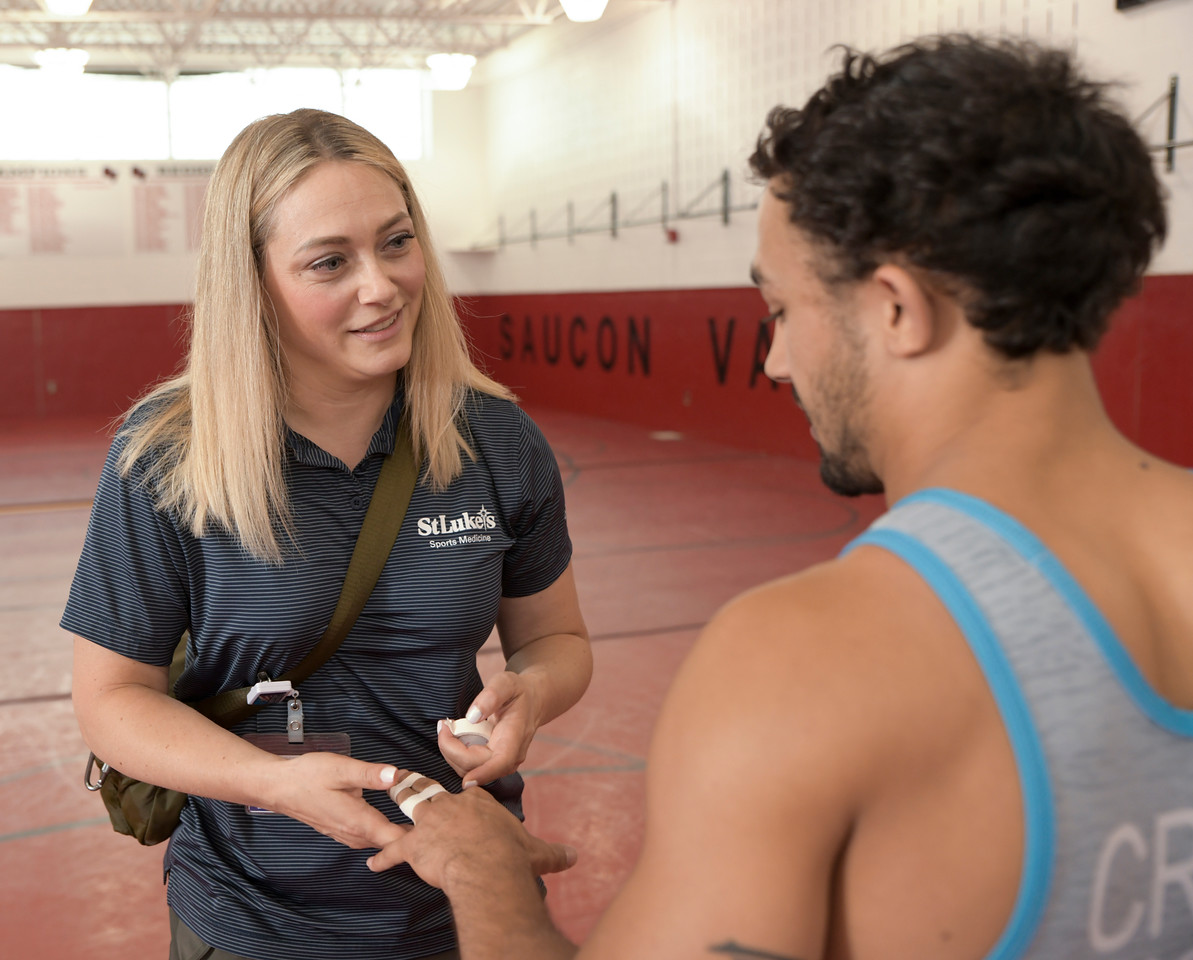 Shelby Hoppis, Lead Athletic Trainer for St. Luke's University Health Network, tapes the fingers of wrestler Darian Cruz of Allentown.
Shelby Hoppis is preparing to summit one of the peaks of her professional career this summer when she heads to Japan in mid-July.
The lead athletic trainer at St. Luke's will be on the elite medical team supporting American female wrestlers at the 2020 Olympic Games in Tokyo, which were rescheduled from last year because of the COVID pandemic. This will be her first outing at the Olympics, though Hoppis has served in this capacity for the USA Wrestling and Squash championships as well as the Pan Am Games in Peru and Kazakhstan.
As a medical team member, Hoppis says she'll be with the wrestlers, ages 25-30, "whenever they are doing something." That includes competing, training, warming up and cooling down. And yes, when they are getting COVID testing, which takes place frequently before and during the games.
"I'll be making sure everything goes well and the health and safety of the athletes are ensured," she says.
She has prepared for this impressive level for most of her academic and working life as an athletic trainer. She looks forward to supporting these elite athletes who are at the height of their physical prowess.
She will stretch, massage, tape, mobilize, splint them, if needed. Her role—and that of the physician, athletic trainers, chiropractor and massage therapist on the team— is to enhance the athletes' "performance maintenance" during their competition, which runs Aug. 1-7. One thing she won't have time for is sightseeing.
Should a wrestler suffer a fracture, dislocation, concussion or other injury, she and the medical team will assess and treat the athlete and determine if emergency care is needed.
Among the athletes is Adeline Gray, the five-times world champion gold medalist and 2016 Olympics qualifier, who starred in a wrestling clinic for school-aged grapplers sponsored in 2019 by St. Luke's.
Hoppis ran and played soccer player in high school, then ran in her freshman year of college, where she majored in athletic training. This led her to jobs at Princeton University, Bloomsburg University, the University of Maryland and the University of Minnesota, where she earned her master's degree before being recruited by St. Luke's. It's a dream job that she considers another pinnacle in her career path.
"St. Luke's is very supportive of the development of the sports medicine program," says the 37-year-old Bethlehem resident. "They encourage us to bring back what we learn in other settings during professional development to enhance our programs."
After years of honing skills in her specialty, Hoppis is eager to summon and sharpen her considerable clinical and organizational talents as she helps the wrestlers in their quest to bring home the gold from Tokyo in August.
"It's so fulfilling working with people who are passionate and making sacrifices for the love of their sport," she says. "I'm honored to be supporting them on their journey representing our country in front of my St. Luke's family and the world.