News
Ready for their Best Shot
November 02, 2021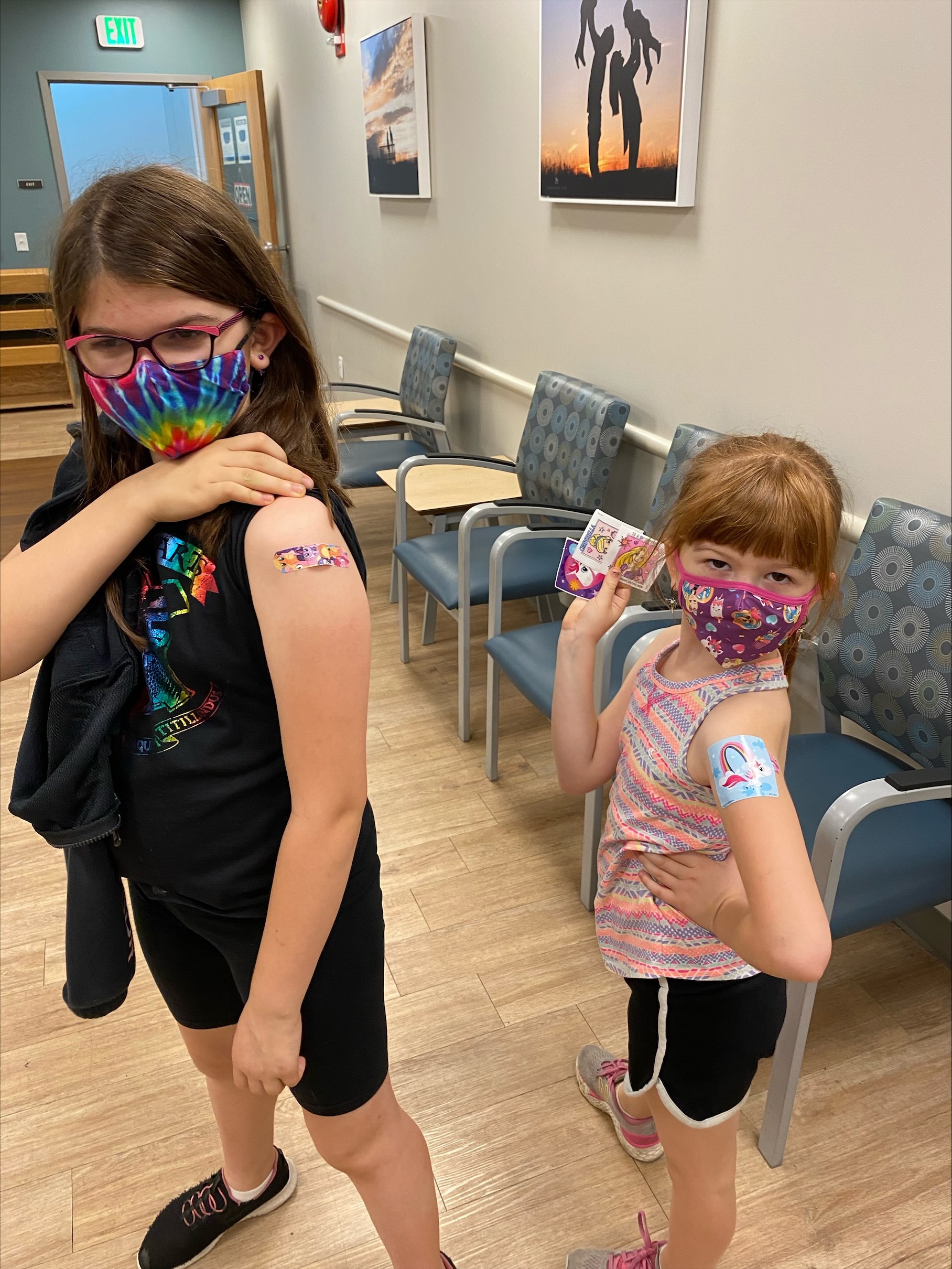 Caitlin and Emily McAtee, daughters of Elizabeth Dierking, MD, recently got their flu shots and now are excited to be vaccinated against COVID-19.
Getting their flu shot in the fall has been a yearly routine for Caitlin and Emily McAtee since they were little, says their Mom Elizabeth Dierking, MD, OB/GYN and OB/GYN residency director. They each got the vaccine a few weeks ago (see photo), but they're more excited about getting a much newer shot this week: the Pfizer BioNTech vaccine.
"We are a pro-vaccine family," says Dr. Dierking. "They understand the benefits of vaccine and have been asking when they would have the chance to be vaccinated against COVID."
That should come this week when the CDC follows the FDA in approving emergency use authorization for the Pfizer vaccine for the age 5-11 population. Because the dosing for children in this group is 1/3 of the standard adult dose, St. Luke's has designated the following child-only vaccination sites:
St. Luke's West End Medical Center, Allentown

St. Luke's Wind Gap Medical Center, Wind Gap

St. Luke's Center Valley Health Center, Center Valley
By designating child-only vaccination sites, St. Luke's promotes the safety of children by ensuring they receive the proper vaccine dosage.
"I am excited to get vaccinated, so I can have a sleepover with my friends," explains Caitlin, 10-years-old.
Her 7-year-old sister Emily McAtee adds: "I am very excited to get the vaccine. I will be able to hang out with my friends again. I'm not afraid, and it won't hurt."
"They haven't seen their friends a lot during the pandemic," says Dr. Dierking. "We are incredibly excited for the chance to get back to some level of normalcy."
Eventually, that will mean mask-free schooling, time with friends and in-person Tae Kwon Do tournaments. They are also eager to help add to herd immunity in their community and the nation.
As to which girl will step up first to get the Pfizer shot?
"They haven't discussed that yet," says Mom, "But we'll all be relieved when the wait is finally over."