News
Preparing Lafayette Football Star for NFL Combine Tests
March 05, 2021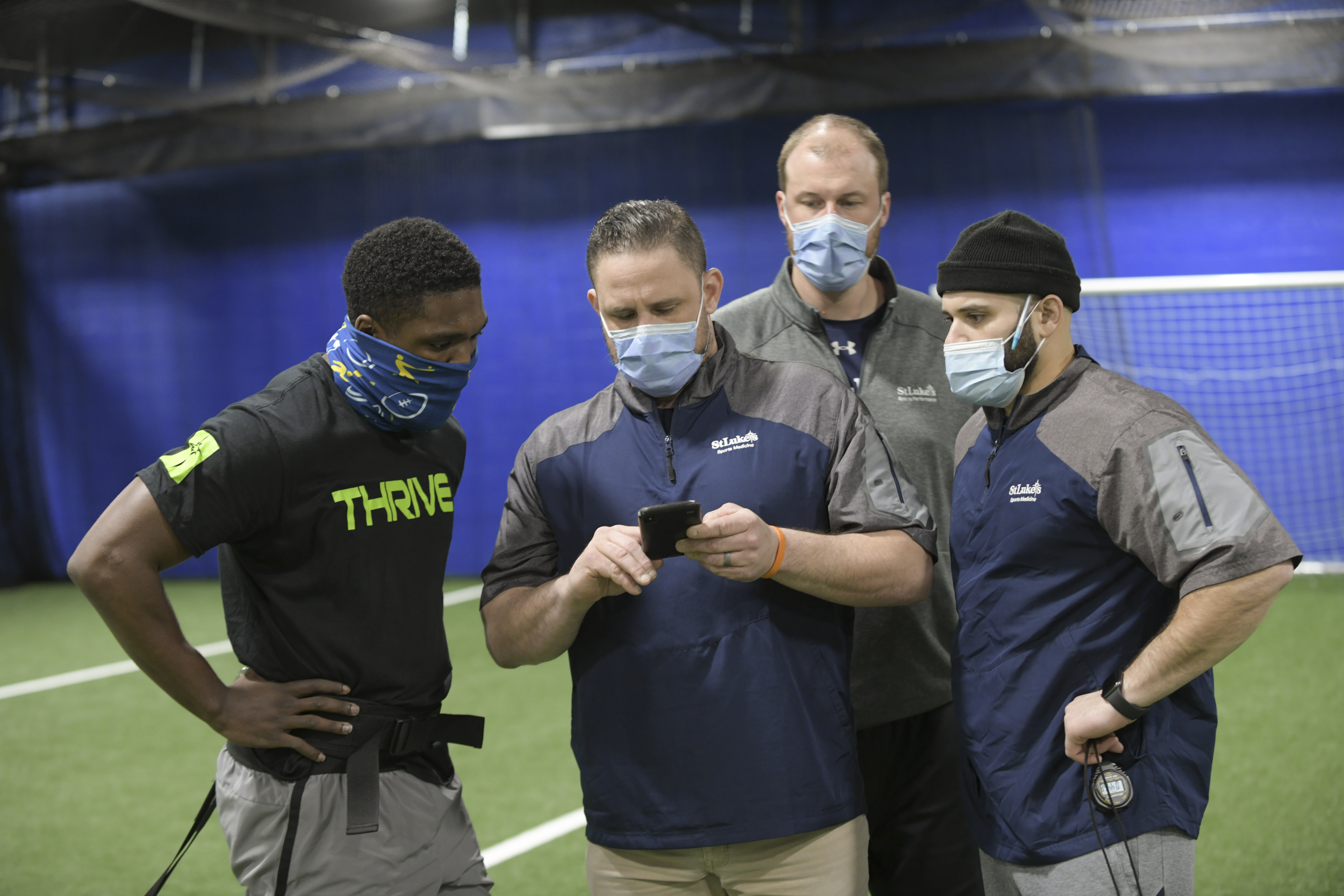 Yasir Thomas and St. Luke's combine preparation team (from left, Mike Cerimele, Matt Hoover and Imad Azar) utilize video footage to analyze technique on Thomas's 40-yard sprint.
It might have all been different if not for COVID.
Yasir Thomas's quest for a pro-football career had to take a time-out over the past year because of the COVID crisis. But now, thanks to his determination and work ethic, and the skilled coaching of St. Luke's Fitness & Sports Performance team, the 22-year-old former Lafayette College standout's playbook includes invitations to NFL combine workouts that could get him the exposure he needs to play at a professional level.
On March 9, the 6-foot, 210-pound Thomas will be in Indianapolis, Indiana, to show his abilities in front of NFL/CFL scouts at the Pro- Day workout, which could edge him closer to the goal he has chased since graduating from Lafayette last May. He's waiting to hear about invitations to Temple University and Villanova University Pro-Days later this month and keeping his sights on other opportunities to make a professional football squad.
"The NFL, CFL, Mexico or overseas. I just want to play in the big league," Thomas says.
St. Luke's coaches help train athletes of all ages and skills levels and also have the expertise and experience to prepare professional athletes for combine event workouts, says Mike Cerimele, St. Luke's Community Ambassador for Sports Medicine & Sports Performance Specialist, who has built the program over the past 17 years.
"We have the top-notch facilities, equipment and experienced staff to train promising athletes for the intense combine events," says Cerimele. "We're providing a service to help players like Yasir reach for their goals."
Since the start of 2021, Thomas has been working out at St. Luke's Fitness & Sports Performance Center – Union Boulevard under the supervision of Cerimele, Matt Hoover and Imad Azar. Four days a week, they work him on speed, strength and conditioning, honing the skills and techniques he used to excel as a defensive back at Lafayette. One day a week, he backs off the explosive, max-level training and does yoga and other restorative exercises to help his body rest.
Azar calls Thomas's football prowess, "exceptional," adding, "He's made our job easy."
"I love working with these guys," Thomas says of his St. Luke's team. He trained alone after graduation, last year, so "we're helping finetune him," says Hoover.
They spent the past 10 weeks breaking down each combine event and implementing a strict speed and strength training regimen, which has translated into his increased strength and power performance.
"It's all about technique and being relaxed on the field," adds Thomas, who nods to Malcolm Jenkins, Jamal Adams and Jabrill Peppers as his NFL safety role models.
"Yasir was in peak form last year, but then COVD hit," explains Cerimele. "Now we're dusting him off so he can peak at the right time. He's a great learner."
Thomas says he's ready for the rigors of the combines and hopefully the demands of the NFL.
His coaches agree that he has the talent and heart and has put in the time and training.
"He listens, processes and applies what he learns here," says Hoover. "We love working with athletes who are coachable, like Yasir."
COVID or not, this time next year, the one-time star for Lafayette may be living his dream of playing for an NFL team. And he'll be thanking St. Luke's for helping him get there.