News
Pioneering St. Luke's Program Protects 'Industrial Athletes' from Workplace Injury
April 22, 2021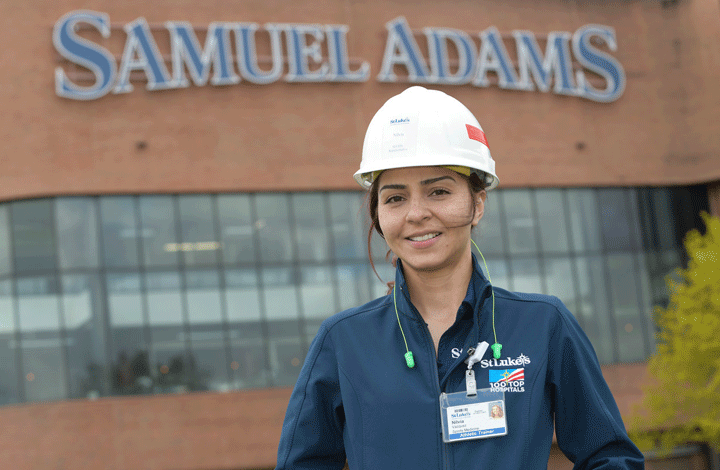 St. Luke's Resident Nilvia Vazquez works with Sam Adams employee Nick Levasseur at the Fogelsville brewery April 21, 2021.
Two years ago, you would have found Athletic Trainer Nilvia Vazquez working with student-athletes at Parkland High School, evaluating an injury, treating a sprained ankle or performing therapeutic exercises with them.
But these days she spends much of her time on the brewery floor at Samuel Adams in Breinigsville, teaching employees how to properly lift a case of Hard Seltzer, performing ergonomic assessments or reviewing injury and lost days reports with managers.
Vasquez, 27, who has a master's degree in Athletic Training from Moravian College, is the first resident in St. Luke's pioneering Athletic Training: Prevention and Wellness Residency program. A first-of-its kind nationwide, the program is currently under review for formal recognition by the Commission on the Accreditation of Athletic Training Education.
According to Kyra Dodson, MS, LAT-ATC, CEAS II, Manager of Occupational Medicine, Prevention and Wellness, who currently serves as the residency's Program Director, workplace musculoskeletal disorders cost companies more than $60 billion each year in medical and insurance expenses and lost production time.
Blending formal education with practical on-site work experience, the new Athletic Training: Prevention and Wellness Residency program is the culmination of a collaborative effort combining the disciplines of athletic training and occupational medicine. The overarching objective is injury prevention by creating a healthier and safer workplace, which translates to "lost time" reduction and other cost savings benefits for employers.
"This seamless fusion of two proven disciplines to create this new and unique specialty is akin to blending the finesse of ballet with the calisthenics of football to develop more graceful transitions on the gridiron," Dodson said.
St. Luke's clients employ factory workers, police and fire personnel, among other "industrial athletes" who are at risk for developing musculoskeletal injuries such as muscle sprains, strains and overuse injuries.
"This program has driven engagement across the plant, leading to positive, sustainable results across safety, quality, production, all focused on the well-being of our employees," Mike Malchitsky, Senior EHS (environmental health and safety) Manager at Samuel Adams. "It brings an expertise and toolset to the Environmental Health and Safety (EHS) program that we do not have in-house."
As Vazquez approaches the completion of her one year of residency training, with much of it spent at Samuel Adams, she continues to build her knowledge in injury prevention, workers' compensation, and the legal issues germane to the industrial setting. Of them all, she said, "injury prevention at work is the simplest, yet the most powerful tool we can utilize to ensure a safe workplace."