News
First in the Region to Use Innovative Navigation System during Hip Replacement
June 10, 2021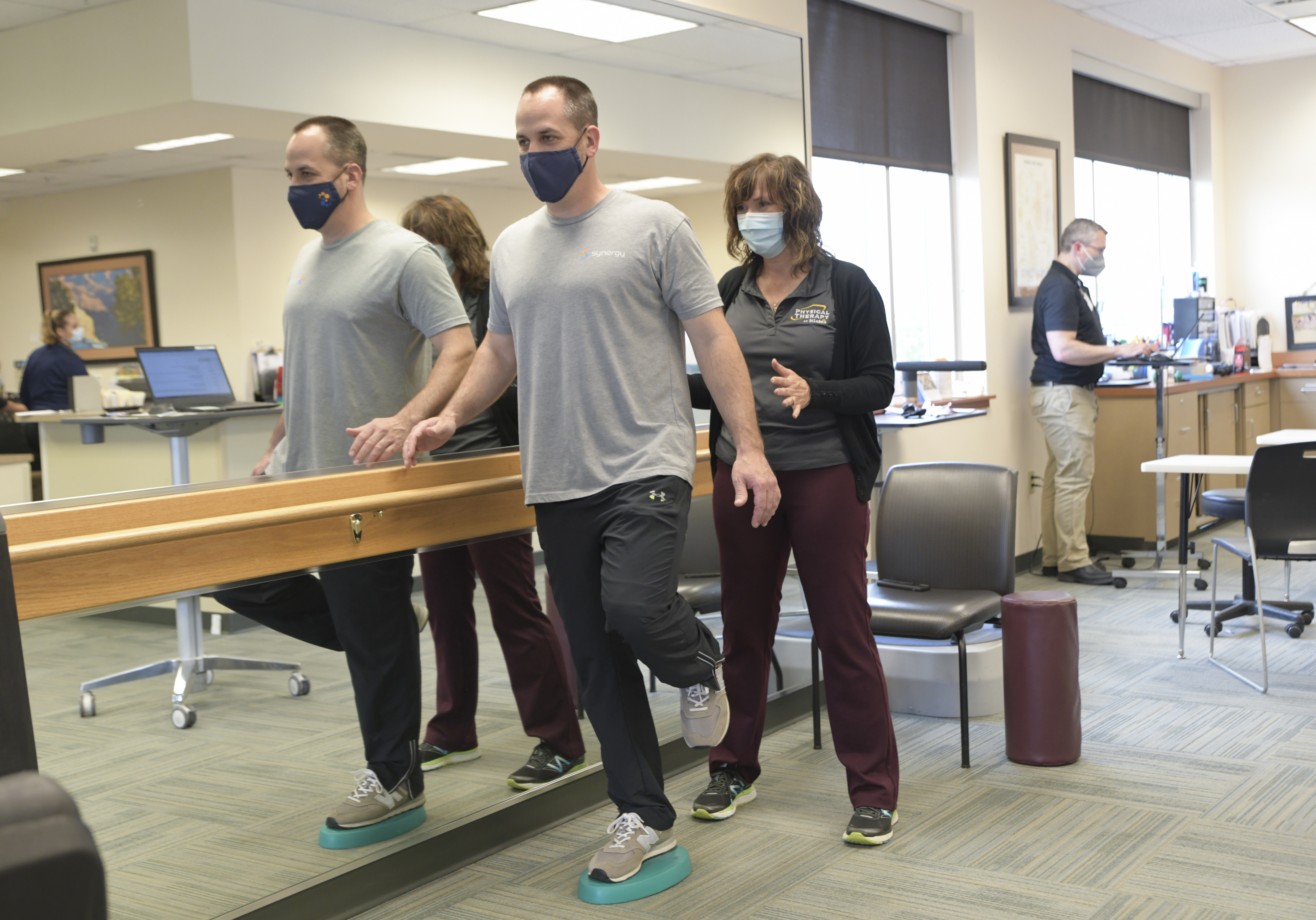 Joe Volkert, of Bethlehem Township, is assisted by physical therapist Mari Wahlgren as he rehabs at St. Luke's Anderson Campus following anterior hip replacement surgery performed by orthopedic surgeon Adam Sadler, DO, using the VELYS Hip Navigation System.
St. Luke's orthopedic surgeons are first in the region and third in Pennsylvania to use the new VELYS Hip Navigation System when performing anterior hip replacement surgery. St. Luke's is also second in New Jersey to use the VELYS system.
This innovative, digital guidance technology further enhances the precision that is routinely achieved by St. Luke's orthopedic joint replacement ;surgeons during this exacting procedure.
The anterior (from the front) hip replacement approach is a less invasive, muscle-sparing surgical technique. The surgeon makes an incision at the front of the hip, then works between the muscles to keep them intact, instead of working through the buttocks or side of the hip as is common with traditional hip replacement.
The VELYS Hip Navigation System combines real-time, fluoroscopy imaging (moving x-rays) with real-time, digital data acquisition and display features to confirm the surgeon's judgement in the optimal placement of hip prostheses.
The VELYS system has earned a track record for enhancing surgery outcomes, including precise positioning of joint implants, extending longevity of the prothesis, reducing post-surgical complications and achieving the desired leg length.
"The continuous guidance of the VELYS system throughout the surgery complements the surgeon's skill set and workflow with increased accuracy in placing implants in the hip and pelvis exactly where we know they need to go," says St. Luke's orthopedic surgeon Adam Sadler, DO, one of the early adopters of the system at St. Luke's. "This helps reduce complications due to implant positioning, promotes maximum functionality of the hip, and properly recreates the hip anatomy."
Dr. Sadler started including the system in his total hip surgeries early this year, but also was instrumental in its testing and introduction at St Luke's.
Dr. Sadler used the system recently as he performed an anterior total hip replacement on Bethlehem Township resident Joe Volkert. The 42-year-old Senior Sales Engineer at Synergy Electrical Sales, whose native hip joint had degraded and fused following a fall and subsequent surgery by another doctor, called Dr. Sadler's results "great."
"He added an inch to my leg (which was shortened by the previous surgery), so now I'm standing level, too," says Volkert, who was able to cheer on and help coach his sons' baseball game the day after his operation.
Thanks to the "phenomenal job" he says his therapists at Physical Therapy at St. Luke's are doing to help him fully recover and regain movement and leg strength, his pain is gone, and he was driving just three weeks after surgery. And now Volkert is looking forward to hiking and returning to his golf game in the fall.
"I appreciate the precise imaging and real-time intra-operative feedback provided by this system," Dr. Sadler says. "It increases the accuracy and reproducible surgical results that help our patients return to the activities they have been missing."