News
First in PA to Offer GammaTile Therapy for Brain Tumors
June 01, 2021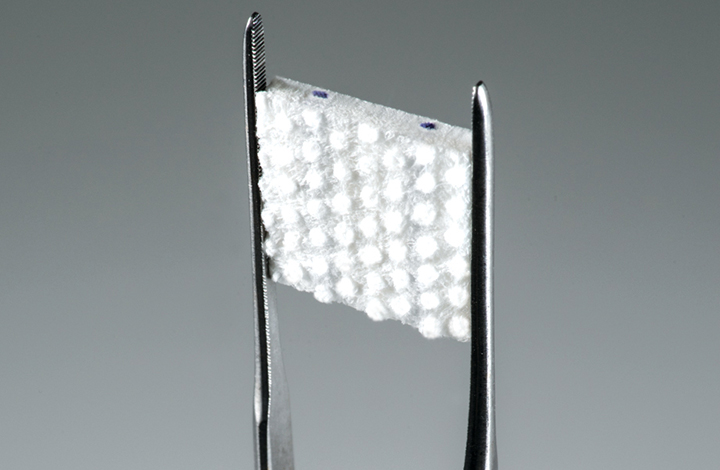 Just after St. Luke's Neurosurgeon Evan Marlin, MD, surgically removed his patient's brain tumor earlier this month, he made Pennsylvania medical history by placing five small collagen sponges, embedded with radioactive seeds, into the brain cavity. The radiation emitted from these one-inch square GammaTiles® is killing any cancer cells that remain in the space once occupied by the tumor.
St. Luke's University Health Network is the first healthcare organization in Pennsylvania to use this novel radiation treatment, which is FDA-approved for patients with newly diagnosed malignant brain tumors and recurrent brain tumors, including gliomas, glioblastomas, meningiomas and brain metastases.
Each GammaTile holds four, tiny radioactive seeds that have been shown to delay tumor regrowth, extend a patient's life and avoid typical side effects of radiation like hair loss.
More than 200,000 patients in the United States are diagnosed with an aggressive brain tumor each year. These masses, many of them malignant and aggressive, regrow 50 percent of the time after they are surgically removed and treated with external radiation and/or chemotherapy.
Dr. Marlin positioned the GammaTiles around the periphery of the removed tumor space, where microscopic cancer cells are most likely to remain or regenerate. He is pleased with the patient's post-surgical recuperation and the impact that GammaTile therapy will play in her prognosis.
"GammaTile is an innovative and effective treatment option for patients who need radiation therapy in the brain but can no longer receive it in the form of external beam radiation," says Dr. Marlin.
His patient, a middle-aged woman, had undergone brain tumor surgery in February, followed by two courses of radiation treatment when tumor symptoms returned. She, therefore, couldn't tolerate more external radiation.
"For the many brain tumor patients we see each year, GammaTile offers a new, complementary option to the tools we already have," says Hugh Moulding, MD, Clinical Director, St. Luke's Brain & Spine Tumor Center. "That means some patients will have options where before we had none."
Once the GammaTiles are placed in the tumor cavity, their radiation begins immediately to destroy residual cancer cells. After the next six weeks during which the prescribed radiation dose is delivered, the brain naturally absorbs the collagen tile while harmless minute traces of the radioactive seeds remain.
St. Luke's Chief of Radiation Oncology, Nimisha Deb, MD, says the (combined?) radiation dose of the five GammaTiles is equal to that of weeks of external beam radiation therapy, but they only affect the exact locations where they are placed and spare healthy brain tissue.
"The unique design of GammaTile allows for safe high-dose radiation delivery to the tumor site while sparing adjacent brain tissue," says Dr. Deb. "This is an exciting new technology which provides predictable radiation dose to reduce tumor recurrence and improve quality of life especially important for patients previously irradiated."
In collaboration with Drs. Marlin and Moulding, and the physicist team, Dr. Deb helped plan the treatment, measured the tumor size and determined the required radiation dose before the surgery.
The current standard of care for patients with operable brain tumors is surgical removal often followed by radiation and/or chemotherapy to destroy remaining cells. Traditional radiation is delivered by a machine in a hospital or doctor's office, requiring as many as 30 treatment sessions lasting several weeks. This causes a substantial burden of treatment for patients and their caregivers alike.
But patients treated with GammaTiles can go about their daily lives while the radiation is working. While a radioactive therapeutic dose is delivered to the area most likely to have a recurrence, healthy tissue is not affected.
According to Dr. Marlin, "I think we are seeing the dawn of a new age of internal radiation therapy for recurring brain tumors that will significantly enhance patients' quality of life and prolong their survival."
Watch the GammaTile video: