News
Easton Campus Adds Interventional Radiology and Vascular Services
May 20, 2021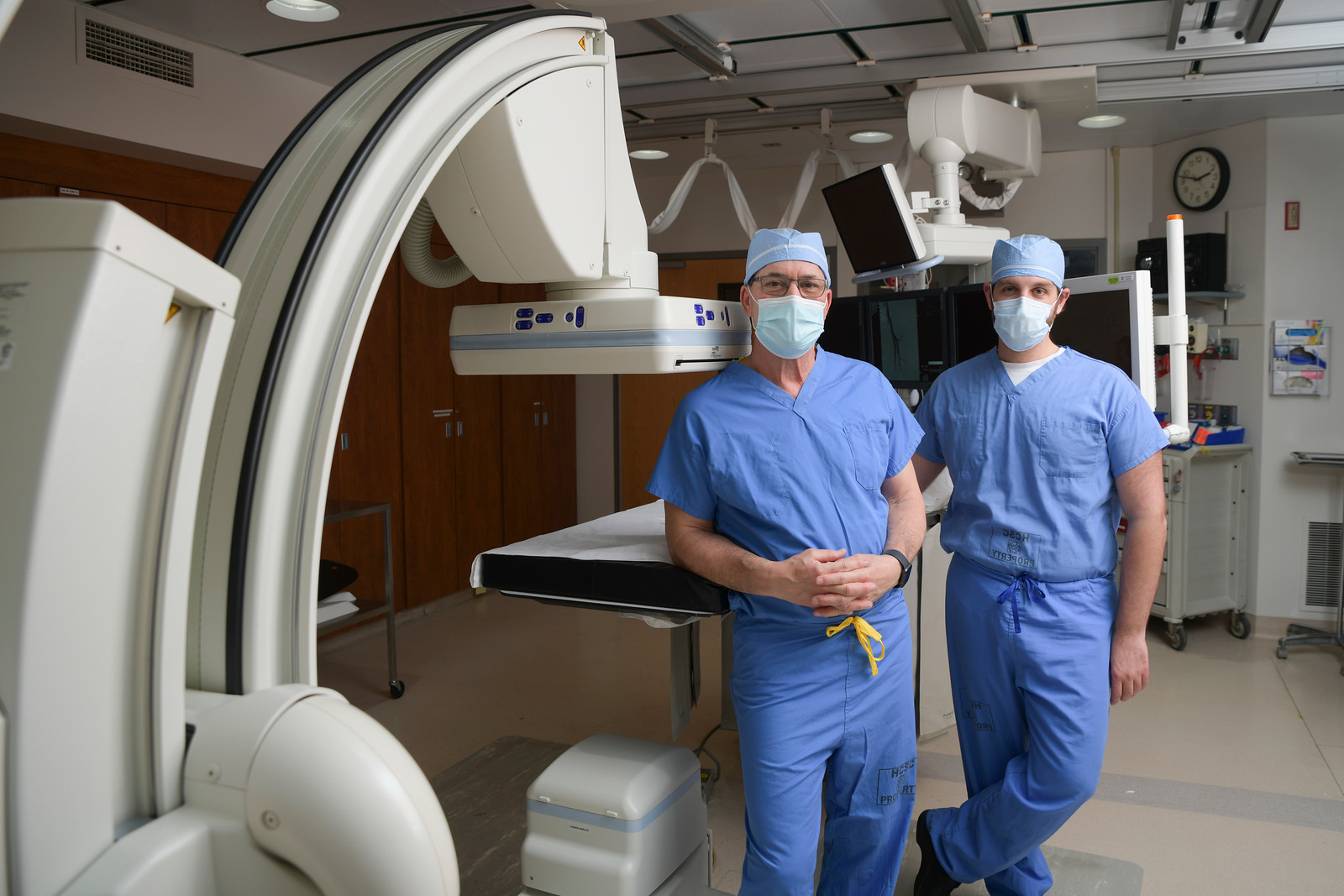 Photo caption: From left, Drs. Fisher and Yannes.
St. Luke's University Health Network continues to invest in its Easton Campus by adding more services – now including interventional radiology and vascular services.
Vascular diseases include conditions that affect blood circulation in the body. Common vascular disorders are bulging arteries, or aneurysm, blockages in arteries and veins caused by plaque buildup, or atherosclerosis, and blood clotting disorders, which can be linked to genetics or other sources. Many Americans suffer from some type of vascular disease, which can be treated with lifestyle changes, medications, non-surgical procedures or surgery, depending on location and severity of the problem.
"St. Luke's has always had a long tradition of providing excellent vascular care to its patients and now we can provide improved access to these treatments, advanced services and procedures to Easton-area patients," says Linda Grass, president, St. Luke's Easton Campus. "The continued expansion of services reinforces St. Luke's commitment to Easton, allowing patients to receive world-class health care close to home."
The vascular offerings will include outpatient surgeries like open and minimally-invasive endovascular procedures and more complicated vascular treatments. EEG, nuclear and stress testing and a wide range of non-invasive vascular testing such as carotid, venous, arterial, renal and dialysis mappings will also be available to Easton patients.
"Thirty-eight years, ago I walked into Easton Hospital as a surgical intern and now I get to be part of a new era of vascular services," says Jay Fisher, MD, medical director, St Luke's Vascular Center and Network Vascular Labs. "No one could be prouder of what St. Luke's is doing to support the local health care needs of the Easton community. I look forward to joining my vascular surgery and interventional radiology partners as we help spread the great St. Luke's culture throughout Easton."
Interventional radiology comprises many minimally-invasive, image-guided therapies that require a pin prick into an artery or vein rather than a large surgery. Procedures include balloon angioplasty for unblocking blood vessels; stenting with tiny tubes that are inserted to prop open narrow or weak arteries; creation of ports for chemotherapy and treatment of fibroids, large prostates and many types of cancers by implanting tiny spheres into blood vessels to restrict blood flow. Patients now no longer have to travel several miles to access these leading-edge therapies.
St. Luke's interventional radiologist, Michael Yannes, MD, grew up in the Lehigh Valley, attended Parkland High School where he met his wife and continues to live and practice in the area. He appreciates serving the community his entire family lives in. He also understands the important role St. Luke's has in providing residents with quality, compassionate care and access to specialists and experts.
"We are pivoting to have Easton become a major center of interventional radiology for the whole Network," explains Dr. Yannes. "Our goal is to provide the full spectrum of services including dialysis intervention and peripheral vascular disease, because those service lines have had extreme growth in the Easton area and we want our patients to be able to access them close to home. By establishing this kind of care in Easton, we are able to provide better service to patients; it's an exciting time to be part of this expansion."
The Easton Campus's extensive menu of diagnostic and clinical resources for patients also includes inpatient and emergency room care, radiology and lab services, general surgery, urology, gynecology, gastroenterology and orthopedic care.
St. Luke's will continue to invest in the Easton Campus through more expansion, bringing health care services closer to home and reinforcing its investment in and commitment to the Easton community. To learn more about the Easton Campus and expanded access to services, call 1-866-STLUKES (785-8537).