News
Carbon County Doctor Earns Wilderness Medicine Certification
August 16, 2021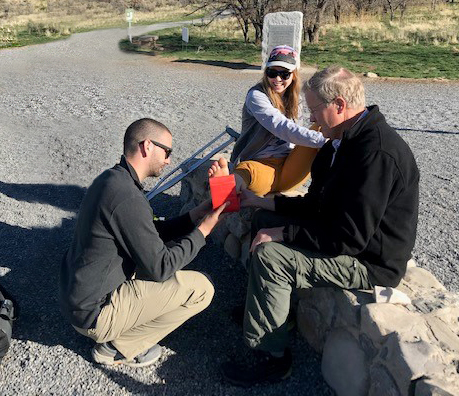 Dr. Plavin practices wilderness medicine in Utah.
Daniel Plavin, MD, is living his dream as a St. Luke's physician, providing patient care in both traditional medical settings as well as on more challenging and wild terrain.
On any given day, you might find the family medicine physician treating an ear infection or ordering an MRI from one of the St Luke's Rural Health Centers -- or caring for an injured hiker in the backcountry of Carbon County.
In his spare time, the 27-year-old Jim Thorpe native volunteers on the local search-and-rescue team, works as an EMT/firefighter and is himself an avid hiker, camper and scuba diver. Clearly there's no keeping this nature-loving medicine man out of the woods, wildlands or water.
Combining his love of the outdoors and passion to help people is part of his DNA, which led Plavin to pursue a novel certification over the past two years from the Wilderness Medicine Society of America, one that's only held by only a handful of other doctors at St. Luke's and just over 600 around the country. In July he learned that he had earned the title of a Fellow of Wilderness Medicine (FAWM), an esoteric specialty to add to his MD credentials.
Plavin defines wilderness medicine as the "the practice of providing medical care in resource-deprived areas, where definitive care is more than an hour, and often days to weeks, away."
"This could be in the mountains, desert, at sea, anywhere there's not ready access to modern medical care."
"Wilderness medicine takes critical thinking, creativity and improvisation, since there are few supplies," Plavin explains. "You have to be inventive with what you have, and repurpose items in ways they weren't originally meant to be used." A belt can serve as a tourniquet. Tree branches are used to fashion a bone splint. A triangular piece of cloth has many purposes: it can filter drinking water, protect the head from sunburn or cover a wound.
Plavin took a rigorous route to earn this unusual designation. He made presentations to physicians on topics ranging from tick borne disease, water purification, wilderness hemorrhage control and improvised splinting techniques and attended wilderness medicine conferences nationwide. He also had to demonstrate and document his use of wilderness-based medical skills.
Plavin's fondest experience was traveling to Moab, Utah where he camped with a group of medical students in Arches National Park, while teaching them practical wilderness medicine skills. He continues to train first responders in Carbon and Monroe counties, including through hands-on field exercises. He also hopes to be able to educate the next generation of physicians at the St Luke's Rural Residency Program where he currently serves as chief resident physician.
You don't have to travel far in Carbon County to find wilderness, mountains, lakes and rough trails, Plavin says, something he has done since his youth to enjoy peace and adventure in nature. He'll get plenty of the latter when he completes his residency training in June 2022.
He'll run a family medicine office back in Jim Thorpe, his hometown. Plus, he'll continue volunteering as a first responder, teaching, training and rescuing victims of incidents and accidents in urban and rural locations.
The restless wilderness and family doctor isn't one to sit still. He's hoping to take his ever-expanding skillset far from home next year to one of the highest mountain peaks on Earth. He'll trek to base camp at Mt. Everest to help prepare mountaineers for their final ascent to the peak and treat those who suffer from altitude sickness, dehydration or hypothermia, all which are common risks of making this climb.
Wilderness medicine extends the physical boundaries and elevates the challenges of taking care of people in unusual settings, Plavin says. "There's so much overlap between family medicine and wilderness medicine, which I find stimulating. … This is all right up my alley. It's always been my dream and is everything I do and want to do."