News
Anderson Campus 10th Anniversary
November 11, 2021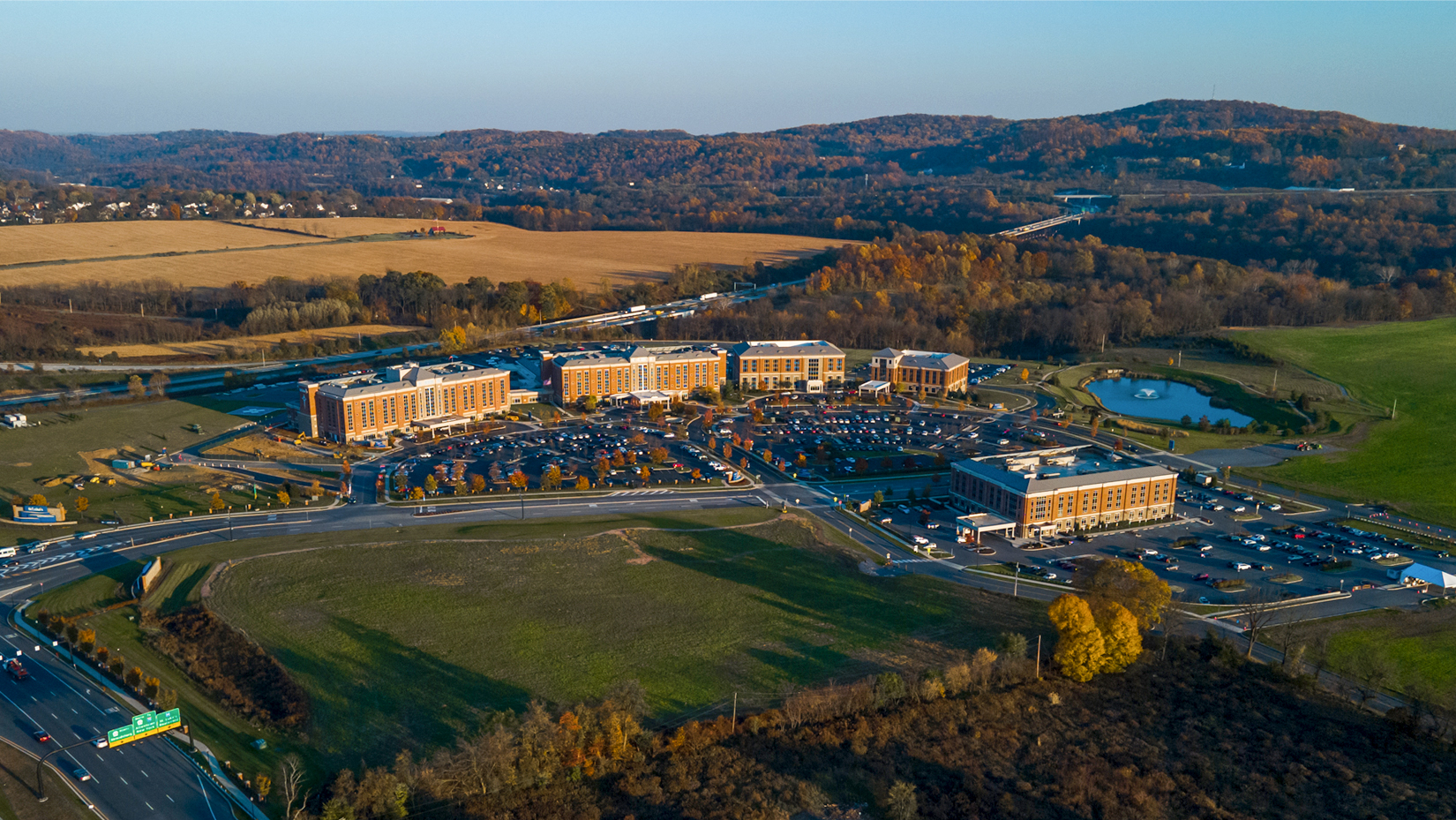 When St. Luke's Anderson Campus opened a decade ago, it was the first new, full-service, acute-care hospital in Pennsylvania in forty years. Built on 500 acres of farmland with a state-of-the-art cancer center, medical office building, specialty and primary care services -- along with private rooms, beautiful views and plenty of parking – the campus was and still is unique to the area.
Now, ten years later, in addition to providing high quality medical care, the Anderson Campus has become a reliable and outstanding community resource, nestled in a beautiful natural setting ideal for healing, rest and recovery.

"This campus, constructed during the greatest economic recession since the Great Depression, represents St. Luke's commitment to the Lehigh Valley and our hopeful vision of the region's future," said Richard A. Anderson, St. Luke's longtime President & CEO for whom the Network's Board of Trustees voted to name the campus in 2010. "St. Luke's leadership understood that building a new hospital at that time would provide an extremely timely and powerful economic stimulus when the region needed it most. We also believed this new campus would allow St. Luke's to continue to meet our community's expanding health care needs for generations to come."

Welcomed by the community and fueled by an overwhelming demand, the campus expanded in 2013. The same year, the Anderson Campus partnered with the Rodale Institute and opened the St. Luke's Rodale Institute Organic Farm. By providing patients and employees with organic produce grown onsite, St. Luke's has demonstrated its commitment to the environment by promoting the health of its patients and the community.

The campus once again expanded in 2017, opening a new $26-million Specialty Pavilion with additional specialty services and an Ambulatory Surgery Center.

In January of 2020, the Anderson Campus Women & Babies Pavilion opened, housing a labor and delivery unit and neonatal intensive care unit (NICU), doubling the size of the existing hospital. This $75 million pavilion also provides graduate medical education space and a simulation teaching center for multiple residency programs at St. Luke's Anderson Campus. This expansion represented St. Luke's commitment not only to mothers, babies and families, but also to training the next generation of health care providers to care for them.

"Over the past ten years – and especially through the COVID-19 pandemic -- it has been my great privilege to lead the dedicated team who continuously work to improve St. Luke's Anderson Campus year after year," says Ed Nawrocki, President of St. Luke's Anderson Campus. "Through strategic growth we have honored our commitment of providing access to quality health care and will continue to do so long into the future."

Recently St. Luke's Anderson Campus earned a Level II Trauma accreditation which assures the public that St. Luke's physicians and staff are fully equipped to evaluate and treat trauma patients at the Campus.

Recognizing that healthcare extends far beyond the campus walls, the Anderson Campus regularly provides health screenings at no charge and student health initiatives and has been leading the region in distributing the COVID-19 vaccine. Enhancing the Network's long-established partnership with the Bangor Area School District, St. Luke's Anderson Campus officially "adopted" the district in 2014, by providing medical, behavioral health, vision and dental care to Bangor students, many of whom are economically disadvantaged.

"The Bangor Area School District appreciates the commitment of St. Luke's to make care – physical and mental -- accessible to our school community," says Joe Kondisko, Bangor Area Director of Student Services. "Whether a student is under insured or not insured at all, St. Luke's finds a way to deliver services to them."

St. Luke's Anderson Campus has become a template for the growing Network. Since 2011, SLUHN has built an additional four new campuses, replicating the Anderson Campus concept in those communities where access to quality healthcare was lacking.

"St. Luke's Anderson Campus is truly a model for modern health care," says Luanne Stauffer, Chair, St. Luke's Anderson Campus Board of Trustees. "Having access to everything from labor and delivery and emergency services, to primary, specialty and preventative care, all in one convenient location was unprecedented in 2011. Today, that innovative spirit remains a cornerstone of the Network as we continue to meet the health care needs of families in our region."