News
Partnership to Provide Care to Nazareth Area School District
November 23, 2020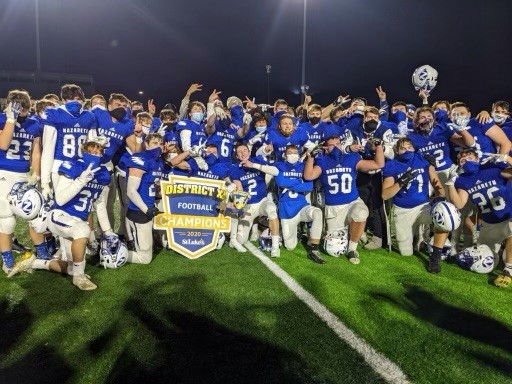 St. Luke's University Health Network and the Nazareth Area School District are pleased to announce a partnership that will provide comprehensive health care services for Nazareth's students and employees.
The 10-year contract includes integrated health care components beyond the traditional sports medicine field. A Hospital Committee formed by the Nazareth Area School District Board of Directors selected St. Luke's for its health needs.
"All school district participants involved in this project engaged in countless hours and intense discussions in order to provide our entire educational community with quality program results," said NASD Board President Linda G. Stubits, Ed.D.
"We are extremely happy with St. Luke's right out of the box," Dennis Riker, Ed. D., Superintendent of Schools for Nazareth School District, said of the contract, which began this school year. "When it comes to the services they provided to our athletes, families and coaches with guidance and testing, they really stepped up to the plate. They rose to the challenge and are doing an excellent job."
Dr. Riker praised the work of John Hauth, Senior Network Administrator for Sports Medicine Relationships at St. Luke's for his role and understanding the needs of the school district.
"We are doing everything we can to prevent illness and injuries in this school community," said Hauth. "One of the functional parts of sports medicine aspects is the access to our team of fellowship-trained physicians, licensed Athletic Trainers, sports performance coaches and physical therapists.
"In addition, we have integrated our outstanding colleagues in community health and preventative medicine as well as behavioral medicine/health so that it includes mental health support, nutrition and school or community care in conjunction with the school to address disparities that exist in the Nazareth school community."
Highlights of the contract include:
Two on-site athletic trainers at the high school plus one at the middle school.

Athletic training supplies

Sports Performance coaching

Access to fellowship-trained physicians

Access to Physical Therapy

Nutrition services

On-site emergency action plans

Community sponsorship for the school

COVID-19 Action Plans

Behavioral medicine support and Tier 3

Comprehensive health action plans for students, staff and administration
"We are extremely excited about our new partnership with St. Luke's," said Nazareth athletic director Ray Ramella. "St. Luke's offers a great amount of resources for our student-athletes as well as our entire school community. For our athletes, they have the capability to help prevent injuries in our athletes as well as the proper protocols to return them to play in the event of injury."
The contract expands the traditional sports-related components with a health wellness aspect.
"We work collaboratively with all our colleagues across the health disciplines by doing an assessment of the school district to identify the needs that are in the community, examining every aspect from PSSA scores through free and reduced-price lunches students, to the demographics of the district so that we can work in partnership on initiatives to address the school district's needs," Hauth said.
More and more school districts are seeking behavioral health support beyond that provided by the local Intermediate Units.
"Although we have all the physical challenges and the educational challenges that are taking place during the pandemic, the behavioral health component of this contract is extremely important," Dr. Riker said. "Mental health is such a significant concern and to have St. Luke's on board with that is extremely important for the Nazareth School District."
"There may be situations where we may provide supplementation for their current psycho-therapy providers or where we will become their provider," said Jody McCloud- Missmer, Administrator – Behavioral Health for St. Luke's.
St. Luke's offers Tier 3 services – the most intense – to be supplementing any Tier 1 or 2 services Nazareth may need assistance with. St. Luke's will treat the whole student body and make a concerted effort to offer therapeutic services to any school district member, whether that is a coach, a teacher or a cafeteria worker, the whole community within the school.