News
Miners Welcomes Former NICU Patient to RN Staff
December 03, 2020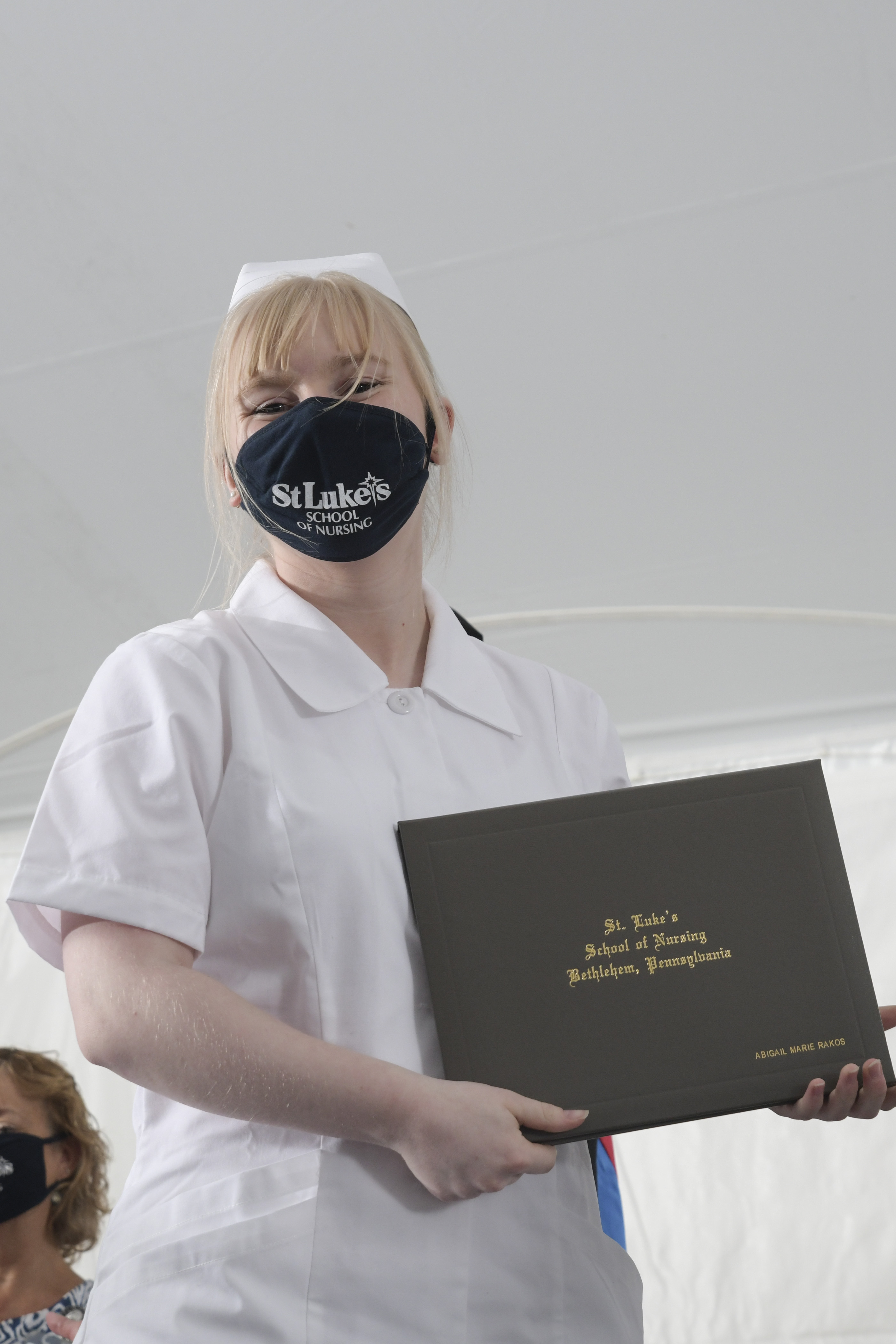 It seems that Abigail Rakos's path was determined even before she could remember. Events that transpired before she was born set her on a career trajectory that led her to become an RN at St. Luke's Miners Campus. It all started when her pregnant mother was told that there was nothing more they could do to help her unborn child. Those discouraging words led Abigail's parents to consult with St. Luke's maternal fetal medicine specialists who eventually helped bring Abigail safely into the world.
Abigail, of Lehighton, was born on May 13, 1999 at St. Luke's University Hospital Bethlehem. She weighed one pound, five ounces and spent the first four months of her life in the St. Luke's Neonatal Intensive Care Unit (NICU). At one point, during this precarious time, Abigail contracted sepsis, and it was not likely that she would ever leave the NICU with her parents, and even if she did, Abigail's parents were told that she may have limited brain capacity and only partial use of her limbs. But Abigail defied the odds and eventually, was strong enough to leave the hospital. By the time she was a teenager, she was strong, healthy and by all accounts, a miracle.
Fast forward to her graduation from Marian Catholic High School in Hometown and it became more and more clear to Abigail that a career in nursing was what she wanted. "Spending time in doctors' offices and hospitals is how my life went," says Abigail. "I was inspired by all these people who helped me, so I wanted to help people too. And that hasn't changed to this day."
Thanks to a full scholarship from St. Luke's University Health Network, she attended Lehigh Carbon Community College and then St. Luke's School of Nursing. During nursing school, she had the unique opportunity to speak with a few NICU nurses who took care of her all those years ago. "During my pediatric rotation in nursing school, I spent a few shifts in the NICU and two of the nurses who took care of me were present during my shift," explains Abigail. "It was a really emotional experience because they were so excited to see me. They remembered my nickname when I was in the NICU and were able to pinpoint where my isolette had been for most of my NICU stay." The NICU nurses also introduced Abigail to some of the parents with newborns in the NICU as a way to offer hope and inspiration to those parents who desperately needed it.
This past summer, Abigail graduated from St. Luke's School of Nursing and in the fall, she started her full time, registered nurse position at St. Luke's Miners, working in the medical surgical unit. Bill Moyer, former president of St. Luke's Miners Campus and current president of St. Luke's Allentown Campus and West Region, knew that Abigail's story was special and he wanted to do everything he could to support her education. "It seems like yesterday when we offered Abigail the scholarship to support her dream of becoming a nurse," says Moyer. "Now she is officially a member of the team, working for our hospital and helping us continue our mission of providing excellent health care for the community. We look forward to her future success with St. Luke's."
"As our Network expands to meet the ever-growing needs of our community, so does our need for dedicated, strong nurses. Abigail's local ties and personal connection to St. Luke's makes her a perfect fit," says Wendy Lazo, president of St. Luke's Miners Campus. "It's an honor to have been a part of Abigail's journey and we are grateful that she has chosen to share her talents and passion for patient care with us. As a nationally-recognized health network and a top performing community hospital, we are continually working to raise the bar, so we always look to hire staff to support this mission."
Abigail's educational pursuits are not complete just yet. She plans to return to school for her bachelor's degree and eventually become a nurse practitioner. "This opportunity with St. Luke's means so much to me and my family for so many reasons," concludes Abigail. "Obviously, the scholarship I received lessened the financial burden for my family, but having the opportunity to work for the same hospital network that saved my life is also incredibly special. I feel like I am giving back some of the blessings that I have received. It's like coming full circle."