News
Caring for Your Child During Allergy Season and Covid-19
April 29, 2020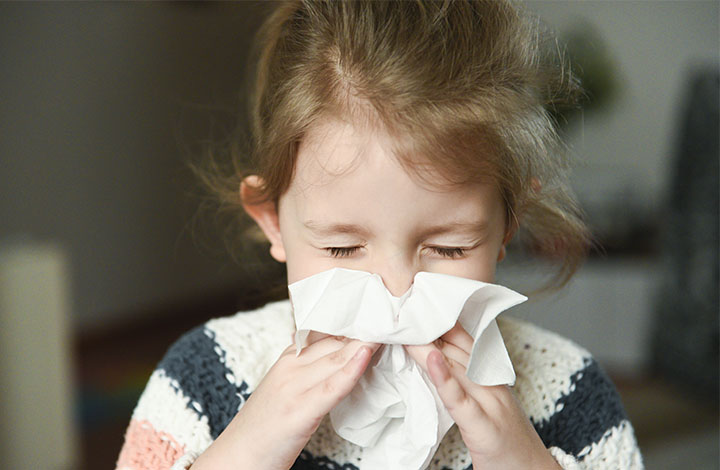 Questions and Answers with St. Luke's Pediatric Pulmonologist Ashish Shah, MD
A runny nose, itchy eyes and bouts of sneezing may be typical this time of year, but for children with lung complications, allergy season can be scary. St. Luke's pediatric pulmonologist Ashish Shah, MD, talks about symptoms, treatments and the importance of not delaying care during the Covid-19 pandemic.
With allergy season quickly approaching, how can lung-compromised children and their families prepare to avoid respiratory complications?
Children need to limit exposure to allergens, which can lead to asthma attacks. The best way to prepare is to continue taking current medications, such as asthma controllers and allergy mediations. Other tips for symptom control include:
Always have a rescue inhaler on hand when outdoors
Keep an adequate supply of medications
Know local pollen counts
Keep windows and doors closed (in the home and the car)
Avoid being outdoors in the morning when pollen counts are high
Consider taking local raw honey
Perform nasal sinus rinses to flush out pollen
Are children with underlying lung conditions at a greater risk for contracting Covid-19?
It is not clear whether children with asthma or other pre-existing lung conditions are at a greater risk for contracting Covid-19. However, in epidemics like influenza, children with asthma and pre-existing lung conditions are at a greater risk for respiratory complications such as asthma attacks, pneumonia and respiratory failure. Therefore, scheduling and keeping appointments with your pediatrician and pediatric specialist remain essential at this time.
How do I know if it's allergies, a cold or something more serious?
It can be difficult to distinguish these diagnoses, but we can use the chart below as a guideline:
Cold:
Allergies:
Asthma:
Runny nose
Cold symptoms +
Persistent cough
Nasal congestion
Sneezing
Chest tightness
Low-grade fever
Watery/Itchy eyes
Wheezing
Cough
Frequent sniffing
Shortness of breath
Lasts 7-10 days
Frequent throat clearing
Symptoms are constant
If experiencing an asthma attack, your child should continue taking controller medicine and utilize an inhaler. If symptoms are persistent, contact your pediatrician or specialist.
Is my pediatrician seeing patients now?
Yes. St. Luke's pediatricians and pediatric specialists are reviewing every patient appointment to evaluate the best way to connect with patients and families. We have greatly expanded the use of video visits and other telehealth options, and we are still performing in-person visits. We are actively contacting patients to discuss options for upcoming and new appointments. Call your physician's office to schedule an appointment. If a virtual visit is the best option, we will provide information and directions prior to your appointment.
What about the Emergency Room?
If your child has difficulty breathing, shortness of breath, dehydration, blue skin tone or a fever that is not responding to medication, you should go the emergency room. When possible, contact the emergency room in advance and notify staff of your child's symptoms, any recent travel and/or exposure to Covid-19. Children experiencing severe respiratory distress can be cared for in St. Luke's new Pediatric Intensive Care Unit (PICU), which is staffed with pediatric critical care intensivists 24/7.
Health care doesn't need to stop because of Covid-19. St. Luke's has taken all the necessary precautions to protect our patients through the pandemic and more patients than ever have discovered the benefits of St. Luke's Virtual Visits. Don't risk avoiding care when you need it most - call your doctor today!
Ashish Shah, MD is a board-certified pediatric pulmonologist committed to providing compassionate care to patients with lung complications from premature birth, severe asthma, cystic fibrosis, bronchial pulmonary dysplasia, cronic cough, recurrent pneumonia, recurrent croup, allergic rhinitis and congenital lung diseases.