News
Adopt a School Program Provides Aid to Bangor Area Students
February 03, 2020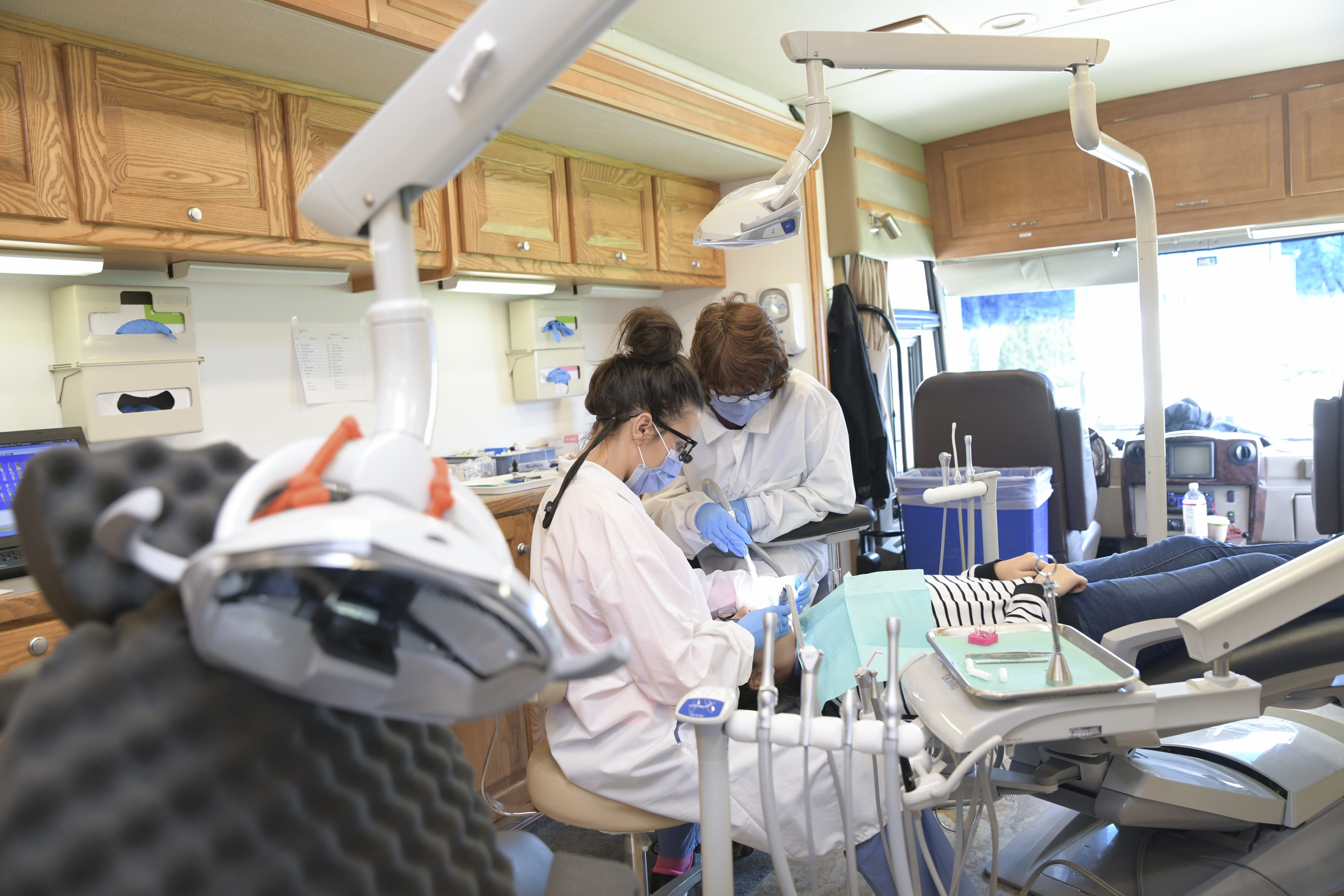 Nona Lefsyk of Bangor is serious when it comes to making sure her two sons get dental care. But the only dentist who accepts her insurance is in Bethlehem, a 40-plus mile round trip. "I can't travel that far," she said.
Lucky for Lefsyk, there's Star Wellness – a non-profit partner of St. Luke's University Health Network that provides care in a community-based setting to the medically underserved, including the uninsured and under-insured, regardless of ability to pay. Star Wellness brings a mobile van to the Bangor Area School District during the school year and in the summer. Lefsyk's sons Gage, 15, and Troy, 10, can undergo routine exams, have their teeth cleaned and get cavities filled – all at their schools.
St. Luke's first began providing dental services to Bangor Area nearly two decades ago. Now, the Star Wellness Dental Van is among the myriad of initiatives that are part of the Adopt a School program.
"It's awesome that [they] does something like this," Lefsyk said.
With the district serving as a hub, the Adopt a School program works with community partners to connect students to medical, mental health, vision and dental care. It also coordinates efforts to improve literacy, get students career-ready and lead healthier lives.
The Bangor program, funded by St. Luke's Anderson Campus and grants, is among the many partnerships that St. Luke's hospitals have with schools across the region, including Adopt a School programs in the Allentown, Bethlehem Area and Panther Valley school districts.
St. Luke's Anderson adopted Bangor in 2014, forming a partnership with the Bangor Area School District Community School Program, according to Deb Bowman, Bangor's community school director. Under the Community School Program, which began in 2008, the United Way of the Greater Lehigh Valley, Slater Family Network and Northampton Community College work together to coordinate health, academic and social services for students and their families.
St. Luke's joined the group after a Community Health Needs Assessment underscored that Bangor's poverty level – about 44 percent of the district's 3,000 students are economically disadvantaged, according to the state Department of Education – and rural location in northern Northampton County make it difficult for families to obtain quality medical and social services.
"Access to care is our biggest issue," Bowman said.
Bowman said barriers to care range from working parents who have health insurance but can't take off from work to stay-at-home mothers who don't have cars to drive to appointments. Others have health coverage, but providers who take their insurance are too far away.
Then there are parents who are too worried about putting food on a table to make appointments a priority. "They might have Medicaid, but they don't go to the doctor. They have bigger needs in their lives," Bowman said.
Bowman said St. Luke's was a game changer when it joined the partnership, raising grants to fund efforts. "St. Luke's revitalized how we are viewed," she said. "We are considered more of a rural health model now."
Under the Adopt a School program, St. Luke's works with families to connect them to health insurance and providers, including mental health professionals. "The kids may be the focus, but there is a very tight ring of family around them and we want to take care of them as well," said Todd Nemura, St. Luke's community liaison manager for the Anderson and Monroe campuses.
Bowman said the dental van is extremely popular. "I always have a full van with a waiting list every single visit," she said.
Stacie Cuda, Regional Manager for Dental Health for Star Wellness said she finds connecting these students and their families with the dental care they need to be rewarding: "There's a big emphasis on providing education to the students on the importance of dental health. By teaching these children how to properly take care of their teeth, we are helping to prevent oral health issues in their future"
The dental van visits the school numerous times throughout the school year and the summer. Connections are made with the Star Wellness Dental Team and School Leaders so that any dental emergencies can get taken care of promptly whether or not the dental van is on site that day.
Under vision care, Bowman said, St. Luke's provides vouchers to students for eye exams with Dr. Mary Eck. Last school year, 43 students received vouchers that also cover eye glasses.
Besides health care, the Adopt a School program also has a literacy component through which St. Luke's provides books to students and volunteers read to them on occasions such as Dr. Seuss Day. Under career readiness, speakers are brought in to talk to students about future jobs. In addition, Bangor students interested in health care can participate in the St. Luke's Careerlinking Academy.
Joe Kondisko, Bangor Area director of student services, said the Careerlinking Academy not only teaches professional development but also allows students to get a first-hand view of the medical field. "Our kids get to observe operations. They saw an appendix removal. They absolutely love the program," Kondisko said.
Further, St. Luke's spearheads healthy living programs that develop school gardens in collaboration with the Kellyn Foundation. Nemura sits on the district's wellness committee, which makes recommendations on issues such as vending machine choices and birthday party treats.
Kondisko said St. Luke's has made it easier for the district to help students. "Any time I get in a situation with a kid needing something, I can call St. Luke's and they will help me," he said. "They just bring a wealth of resources and these resources connects us to give better programs and services to kids."
Five years into the Adopt the School Program, Nemura said St. Luke's continues to look for new ways to help students and their families. "We take an evidence-based approach to coming up with a care plan for students and their families," Nemura said.