News
Visiting Nurse Association of St. Luke's, 100 Years of Home Health Care and Still Going Strong
February 21, 2019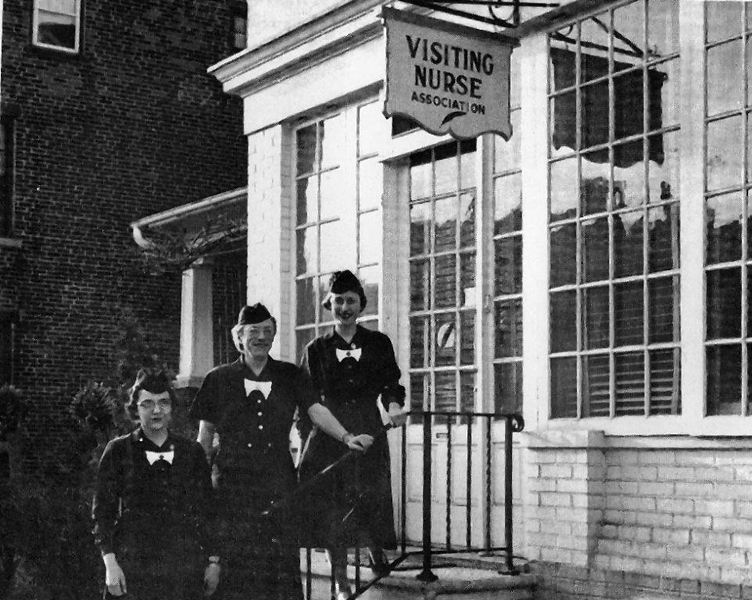 The Visiting Nurse Association of St. Luke's is celebrating a remarkable milestone this year—100 years of delivering health care to patients in their homes.
Since the VNA of St. Luke's earliest days when nurses dispensed pasteurized milk to mothers and their newborns from the Baby Milk Station in Bethlehem, to today when home visits can be made through telemedicine, much has changed, and yet the mission has remained constant for a century.
"We've always been about care in the community and bringing the care into the homes of patients. That hasn't changed," said Lisa Giovanni, president of the VNA of St. Luke's, which provides home health services, hospice services, and mother and baby programs.
Founded in 1919 when the public health nursing movement was taking root in cities across the country, and called the Visiting Nurse Association of Bethlehem back then, the VNA of St. Luke's established clinics in Bethlehem where it provided health care and taught mothers and families about communicable diseases, childcare and baby health and wellness.
See historical photos here: https://stlukes.smugmug.com/VNA/VNA-Historical-Photos/
Over the decades, the VNA of St. Luke's has expanded in size and scope. Long gone are the days when the organization had only one nurse on staff and whose service area was limited to Bethlehem's city limits. Today, a team of more than 100 nurses, physical therapists, occupational therapists, speech pathologists, medical social workers and home health aides cover an eight-county region. Last year, team members collectively drove more than 1 million miles visiting their patients! Of course, the dedication of the staff is legendary, such as the time a visiting nurse skied to a patient's home when roads were closed during a blizzard in 1983.
St. Luke's University Health Network acquired the VNA in 1993, but it has long had a relationship with the VNA. In 1936, St. Luke's Hospital School of Nursing established a program with the VNA that enabled its students to learn firsthand about home health care.
The VNA of St. Luke's focus now is on patients who have recently been released home from the hospital and may require post-surgical care, such as after a hip or knee replacement. Others need help managing chronic conditions such as diabetes or heart disease. The unifying factor is all of the patients are largely homebound and have been referred by a physician.
"Our goal is always to assist that person to return to their pre-illness state of health so they become independent again as well a large focus on education, and disease management," Giovanni said.
Barbara Baker, RN, who has worked for the VNA of St. Luke's for 20 years, teaches her patients how to manage their disease or condition.
"I like home health care because for the most part I feel like I make a difference. I'm right there where they live," Baker said.
Giovanni said one of the most important things the visiting nurses do is provide medically directed care in patient's homes. That care can include assisting patients in recovering from surgery or managing acute or chronic illness.
"What we find is our patients are very welcoming to have us in their home. Our team works hard at displaying respect for their home environment. It's really a personal type of care that you are providing on their turf," she noted.
Patient volume has grown dramatically in the past seven years, increasing from several hundred patients to about 1,000, driven in part by the Network's expansion in the region and an aging population, Giovanni said.
That the VNA of St. Luke's has reached the century mark is not only a testament to its quality programs, but also a recognition that medical care happens in all areas, including patients' homes, Giovanni said.
"Home health care is not new; it's really a century-old phenomenon that I suspect will be around for the next century," she added.