News
St. Luke's Uses Art to Bring Awareness to Housing Insecurity
December 02, 2019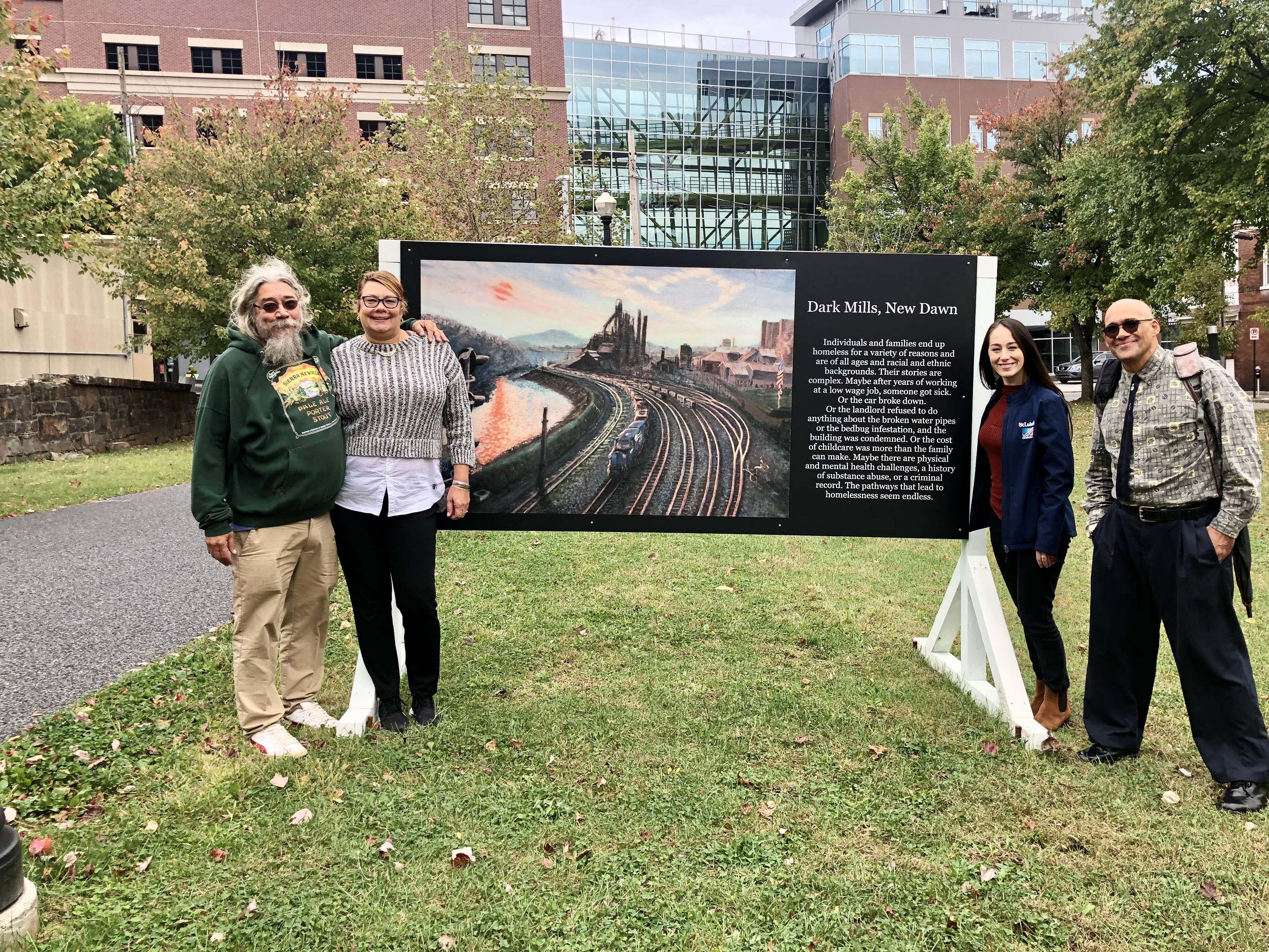 Artist: Henry Bennick Jr; Untold Stories Art Program Participant. Title: Dark Mills New Dawn.
The Community Health & Preventive Medicine Department at St. Luke's works with community groups to provide access to the healing power of art for those experiencing housing insecurity. As part of this initiative, they created the Untold Stories art program through REACH (Resources, Education, and Advocacy in Community Health) which brings services to homeless and near homeless individuals in the Lehigh Valley. The Untold Stories art program aims to provide a sense of purpose for clients and their artwork was recently displayed as part of Touchstone Theatre's Festival UnBound.
"Through our work in the community, I recognized a need for a creative outlet as a way to cope with the trauma of homelessness," says Michelle Wagner, St. Luke's Community Health Specialist. "We approached New Bethany Ministries, SouthSide Arts District, and the Community Action Development Corporation of Bethlehem (CADCB) to explore ways to bring these support services to the shelter. This program is the culmination of our collaboration."
There are few greater traumas than that of not having a home. And for many in our community, that trauma is very real. Research shows that art can provide healing benefits in multiple ways, including giving the artist a sense of purpose and pride, while also improving mood and decreasing anxiety, stress and depression.
"Support is what people need to lift them out of poverty," says Pam Lewis, Manager of Community Partnerships at New Bethany Ministries. "It's not always just money. When Michelle pitched the idea to develop an art program at the shelter, I knew it was important to bring in services like this to our clients. It gives them a purpose."
Data collected by The Department of Housing and Urban Development HUD in early 2019 revealed that 574 individuals including 149 children were experiencing homelessness in Lehigh and Northampton counties and that a person would need to work three, full-time, minimum-wage jobs to afford a two-bedroom apartment in the Lehigh Valley.
"Individuals and families of all ages and racial and ethnic backgrounds end up without a home for a variety of reasons. Their stories are complex and the pathways that lead to their circumstances varied, but the lack of affordable housing in the Lehigh Valley plays a role," said Chris Cassidy, Associate Executive Director with CADCB.
This past fall, the SouthSide Arts District installed easels along the South Bethlehem Greenway between New and Polk Streets. The easels featured artwork from Untold Stories artists, as well as data about housing insecurity in our community, as a part of Touchstone Theatre's Festival UnBound.
Pairing the art with data on the display serves to illuminate what is happening right here in our backyard, where over 2,000 households sought homelessness services last year.
"Being homeless doesn't define someone. We're working to break the stigma about homelessness in our community while also giving our friends at New Bethany a sense of purpose" Michelle said. "One artist in the program this year stated that creating his piece gave him 'a reason to live' – and that is the essence of what community collaboration can do."
The program would not have been possible without donations from ArtsQuest and Lehigh University Panhellenic Council. To support the Untold Stories Art Program in the Lehigh Valley, please click here to make an online gift, or email developmentoffice@sluhn.org for more information about alternative ways to make your gift.