News
St. Luke's Residents Take Top Prize at Quality Awards
December 10, 2019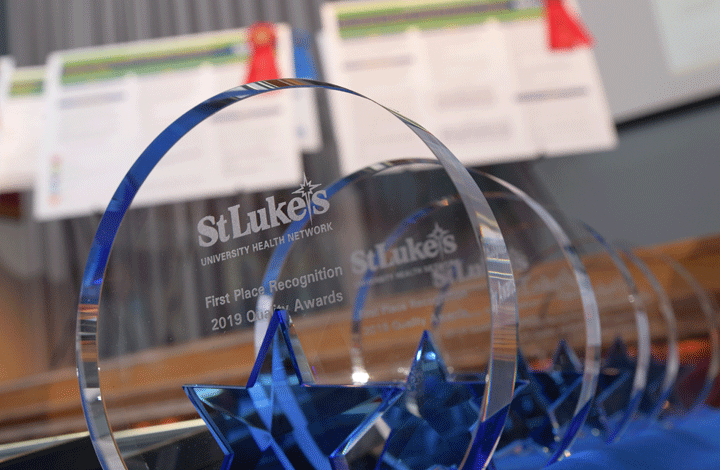 Annual quality improvement program leverages resident collaboration to improve care.
Residents from St. Luke's Internal Medicine and Family Medicine programs received top honors at the annual St. Luke's Physician Group Quality Awards program, earning the coveted "President's Award for Quality."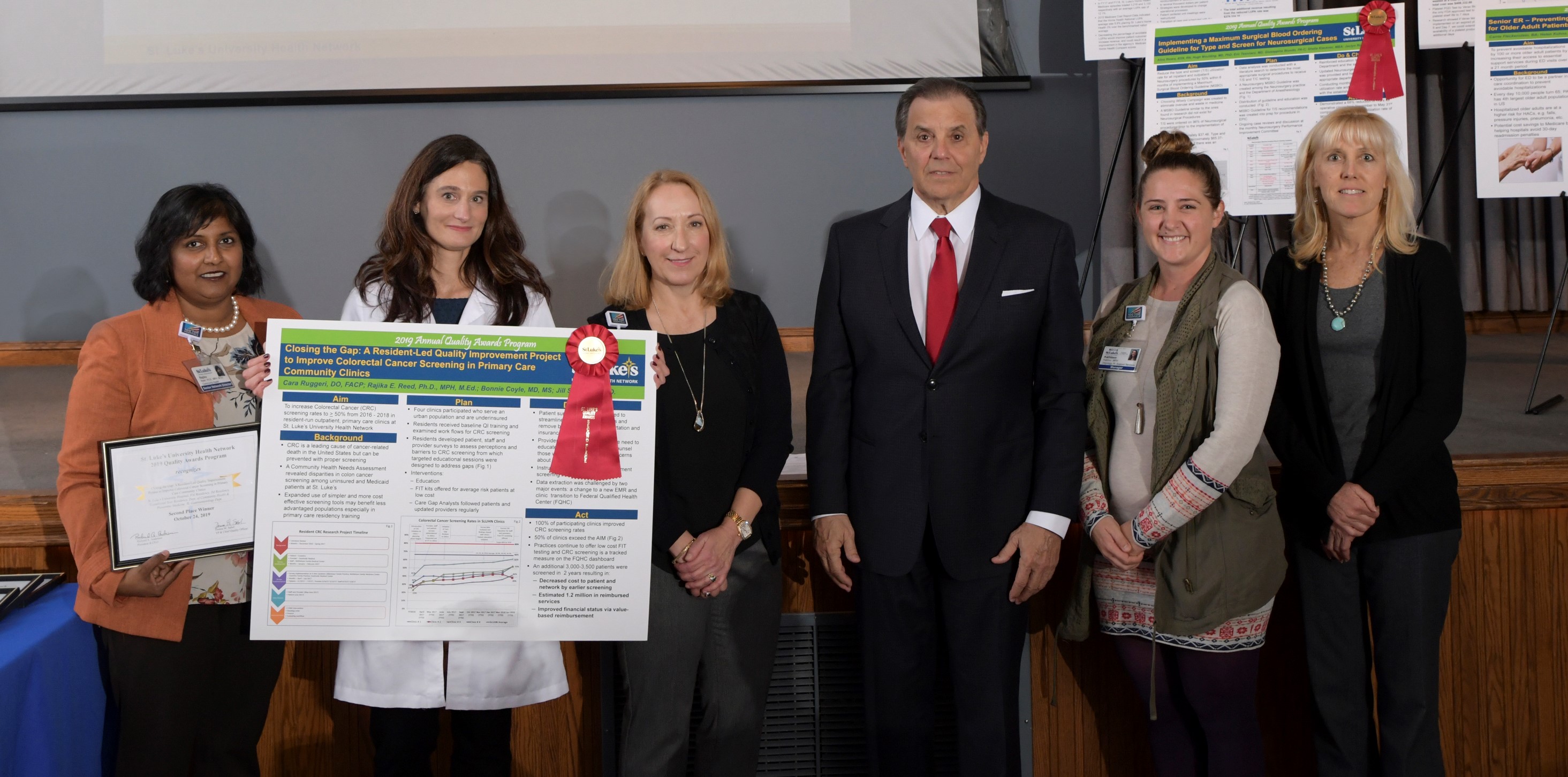 The study titled Closing the Gap: A Resident-Led Quality Improvement Project to Improve Colorectal Cancer Screening in Primary Care Community Clinics focused on increasing the percentage of colorectal cancer screening rates in four St. Luke's clinics over a period of two years.
According to the American Cancer Society, early detection of colorectal cancer is linked to better health outcomes and 5-year survival rates. For example, stage I colon cancer has a 92% survival rate, while stage IV has only an 11% survival rate. Yet colorectal cancer (CRC) screening compliance rates are low, with only 60% of US adults ages 50-75 meeting screening recommendations.
"We identified a need, particularly for our most vulnerable patients, to address the issue of colonoscopy and colon cancer screening," states study co-author Rodrigo Duarte Chavez, MD. To gain a better understanding of the barriers to CRC screening the team created both staff and patient surveys. Questions gauged patient awareness of and education on screening types, as well as provider knowledge of resources and identification of barriers. From there, a clinical workflow was established and implemented.
Residents also led education sessions for providers, staff and patients based on survey results, including: use of fecal immunochemical tests (FIT) as a first screening option; and application of care gap analyses at each clinic to answer patients' screening questions and follow up regarding their screening status.
The outcome was remarkable growth in screening compliance, with an overall increase of nearly 22% across the study sites.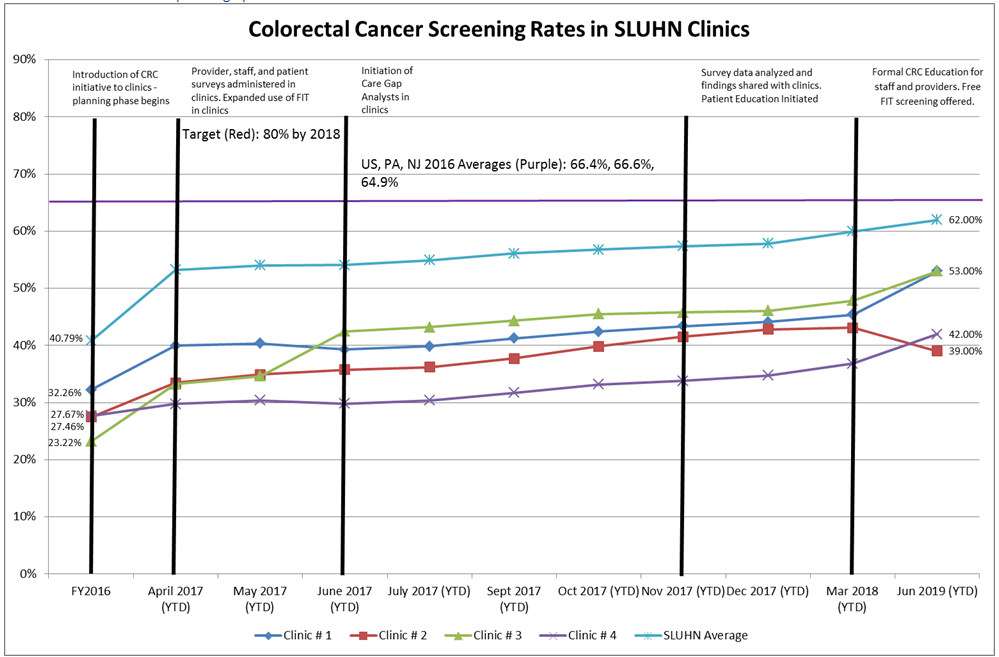 "I'm very proud of the contributions our residents and fellows make to our Network through their research and collaboration," states Jill Stoltzfus, PhD, Senior Network Director of Graduation Medical Education Data Management and Outcomes Assessment. "This study was the cumulative work of many different disciplines, but our family medicine and internal medicine residents really led the charge. The results are outstanding and will help improve the health of our community."
St. Luke's Quality Awards are a spirited competition and St. Luke's tradition of excellence. Teams of doctors, nurses, residents and other caregivers and administrative staff come up with and test their own ideas about how to raise standards, expedite workflow or otherwise improve care and service. Then the projects are judged on their quantitative results.
The winning projects spur permanent changes in how the Network operates – and how other health systems and hospitals function as well since St. Luke's shares its findings in journal articles and at conferences. Learn more about GME Research and Data Management.
Congratulations to the SLPG President's Quality Award Winners!
Closing the Gap: A Resident-Led Quality Improvement Project to Improve Colorectal Cancer Screening in Primary Care Community Clinics
Team Leaders
Cara Ruggeri, DO, FACP
Bonnie Coyle, MD, MS
Rajika Reed PhD, MPH, MEd
Gloria Fioravanti, DO, FACP
Jill Stoltzfus, PhD
Team Members
Kathleen Katchur, MPH
Rodrigo Duarte Chavez, MD
Internal Medicine Residents 2016-2018
Family Medicine Residents 2016-2018
Transitional Year Residents 2016-2018
Star Wellness Southside Medicine Center
Star Wellness-Family Medicine, Bethlehem
Community Health and Preventive Medicine
Coventry Family Practice
Star Wellness-Family Medicine Practice Sigal Center, Allentown