News
St. Luke's Launches Fifth Premier Fitness & Sports Performance Facility
May 31, 2019
St. Luke's University Health Network is pleased to announce its newest Fitness Sports & Performance facility in the Lehigh Valley, one designed specifically for athletes.
The 30,000 square foot building on Union Boulevard in Allentown is expected to open in September. It will be the fifth premier facility in the St. Luke's Fitness & Sports Performance family, joining facilities in Allentown (West End), Bethlehem, Easton and Phillipsburg to provide comprehensive fitness and sports training.
"It will be different from our other four centers in that its primary focus will be on sports skill development and sports field training," said John F. Graham, MS, ACSM EP-C, CSCS*D, RSCC*E, FNSCA, Senior Network Administrator for Fitness & Sports Performance at St. Luke's University Health Network.
"The objective of the facility is to offer the Lehigh Valley an indoor facility for youth through high school athletes so they may improve and hone their sports skills."
The facility will also include tactical fitness training for first responders.
"One of the key missions St. Luke's has undertaken over the last several years is to provide our tactical professionals -- police, firefighters, EMS personnel and military professionals -- with the appropriate training for their work development to make sure they are able to physically perform their daily work tasks at a much higher level while reducing the risk of injury," Graham said.
Athletes and the general public can train with high tech sports equipment and monitor heart rate and other metabolic markers and biologic markers that can be tracked over time.
The new sports and performance facility will integrate the local sports community into the St. Luke University Health Network. Physical therapy, athletic training and orthopedic surgeons can have input on training athletes in terms of injury prevention, health maintenance and health/injury referral.
"This is going to be a state-of-the-art workout facility where athletes can work on their sports specific skills and sports performance in the Lehigh Valley," said former Philadelphia Eagles kicker David Akers, now a professional water skier. "It will be the building block, the foundation of what all athletics is about: the proper training for the proper age to develop their skill set and physical abilities to the best of their capabilities.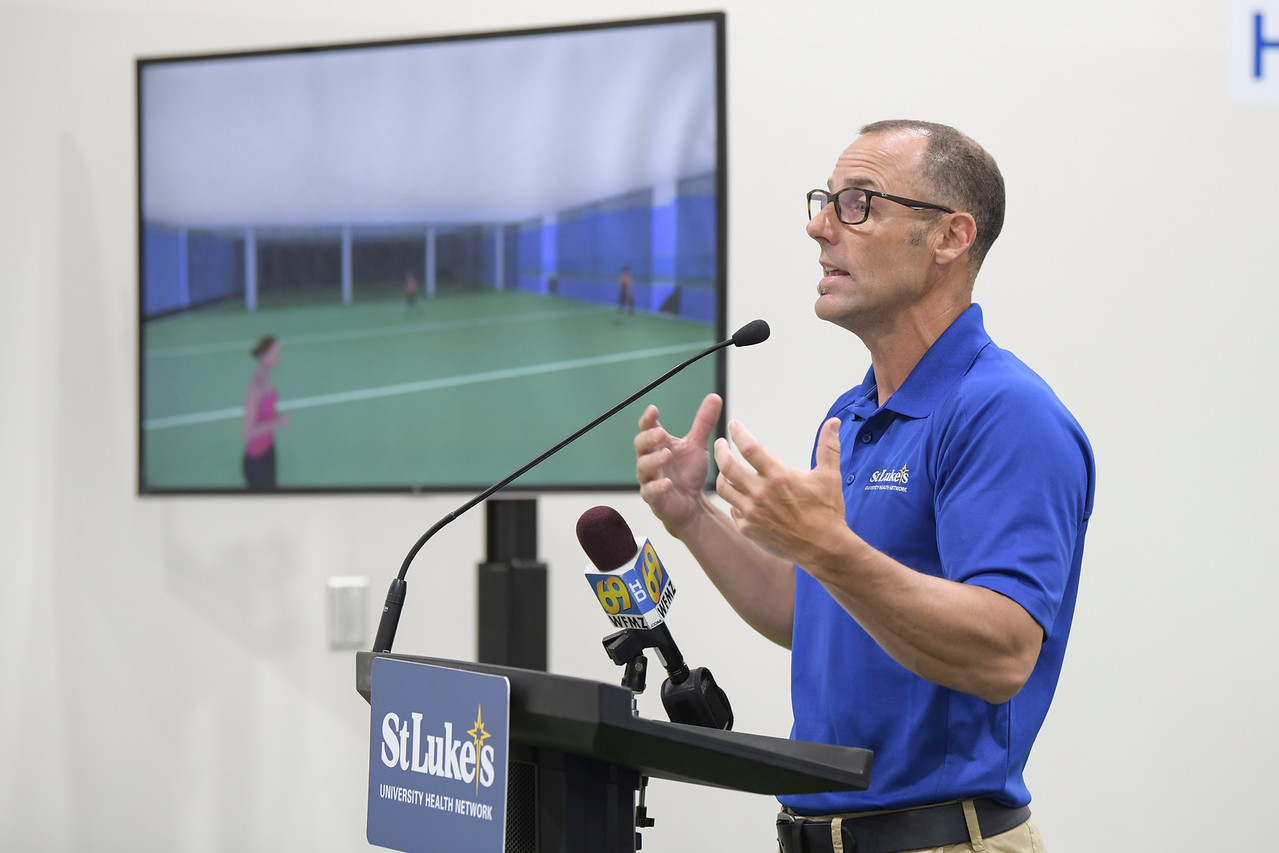 David Akers
---
"As a kid, we didn't have any of this," Akers said. "Today you have kids getting bigger, better, faster, stronger, and this is a place where you can make sure you're not developing any imbalances. It's comprehensive care from sports performance training to injury prevention to treating injuries and having the orthopedists direct the rehab, where the physical therapist can go to the sports performance specialist to look at the baselines for the athlete. They are all under the same umbrella, and you're not finding that anywhere else but at St. Luke's. It's almost unbelievable."
The center will include traditional fitness components for the general public, including group classes, and senior sports like bocce and paddle tennis.
Highlights of the facility include:
18,000 square feet of turf field space that can be broken down into three equal fields, one larger and one smaller field, or one large field.
Multi-sports training. Fields will include goals for soccer, lacrosse, field hockey and other sports, along with baseball and softball cages.
Sports skill-specific training.
Two strength training areas: One for Olympic, explosive-type training. One for developing fitness with specific training for a number of sports.
Tactical fitness: Providing police, firefighters, EMS personnel, and military professions with appropriate training to increase physical productivity and competency in their careers.
Fitness classes: Classes for metabolic training as well as sports-specialty classes. Group fitness classes during daytime hours.
Large spectator area running the length of the fields so that parents can watch their athletes train. Wi-Fi enabled so that parents can be connected online for their work and family needs.
"My teams are looking forward to having a local turf facility to accommodate us and take my players to the next level," said Parkland High School boys soccer coach Mike Bender, who is also Regional Director for Headstrong Lacrosse Club.
"It's certainly unique for a large health network to have this type of facility," said orthopedic surgeon Scott Doroshow, DO of St. Luke's Orthopedic Care. "It is something professional sports teams and some very high NCAA Division I school have, but the advantage St. Luke's has is that we can integrate sports and the entire community into the network. If an athlete has a cardiac condition, we can integrate a cardiologist into the training plan, which makes it pretty unique and something I have never seen in my years of training."