News
Who Doesn't Love Some Cheesecake At The Holidays?!
November 15, 2019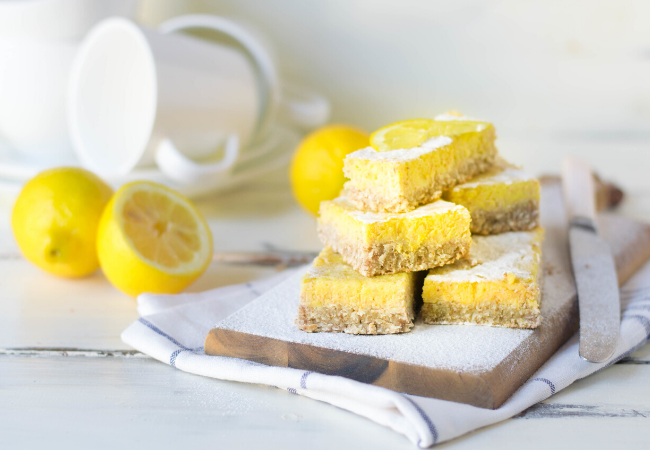 Lemon Cheesecake Bars
*You can substitute the whole wheat flour with coconut or almond flour to reduce the carbohydrate level in this dessert.
Ingredients
6 whole graham crackers

2 tbsp. unsalted butter, melted

6 oz. low-fat cream cheese, softened

6 oz. plain, nonfat greek yogurt

1/3 cup sugar substitute

1 egg plus 1 egg white

pinch of salt

1 heaping tbsp. lemon zest

1/4 cup fresh lemon juice

1 1/2 tsp. vanilla extract

2 tbsp. whole wheat flour
Directions
Preheat oven to 350 degrees Fahrenheit, and line an 8" × 8" baking dish with parchment paper.

Place graham crackers in the bowl of a food processor, and pulse until finely ground.

Drizzle in melted butter, and pulse again until crumbs are moist and stick together when pressed with your fingers.

Pour crumbs into pan, and firmly press them into an even layer.

Bake the crust for 6–7 minutes until the edges start to turn golden brown.

Remove from oven, and turn temperature down to 300 degrees Fahrenheit.

Set the crust aside to cool.

In the bowl of an electric mixer or with a handheld mixer, beat the softened cream cheese until light and fluffy, about 2 minutes.

Add in greek yogurt, sugar substitute, and pinch of salt, and beat again until smooth.

Add in the egg and egg white, and beat until smooth.

Add in lemon zest, lemon juice, and vanilla, and beat until smooth.

Add in flour and beat until smooth.

Pour filling on top of the cooled graham cracker crust, then place on middle rack of oven for 25–30 minutes until cheesecake is set but center is still a little jiggly.

Allow bars to cool completely before refrigerating for 3 hours before slicing and serving.
Find this and many other heart-healthy recipes in The Heart Of Cooking by St. Luke's Cardiologist, Dwithiya K. Thomas, M.D.