News
Healing Arts: Providing Comfort through Creativity
September 12, 2019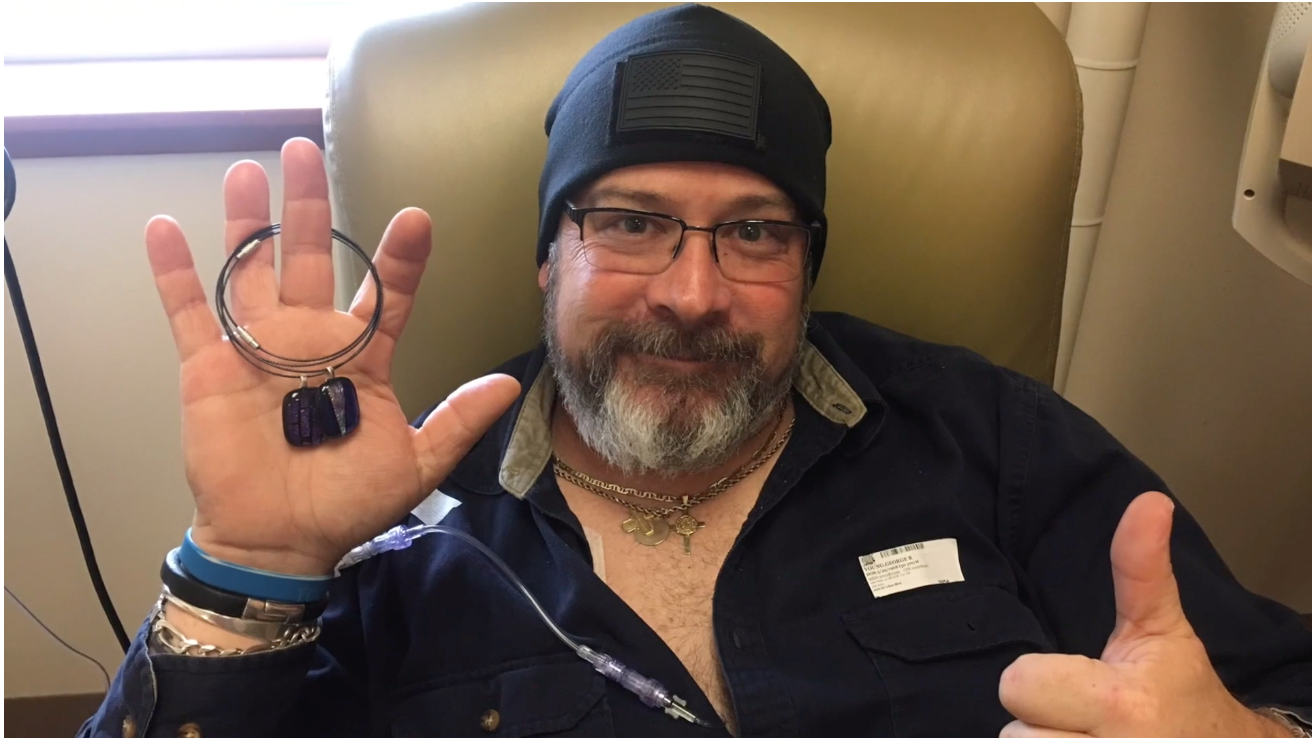 George Young discovered his inner artist while he was undergoing treatment for cancer at St. Luke's Cancer Center.
As he sat in the infusion room receiving chemotherapy earlier this year, the burly, bearded New Jersey man created an iridescent, blue glass pendant that he now wears on a leather loop around his neck as a memento of his battle against colon cancer.
He found comfort in creativity through St. Luke's Healing Arts Program, which is offered to cancer patients, as well as pediatric patients, to help them deal with their often-arduous ordeals.
Whether they're doing a simple drawing, discussing a work of art or designing a piece of jewelry, this program can help provide a welcome distraction during treatment, the opportunity for self-expression or a way to find calm moments during a difficult time.
Studies show that art activities help patients recover physically, mentally and emotionally by relieving anxiety and decreasing pain. Persons engaging in these services often report higher satisfaction with their medical care. Studies also suggest that healing arts can fill gaps in treatment effectiveness.
The Healing Arts supplies are wheeled to the patients in "Erica's Arts Carts," named in the memory of Erica Curtis, who died last year from cancer. She found comfort during her treatment at St. Luke's by creating jewelry from materials in the arts carts.
Young's pendant creation was suggested by Lee Riley, MD, St. Luke's Director of Oncology Clinical Integration, who is a glass artist. He donates scraps of shimmery, reflective glass for the patients to design the small pendants.
"I think there's a basic human need to express oneself, to tell one's story," Dr. Riley said. "The program helps patients express themselves in a visual way." He fires the glass creations in his basement kiln.
Kristen Ward, coordinator of the Healing Arts program, calls this act of creating art during a difficult time "a wonderful distraction." She says some patients lose themselves in their project, which reduces their stress and anxiety.
Young wears his pendant as symbol of the hope and healing he found at St. Luke's through the expert medical treatment and compassionate care he received and the art he created, which provided him with hours of comfort and pleasure during his challenging journey.
"Honestly, I'll be wearing this for the rest of my life," he said.
To learn more about St. Luke's Healing Arts program, or make a donation online, visit https://www.slhn.org/cancer/navigation-and-support/healing-arts.