News
For Those Steak Lovers Who Are Looking For A Tasty Change!
November 14, 2019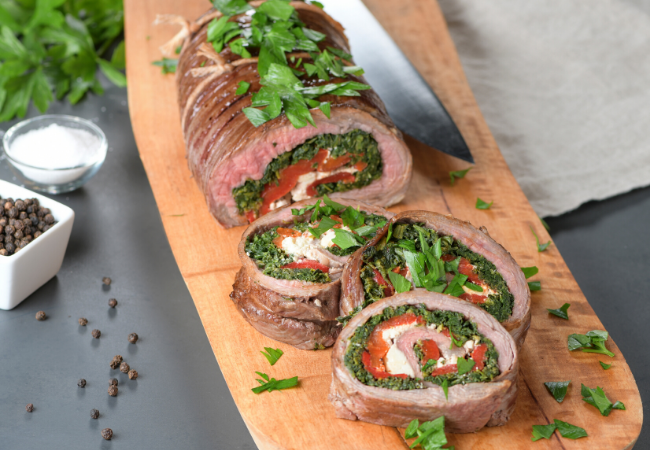 Spinach and Cheese–Stuffed Flank Steak
*There is no added salt to this recipe. Spinach is a superfood full of antioxidants that are beneficial for your heart.

Ingredients
2 lbs.1 flank steak (2 lbs)

1 package frozen, chopped spinach, thawed and drained

1/2 cup feta cheese, crumbled

1 jar roasted red peppers, drained and chopped

2 tbsp. dry bread crumbs

1 egg yolk

1 tsp. garlic

1 tsp. black pepper

1 tbsp. olive oil

cotton twine
Directions
Preheat oven to 425 degrees Fahrenheit.

Slice flank steak in half, holding knife parallel to work surface, starting at long side, without cutting all the way through.

Open steak like a book and lay flat and season with 1/2 teaspoon of garlic and pepper on both sides.

Squeeze all liquid from the spinach, and combine with cheese, peppers, bread crumbs, egg yolk, and 1/2 teaspoon of garlic and pepper in medium- sized bowl.

Press the filling onto steak, leaving a 1- inch border on all sides.

Roll the steak starting from the short side, and rub outside with oil.

Tie steak with cotton twine in intervals to secure.

Bake at 425 degrees Fahrenheit for 35 minutes, then increase heat to broil, and cook for an additional 10 minutes, turning once.

Allow to sit for 15 minutes before cutting twine and slicing to serve.
Find this and many other heart-healthy recipes in The Heart Of Cooking by St. Luke's Cardiologist, Dwithiya K. Thomas, M.D.